Introduction
Contribution points are a family-wide stat and can be used to invest in nodes, housing/workshops, and rentable items.
You can see your current/total Contribution points in the top left along with your Skill points and Energy.
In the image below for example, we can see that I have 50 contribution points spare, and a total of 380 contribution points.
Hovering over your contribution points will show you more information about how your points are invested.
How to Increase Contribution Points
Contribution Points are gained by earning Contribution Points EXP. This can be earned through completing quests, or by exchanging lifeskill byproducts.
Your current % towards the next contribution point can be found next to your total contribution points.
Daily Quests
Almost all quests in BDO will reward Contribution EXP, but each region has dedicated daily quests which are repeatable and offer high Contribution EXP.
These quests can be found in the quest log (O) under the "Recurring" tab.
We also have guides that walk you through the contribution point quests with an efficient route:
There are also weekly Contribution quests that reward a large amount of contribution EXP.
The requirements for the weekly Contribution Quests are:
Subjugation quest: Available from Lv. 56 or higher.
Gathering/Training/Farming/Bartering/Sailing/Hunting quest: Available from Lv. 49 and higher.
Must be between 220 CP and 349 CP
The amount of EXP you gain depends on your current max CP:
You can only accept and complete one of the quests listed below.
Weekly quests reset on Thursday at 00:00 UTC.
The Contribution EXP Increase effect of Caphras – Journal of Glory and Elion – Tome of the Sun is not applied to these quests.
| Quest Name | Quest Objective |
| --- | --- |
| [Select One] [Weekly Subjugation] Subjugation Request for the Villagers | Defeat 3,000 monsters (any monsters) |
| [Select One] [Weekly Gathering] About the Mysterious Fairy's Breath | Get Fairy's Breath x30 and talk to Liana. |
| [Select One] [Weekly Training] Complete Imperial Horse Delivery | Complete Imperial Horse Delivery once |
| [Select One] [Weekly Farming] About the Mysterious Blush Leaf | Obtain 50 Blush Leaves and talk to Liana |
| [Select One] [Weekly Barter] Barter | Barter 50 times (Bartering Lifeskill) |
| [Select One] [Weekly Sailing] Subjugation Request of the Hungry Sea Monsters | Eliminate 3 Hungry Hekarus or Hungry Ocean Stalkers |
| [Select One] [Weekly Hunting] About the Mysterious Wildspark | Obtain 30 Wildspark and talk to Liana. |
In addition to one of the quests listed above, you can also complete both of the following weekly quests:
Quest Name
Quest NPC Location
Quest Objective
[Weekly Contribution] Cadries Under a Dark Influence
Anne Laker
(Cadry Ruins Node Manager)
Defeat the Cadries x3000
[Weekly Contribution] The Haunting of Shultz
Narava Rakum
(Sarma Outpost Node Manager)
Teach the Shultz Guard x3000 a lesson
Lifeskill Byproducts
Most life skills offer a byproduct item that can be obtained from the activity. All byproduct items can be exchanged for materials related to the life skill, or for 900 Contribution EXP and EXP towards the life skill.
The easiest byproduct to obtain is the Witch's Delicacy (cooking byproduct), since there are easy recipes to cook such as Cook Essence of Liquor, Vinegar, or Grilled Bird Meat.
Icon
Item Name
How to obtain
Exchange NPC
Mysterious Catalyst
Obtained from the Alchemy Lifeskill when using an Alchemy Tool
Dalishain (any city),
Bofin (Olvia)
Witch's Delicay
Obtained from the Cooking Lifeskill when using a Cooking Utensil
Liana, (any city),
Nadia Rowen (Olvia)
Fairy's Breath
Obtained from the Gathering Lifeskill when Lumbering, Skinning, Fluid Collecting, Gathering using a Hoe, Mining, Water Scooping, or Butchering.
Dalishain (any city)
Discarded Glass Bottle
Obtained from the Fishing Lifeskill when fishing using any fishing rod
Liana (any city),
Crio (Velia)
Wildspark
Obtained from the Hunting Lifeskill when defeating [King of the Grass Rhinos] Rawr-rawr, or butchering hunters monsters with Hunting Mastery 250+
Liana (any city)
Blush Leaf
Obtained from the Farming Lifeskill when breeding seeds
Liana (any city),
Camelia Loggia (Loggia Farm)
Stained Silk
Obtained from the Trading Lifeskill when selling trade goods
Liana (any city)
| CP | Byproducts needed per CP | Byproducts needed for CP bracket | Total Byproducts needed |
| --- | --- | --- | --- |
| 0-50 | 1.1 | 55 | 55 Byproducts = 50 CP |
| 50-75 | 2.6 | 65 | 120 Byproducts = 75 CP |
| 75-100 | 3.7 | 93 | 213 Byproducts = 100 CP |
| 100-125 | 4.8 | 120 | 333 Byproducts = 125 CP |
| 125-150 | 5.8 | 145 | 478 Byproducts = 150 CP |
| 150-175 | 6.9 | 173 | 650 Byproducts = 175 CP |
| 175-200 | 7.9 | 198 | 848 Byproducts = 200 CP |
| 200-225 | 9 | 225 | 1,073 Byproducts = 225 CP |
| 225-250 | 10.6 | 265 | 1,338 Byproducts = 250 CP |
| 250-275 | 15.8 | 395 | 1,733 Byproducts = 275 CP |
| 275-300 | 47.5 | 1,188 | 2,920 Byproducts = 300 CP |
| 300-325 | 81 | 2,025 | 4,945 Byproducts = 325 CP |
| 325-350 | 162 | 4,050 | 8,995 Byproducts = 350 CP |
| 350-375 | 432 | 10,800 | 19,795 Byproducts = 375 CP |
| 375-400 | 518.4 | 12,960 | 32,755 Byproducts = 400 CP |
| 400-425 | 1360.8 | 34,020 | 66,775 Byproducts = 425 CP |
| 425-450 | 2916 | 72,900 | 139,675 Byproducts = 450 CP |
| 450-475 | 5248.8 | 131,220 | 270,895 Byproducts = 475 CP |
| 475-500 | 5773.7 | 144,343 | 415,238 Byproducts = 500 CP |
| 500-501 | 6351 | 6,351 | 421,589 Byproducts = 501 CP |
| 501-509 | 436571.8 | 3,492,574 | 3,914,163 Byproducts = 509 CP |
Contribution Points Uses
There are different ways to use your Contribution Points in BDO. However, you can always get your Contribution Points back if you would like to reinvest them in other ways.
Hovering over your CP will give you information about how your points are allocated, to help you work out where your missing points are.
Nodes are different locations on the map. You can invest your CP into a node to connect it to a city/town.
This is done by going to the node manager at each location, which you can find by right-clicking the node icon.
If you have a value pack active, you can also invest in the node directly from the map.
Once the nodes are connected, a yellow line appears between them.
Invested nodes can be leveled using Energy, giving you a bonus item drop rate % increase if the area is a grind zone, or you can further invest CP into the resource nodes and send workers there to gather materials.
You also need to have nodes connected to earn more silver when Trading.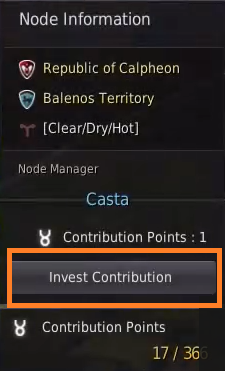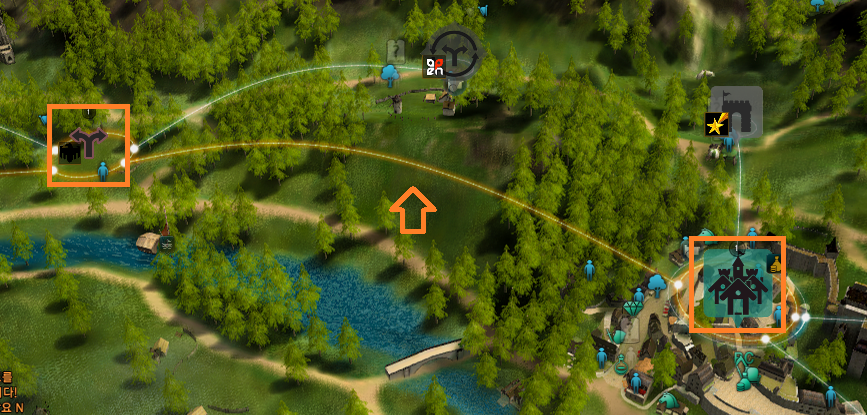 To cancel the connection between nodes you can open the map at any time, click on the node icon, then click "Withdraw". If you withdraw Contribution points from a node, you will lose the current node level and it will go back to 0 if you invest in it again at a later date.
Sometimes you can also get an error when trying to withdraw contribution points from a node. "You Cannot retrieve Contributions Points from the Node while the Worker is working" will show if you have a worker currently at the Resource node. It can also appear if you have a worker from another town/city that must pass through the connected node. So for example, if you are sending a worker from Velia to Heidel, you must have Velia and Heidel connected in your worker empire and cannot disconnect a node that is linking the two until that worker has stopped working. If you receive the error, you will need to follow your node connections from the node you want to withdraw from and see if there are any workers who must pass through the node.
Housing/Workshops
Housing and Workshops are available in towns/cities, as well as some other nodes. There are different types of workshops available at different levels, but all Housing/Workshops require CP investment and a small silver cost.
Property Uses:
craft items using workers
increase your storage space in the town/city
increase your horse stable space in the town/city
increase your worker lodging at the town/city
as a residence you can decorate with furniture
Click on the Town/City icon to show all the properties available at that location:


You can then click one of the
blue house icons to purchase a property. This will open a window similar to the one in the image below.
Under the "Required Contribution Points", we see that the cost of this property is 5 CP.
When you purchase a workshop, the house icon will turn white. You can withdraw your CP by clicking the white house icon and selling the property.
The Blue Maned Lion's Manor is a player house available in Serendia. This is known as a Mansion/Manor and works differently from the property housing and workshops. The mansion is purely for decoration and allows you to decorate both the inside and outside space, with unique furniture that can only be placed inside a Mansion.
Unlike normal housing, you must first unlock the ability to buy the mansion by completing a quest line. The questline can be found in your quest log (O) under "Suggestions" in the category "[Blue Maned Lion's Manor] New Master of the Manor".
The first quest in the questline is called [Manor] Crucio Domongatt's Summon and can be obtained from your Black Spirit after completing the Main Story questline up to Mediah.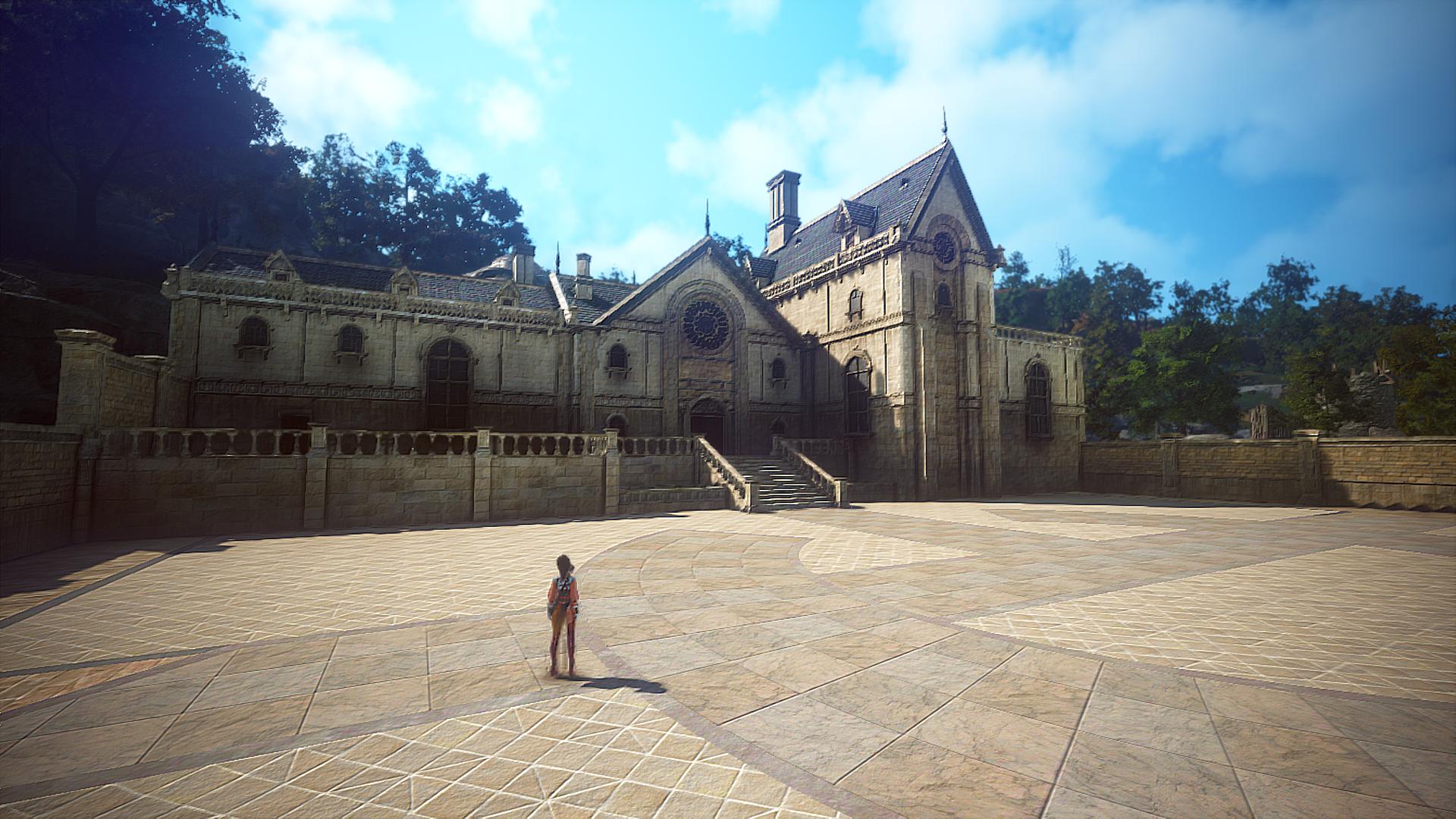 After completing the quest line, you can interact with the outside gate of the mansion to buy the mansion. Buying the mansion requires:
5 Contribution Points
Daily Silver Cost
There are various items you can rent in BDO from NPCs. These items cost contribution points to rent.
Rented items cannot be deleted, and you must return the item to the NPC to return your contribution points.
The most common rented items are:
To rent items, go to the correct NPC for the item, then use the "Chat" option to rent the item.
| Icon | Item Name | Can be rented from the following NPCs | Contribution Points Cost |
| --- | --- | --- | --- |
| | Container | Ernill, Basquean Ljurik, Rinta, Amerigo, Deve, Ramanit, Vipiko, Delorence | 10 |
| | Small Fence | Martina Finto, Enzo, Mael Costa, Difry Hussey | 3 |
| | Plain Fence | Paola Toscani, Norma Leight, Goolie Gianin, Mayeri, Mercianne Moretti, Finlin, Finlin | 6 |
| | Strong Fence | Zaaira, Geranoa, Derjeen, Flaviano, Lashir, Purajin, Kara, Jorjua, Tulga | 10 |
| | Old Moon Fence | Klau, Lajee, Taya, Stee, Jak, Sahin, Zya, Mene, Ploux | 10 |
| | Kaia Mainhand Weapons | Kanobas | 50 |
| | Kaia Armor | Dobart | 50 |
| | Kaia Gloves | Dobart | 50 |
| | Kaia Helmet | Dobart | 50 |
| | Kaia Shoes | Dobart | 50 |
| | Leight's Butcher Knife | Norma Leight | 50 |
| | Leight's Fluid Collector | Norma Leight | 50 |
| | Leight's Hoe | Norma Leight | 50 |
| | Leight's Lumbering Axe | Norma Leight | 50 |
| | Leight's Pickaxe | Norma Leight | 50 |
| | Leight's Tanning Knife | Norma Leight | 50 |
| | Nesser Mainhand Weapons | Sahazad Nesser | 50 |
| | Nesser Awakening Weapons | Sahazad Nesser | 50 |
| | Nesser Offhand Weapons | Sahazad Nesser | 50 |
| | Nesser Sol | Sahazad Nesser | 50 |
| | Nesser Armor | Sahazad Nesser | 50 |
| | Nesser Gloves | Sahazad Nesser | 50 |
| | Nesser Helmet | Sahazad Nesser | 50 |
| | Nesser Shoes | Sahazad Nesser | 50 |
| | Practice Matchlock | Villager, Daphne DelLucci, Hessenvale, Laiano Pietro, Merio, Villager, Dernyl, Dikzipo | |
| | Flute | Pulvio, Lillia, Kafu, Villager, Villager, Rubin, Shurd, Dalian, Jensen, Puia, Kanna, Bleu Arnatte | |
| | Small Drum | Villager, Villager, Villager | |
| | Licensed Adventurer's Seal | Igor Bartali | |
| | Acknowledged Adventurer's Seal | Jordine Ducas | |
| | Outstanding Adventurer's Seal | Basquean Ljurik | |