Introduction
Cooking is an important life skill in BDO. It is used to create food that provides various buffs when consumed.
High Cooking skills can be quite profitable and is a great way to make money whilst AFK. All you really need to start is a Cooking Utensil and a house to put it in. A basic Cooking Utensil can be bought from a food merchant for 1,000 silver, crafted using a Tool Workshop, or bought from the Central Market.
After you have acquired a cooking utensil and placed it in your house, you can interact with it by pressing the R button to open the cooking window. Here you can select ingredients to cook or select a food/drink from the recipe list of dishes. The recipe list will not tell you the ingredients for items you have not prepared before.
When you prepare some dishes, you have a chance of earning a higher item grade.







There are 5 item grades (lowest to highest):
White

Green

Blue

Yellow

Orange
The highest grade you can cook with all basic dishes is yellow grade, and specials have a chance to be orange grade.
I recommend using BDOlytics for Cooking Recipes to help you figure out what you can cook for profit.
Cooking NPC Vendors
There are 2 important Cooking Vendors that you can use to get materials:
General Cooking Vendors
Fruit and Vegetable Vendors
General Cooking Vendors sell basic Cooking Utensils and other ingredients such as Sugar, Salt, Leavening Agent, etc. These ingredients are always bought from a Cooking Vendor and cannot be obtained any other way, but they are very cheap to purchase. The General Cooking Vendors can be found all of the main cities/towns, and can be located using the Find NPC function.
ESC Menu > Function > Find NPC > Search: "Cooking"
Fruit and Vegetable Vendors sell the fruit and vegetable type ingredients, which are often a bottleneck for cooking recipes. These ingredients can be bought from the Central Market, and also gathered, or harvested using the Farming lifeskill. However, you often use a lot more than you can collect or buy. Many players use the Fruit and Vegetable Vendor in Calpheon or Eilton to purchase extra materials as needed for their cooking. You can buy Strawberry fruits for 700 silver each, and Paprika vegetables for 850 silver each.
Fruit and Vegetable Vendor locations:
Calpheon City – NPC Milano Belucci
Eilton (Mountain of Eternal Winter) – NPC Biyamba
Lake Flondor (Kamaslyvia) – NPC Miloberry
Delmira Plantation (O'dyllita) – NPC Azelin
Papua Crinea – NPC Benns Moanna
---
Cooking Utensils

---
Ideally, you want to use Advanced Cooking Utensils for the cooking time reduction and because of their high durability but this is really one of the biggest bottlenecks when it comes to cooking. You may have a hard time buying these utensils off the marketplace and should make them yourself. The other alternative is to use the Intermediate Cooking Utensil which has less durability but does not give the cooking time reduction.
The base Cooking Utensil and the Balenos Traditional Cooking Utensils can be bought from a cooking vendor for the prices listed below.
Item Name
Durability
Effect
Cost to buy
Workshop
Workshop Recipe
Cooking Utensil

100
1,000
Level 1 Tool Workshop
Rough Stone x15
Melted Iron Shard x10
Black Stone Powder x2
Balenos Traditional Cooking Utensil

500
Cooking time +5 sec
50,000
Level 1 Tool Workshop
Rough Stone x8
Melted Iron Shard x10
Black Stone Powder x10
Intermediate Cooking Utensil

500
Level 2 Tool Workshop
Rough Stone x25
Log x10
Melted Iron Shard x15
Black Stone Powder x7
Serendia Traditional Cooking Utensil

1250
Cooking time +6 sec
Level 2 Tool Workshop
Rough Stone x15
Log x20
Melted Iron Shard x15
Black Stone Powder x15
Advanced Cooking Utensil

900
Cooking time -1 sec
Level 3 Tool Workshop
Polished Stone x20
Usable Scantling x5
Melted Iron Shard x20
Black Stone Powder x14
Calpheon Traditional Cooking Utensil

2000
Cooking time +7 sec
Level 3 Tool Workshop
Polished Stone x15
Maple Plywood x8
Melted Iron Shard x30
Black Stone Powder x30
Item Name
Durability
Effect
How to obtain
Supreme Cooking Utensil

5000
Cooking time -1 sec

Exchange one of the following items:

Resplendent Medal of Honor x40
Imperial Cooking Seals x500
Dark Spirit's Greed x15
Oxiterr Crystal x25
How to repair Cooking Utensils
You can repair a Supreme Cooking Utensil or Advanced Cooking Utensil to restore its max durability. To obtain the Repair Tool, you need to exchange a full durability Utensil of the same type.
For example, to obtain a Repair Tool to restore an Advanced Cooking Utensil, you must exchange a full durability Advanced Cooking Utensil.
Unlike utensils, the repair tools stack in your inventory and have a low weight, so you can keep lots of them in your inventory or storage and use them to repair your Cooking Utensil, instead of having to replace the Utensil each time the durability runs out. Simply use the (F5) key on your utensil to use a repair tool.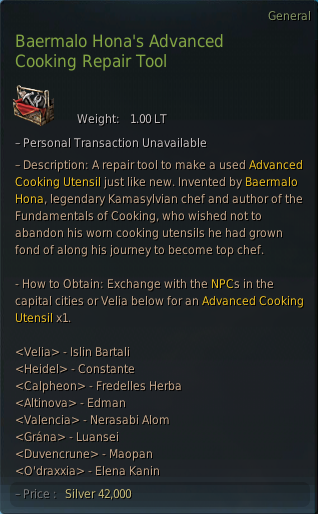 Utensil
Repair Tool
Exchange NPCs

Advanced Cooking Utensil

Baermalo Hona's Advanced Cooking Repair Tool
[Velia] Islin Bartali
[Heidel] Constante
[Calpheon] Fredelles Herba
[Altinova] Edman
[Valencia] Nerasabi Alom
[Grána] Luansei
[Duvencrune] Maopan
[O'draxxia] Elena Kanin

Supreme Cooking Utensil

Baermalo Hona's Supreme Cooking Repair Tool
[Velia] Islin Bartali
[Heidel] Constante
[Calpheon] Fredelles Herba
[Altinova] Edman
[Valencia] Nerasabi Alom
[Grána] Luansei
[Duvencrune] Maopan
[O'draxxia] Elena Kanin
---
Cooking Gear

---
When cooking you really want to achieve the fastest possible cooking time and also stack as much Cooking Mastery as possible.
For players just starting out, you want to try to get 1 second cooking time. The base cooking time is 10 seconds, so you will need to use a variation of buffs to reduce it.
Once you get to higher levels of Cooking, you may find that certain recipes produce higher silver per hour with high Cooking Mastery, so you will want to swap your Silver Embroided Clothes for Manos Clothing.

Use this Google Sheet to help you compare and work out whether it is better to swap to Manos Clothes.
When handing in Imperial Cooking Boxes, you should always use Mastery Cooking Clothes and Accessories to increase your silver profit.
 You probably also want to use weight-limit crystals so that you can cook for longer periods of time.

Item Name
Buffs
How to obtain

Teff Bread

Cooking/Alchemy Time -0.3 sec
Cooking (Beginner Lv.6)
Recipe for one:
Teff Flour x5,
Mineral Water x3,
Leavening Agent x2,
Salt x2

Teff Sandwich

Cooking/Alchemy Time -0.5 sec
Cooking (Professional Lv.1)
Recipe for one:
Teff Bread x1,
Freekeh Snake Stew x1,
Grilled Scorpion x1,
Red Sauce x3

Seafood Cron Meal

Cooking/Alchemy Time -0.6 sec
Life EXP +10%
Processing Success Rate +10%
Gathering +2
Movement Speed +2
Fishing +2
Weight Limit +100LT
All Life Skill Mastery +25
Processing window (L) > Simple Cooking
Recipe for one:
Balenos Meal x3,
Calpheon Meal x3,
Margoria Seafood Meal x1,
Ancient Cron Spice x1

Alchemy Stone of Life

Cooking/Alchemy Time -0.5 to -2 sec
(depending on alchemy stone)
Alchemy (Skilled 5)
Recipe for one:
Shining Powder x8,
Blood of the Sinner x5,
Powder of Time x6,
Pure Powdered Reagent x9,
Clear Liquid Reagent x9

Life Spirit Stone

Cooking/Alchemy Time -1.1 sec
Dropped from monsters in Kamaslyvia region

Verdure Draught

Alchemy/Cooking Time -1 sec
Life EXP+20%
Processing Success Rate +20%
Gathering +3
Movement Speed +3
Fishing +3
Weight Limit +200LT
Processing window (L) > Simple Cooking
Worker's Elixir x3,
Elixir of Swiftness x3,
Elixir of Time x3,
Tears of the Falling Moon x1

[Fundamentals of Cooking]

Lightstone Set

Cooking Time -2 sec
Cooking EXP +13%
Cooking Mastery +25
Max Carrying Weight +50LT
Lightstone of Flora: Secret
Lightstone of Flora: Stir
Lightstone of Wind: Feather
Iridescent LightstoneMore info in our Artifacts and Lightstone guide
Sethra's Artifacts – Cooking EXP
Cooking EXP +5%


Obtained from Imperial Crafting Delivery

(low chance when handing in Cooking Boxes)

Silver Embroidered Cook's Clothes


(up to +5 enhancement)

Cooking TIme -1 to -7 sec

(depending on enhancement)

Costume Mill (Level 1)
Cotton Fabric x9,
Powder of Earth x10,
Black Stone Powder x15

Canape Costume Set

Cooking Time -2 sec
Pearl Store (F3) > Apparel > Costume
(2,900 pearls)
Manos Cook's Clothing
Cooking Mastery Increase
Processing (L) > Manufacturing
Indigo Lapis Lazuli x15,
Dawn Fallen Silk x15,
Fundamentals of Cooking x10,
Manos Stone x10,
---
How to start cooking

To batch produce a recipe, you simply go to your Cooking Utensil in your house and press "R" to use it. Right-click your ingredients and make sure you enter ingredients for 1 result. (Entering more will consume all of your ingredients and only give you 1 result.
Next click "Batch Production".
Click "Yes" then enter the amount you wish to make. You can click "Maximum quantity" or press "F" to cook as many as possible. Then click "OK" and you will automatically make as many as you have ingredients or energy for.

Imperial Cooking Boxes

You can pack alchemy or cooking boxes each day and deliver them to an Imperial Crafting Delivery NPC for silver. Even a newer player can make a minimum of 50 million silver per day by spending just a few minutes buying the items and turning them into boxes.
For more information about Imperial Crafting Delivery, check our dedicated guide!
Witch's Delicacy (Cooking Byproduct)
---
Witch's Delicacy can randomly drop whilst cooking. According to players, it has a drop rate of around 2%, meaning you are likely to get one for every 50 dishes you cook.
Once you've collected 10 of them, you can exchange them at Nadia Rowen in Olvia for one of the following:
Witch's Delicacy x10
Beer x500
Milk x120
Contribution EXP 900 and Cooking EXP 30
I highly recommend choosing either Milk or Contribution EXP. Milk is difficult to obtain since it has to be gathered by hand and is a bottleneck for cooking, whilst the Contribution EXP you earn from cooking is one of the easiest ways to boost your CP.
---
Cooking Mastery
---
For a full look into life skill masteries I recommend taking a look at our guide which explains how to get all the gear and how many points each piece gives.
Higher Cooking Mastery has the following benefits:
You will receive more profit for Imperial Cooking Boxes (up to 114.9%).
The chance to obtain the maximum amount of food per cooking will increase up to 61.1% (e.g. if you get 1 to 4 results when cooking a certain food, the chance to get 4 will increase
The chance to obtain higher-grade food will increase up to 19.3% max.
You will have a chance of Mass Cooking occurring. This means you will be able to cook in larger batches. (e.g. you will use x10 materials at once and get x10 food at once, but the durability of your Cooking Utensil will only decrease by 1). The chance of this occurring can increase up to 100% depending on your total Cooking Mastery points.
However, mastery gear is not typically used when cooking because it is hard to obtain 1 second cooking time without wearing Silver Embroidered Cook's Clothes. The mastery gear is still used though for handing in cooking boxes.
Emergency food quests have also been added which will pop up at random times whilst you are cooking. Emergency food quests require you to cook x1 of the food you are already cooking and then turn it in to an NPC. As a reward, you will receive a large number of cooking ingredients.
For example: [Emergency] Food for Calpheon Slum will require one random food among three types of food. The rewards are either 1000 Eggs or 1000 Milk.
Food recipes to increase Cooking Mastery:
Food
Requirement
Ingredients
Effects
Savory Steak
Cooking Professional Lv. 1
or
Cooking Mastery 250 points
Lion Meat x4,
Fig x5,
Cooking Wine x2,
Pepper x3
All Life Skill Mastery +10 Points
for 45 minutes
Seafood Cron Meal
None
(Processing > Simple Cooking)
Balenos Meal x3,
Sute Tea x3
Savory Steak x1,
Ancient Cron Spice x1
All Life Skill Mastery +25 Points,
Life Skill EXP +5%,
Movement Speed +2,
Max Weight Limit +100LT
for 120 minutes