Introduction
Knowledge is the information you learn while traveling and interacting in Black Desert.
When you discover Knowledge, it is entered into your Knowledge base (which can be viewed by pressing H).
Knowledge Categories
There are 9 main categories of Knowledge with multiple subcategories in each one. Discovering all of the Knowledge in one subcategory may reward you by increasing your maximum energy.
I recommend using the Knowledge Tracker Tool by BDOlytics to help you collect knowledge. You can click any topic to view more information about how to collect the knowledge. You can view the monster or NPC location, and check requirements for questlines.
When you kill a monster, there is a chance you will obtain knowledge about the monster. If you are successful in obtaining knowledge, then the grade of knowledge you learn is also random. You may learn a lower knowledge grade than the one you currently have saved in your Knowledge Window. Therefore, you only actually "gain" knowledge if the knowledge you learned is a higher grade than what you have already.
There are two different types of Knowledge buffs you can obtain:
Chance to Gain Knowledge

This increases your chance of obtaining knowledge when you kill a monster

Chance to Gain Higher-grade Knowledge

This increases your chances of the knowledge you learned being a higher grade
You can use a combination of these buffs when knowledge hunting!
Ecology Grades and Resetting Knowledge
When you gain Ecology knowledge of a monster, you will randomly be given a Grade (C, B, A, A+, S):
C Grade 

B Grade

A

Grade




A+ Grade

S Grade 
Obtaining any knowledge grade of a monster will allow you to accurately see their HP bar. Until you gain knowledge, you will only see the HP bar change color from yellow to red depending on the monster's HP.
You can view your Ecology knowledge on the monster HP bar by turning on the setting in your Knowledge window (H).

To increase the grade of monster knowledge, continue defeating them and there is a chance you will obtain a higher grade of its entry.
For certain enemies, you can only obtain the knowledge entry again if you delete your current knowledge first.
You can delete a knowledge entry at the cost of 10 Energy, by going to an NPC called "Annalisa" in the Calpheon library.
Talk to her and select "Knowledge Management", then choose which knowledge you would like to reset, and click "Delete Knowledge".
Knowledge (Ecology) Effect
As well as Ecology Knowledge Grades giving you buffs against each individual monster, you can obtain a passive Item Drop Rate buff which is applied to all monsters.
For each Ecology Knowledge Grade, you earn a certain amount of Ecology Points:
C Grade

– 1 Point

B Grade

– 1 Point

A Grade

– 2 Points

A+ Grade

– 5 Points

S Grade

– 10 Points
The Item Drop Rate % you have depends on your total Ecology Points.
For example, if you have 4,023 total Ecology Points, you will gain a passive Item Drop Rate +16% buff.
You can view this information in the Knowledge Window (H).
| Total Ecology Points | Item Drop Rate Increase |
| --- | --- |
| 501-1000 | Item Drop Rate +5% |
| 1001-1500 | Item Drop Rate +7% |
| 1501-2000 | Item Drop Rate +10% |
| 2001-3000 | Item Drop Rate +12% |
| 3001-4000 | Item Drop Rate +14% |
| 4001-5000 | Item Drop Rate +16% |
| 5001-6000 | Item Drop Rate +18% |
| 6001-7000 | Item Drop Rate +20% |
| 7001-8000 | Item Drop Rate +23% |
| 8001-9000 | Item Drop Rate +25% |
| 9001-10,000 | Item Drop Rate +27% |
| 10,001 or higher | Item Drop Rate +30% |
Family Special Fame
Family Fame is shared across all characters on your account and gives you a higher daily payout depending on the number of points you have under each section.
For more information about Family Fame, check out our Family Fame guide.
There are 4 types of Fame points:
Combat Fame
Life Fame
Special Fame
Family Fame – your total fame points combined
You can view your current fame points under your character info (P).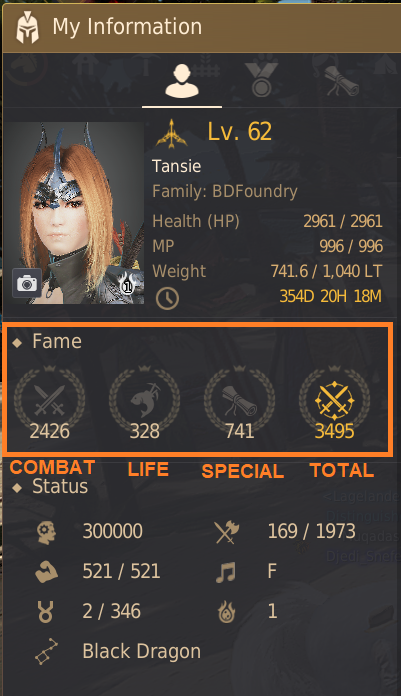 Special Fame is calculated by dividing your total gained knowledge by 10, then adding your contribution points.
You can view your total gained knowledge by pressing (H).
For example, my total gained knowledge is 3946 and my total contribution points are 346.
(3946 / 10) + 346 = 741 Special Fame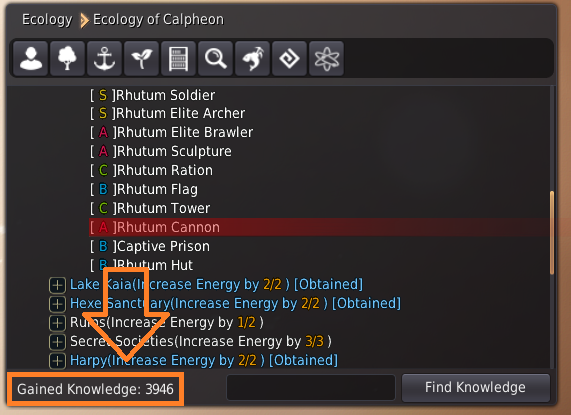 Mini-map Knowledge Tracking
You can track up to 20 Ecology Knowledge entries by going in the Knowledge Window (H). The targets will show up as a different color on your mini-map so you can see them easier. This is useful for tracking specific knowledge entries, or if you are hunting treasure items that only drop from specific monsters.
Go to the Knowledge Window (H)
Select a specific monster, or a full monster sub-category under the Ecology Category
Click the "Target" button to start tracking
Knowledge Bookshelves
Bookshelves are furniture items that can be placed in your Residence. You can then interact with a bookshelf to read a book.
It takes 1 hour to read a book from your bookshelf and will not repeat once it is complete
You will obtain a random knowledge entry in a sub-category

The knowledge you obtain may be one you already have or a lower grade than you already have. If this is the case, it will not replace the knowledge entry.

The bookshelf must have durability and each time you read from the bookshelf, you will consume 1 durability even if you did not receive new knowledge.
You can read a bookshelf on an alt character while you play your main character

Interact with the bookshelf on your alt character (R), then go to the ESC menu > Disconnect > and swap characters using the Character Portraits
However,

disconnecting from the game or changing channels will end the reading interaction.

 
Bookshelves can be bought from the Pearl Store for 300 pearls, or created by sacrificing a completed knowledge sub-category. Bookshelves created by players can also be registered and exchanged on the Central Market.
To create a bookshelf, go to Annalisa Rosie in the Calpheon Library.
Click the "Knowledge Management" button at the bottom
Swap to the "Craft Knowledge Bookshelf" tab at the top of the window
Select a Knowledge category, then "Craft Bookshelf"
Crafting a bookshelf will cost silver depending on the knowledge grades in the category