Introduction
To obtain a higher-tier horse, you can either buy a horse from the horse market or start horse breeding yourself.
Other Horse Guides:
Before you start Horse Breeding
Before we begin I would like to explain a few things:
Horse Deaths

The number of horse deaths does not affect the breeding results anymore.

Breeding Count

Horses have a breeding count and will not be able to breed "safely" once it hits 0.
To check a horse's breeding count either press "P" whilst mounting the horse, or check the stats in your Stable.
Female horses can only breed once while male horses can breed two times.

You can reset the number of times a horse can breed using a Pearl Store item which costs 330 pearls for a male and 640 for a female.
You can only reset the breeding amount once.

Level

The horse level highly affects the results. I recommend leveling both horses to level 27 – 30 before breeding them if you want the best results.

Tier

The horse tier will also affect the results and you should try to breed two horses of the same tier to get the highest results.
The female tier is more important however and will affect the results more (higher tiers only).
For example: Breeding a tier 7 female with a tier 6 male will give better results than a tier 6 female and a tier 7 male.

Courser Horses

Breeding using a courser horse can give the foal an additional skill when it is born.

1 courser parent = 50% chance of an additional skill
2 courser parents = 100% chance of an additional skill

Training Mastery

Higher Training Mastery increases your chances of obtaining a higher-tiered horse from Breeding/Horse Exchange.
The benefits of Training Mastery are applied when you

start

the horse breeding/exchange.
Mastery is not worth investing in for Training, but if you have any Mastery Accessories from other life skills, use them when you start breeding for extra chances.
How to Start Horse Breeding
To begin, you will need to check in your Female Horse at a Stable Keeper (and Male horse if you are using your own).

The horses do not need to be at the same Stable Keeper but make sure the Stable Keeper allows you to access the Breeding Market (check below for a list of locations)
Make sure there is also an empty stable slot for the foal

Equip your Life Skill Mastery gear and use any Training Mastery buffs available to increase your chance of a better foal.
Make sure that both of the horses have a "Breedable" count of at least 1.

You can use the Horse Exchange method instead if your horse has 0 Breedable counts but this will destroy both the parent horses (check below for more info)

Recover the horse's stamina to full – you will get an error if the horse is not fully recovered
If you are using your own Male horse, click the horse and then the "Register at Breeding" button.
Make sure you select "Show Only Me" when you register the Male horse. This stops other players from being able to breed with your horse.

This will cost you 35,000 silver, but you will get the silver back in the mail once the breeding process has finished.
Now go to the Breeding Market by clicking the "Breeding Market" button at the bottom.
Here you can see all the horses on the Breeding Market and can select which horse you would like to breed with. You will have to pay another player to use their horse to breed with your female.
If you used your own Male horse, click the "My Horse List" button at the top.
Select your Male horse and click "Request Breeding".
Select your female horse from the pop-up window and click "Request Breeding".
The breeding process takes 2 hours and 24 minutes. You can bypass the timer by paying 130 pearls, but this isn't recommended.
Once the breeding has completed, click the Female horse in your Stable and then "Collect" to receive the foal.
You can now remove the Male horse from the Breeding Market to put it back in your stable.

To do this, go back to the Breeding Market and "My Registrations" to collect your horse.
You will receive the 35,000 silver when you collect the horse.
Horse Exchange
Horse exchange is another option and type of horse breeding.
If your horse has a Breeding Count of 0, you can still Exchange them to immediately obtain a new foal instead.
The horse obtained from the exchange is influenced by their parents just like normal Horse Breeding.
You do not have to wait 2.5 hours for the breeding time and it will cost 35,000 silver.
Go to the Stable Keeper and use the "Exchange Horse" button. You can then select the male and female horse you would like to use, and enter the name of the new horse.
Horse Breeding Stable Keepers
The horses don't need to be in the same stable to breed, but they need to be in Stables that allow you to access the Breeding Market.
Stable Keepers in main cities and towns can be used to access the Breeding Market:
Velia
Heidel
Port Epheria
Calpheon City
Keplan
Trent
Altinova
Valencia City
Shakatu
Sand Grain Bazaar
Grána
Duvencrune
O'draxxia
Balacs Altar
Awina's Tail
Wind Nol's Perch
Eilton
Pilgrim's End
Sherekhan Iron Mine
Bronte's Bolt.
Imperial Steed
An Imperial Steed is a special horse that has a low chance of being obtained alongside a normal foal when you breed horses.
You can level up the Imperial Steed to level 15 and sell it at a Stable using Imperial Horse Delivery
An Imperial Steed sells for 120 million silver and also rewards other Training materials
The Imperial Steed cannot be exchanged on the Horse Market or Breeding Market
The Imperial Steed only has 1 skill called "Imperial Stature" to indicate it is an Imperial Steed horse
The higher the tier and level of horses when breeding, the higher chance of obtaining an Imperial Steed
Imperial Steed Rewards

Sell to a Stable Keeper with Imperial Horse Delivery when the horse is level 15 or higher
Obtain 100 million silver and all of the following items:
| Obtained Item | No. |
| --- | --- |
| Mythical Feather | 10 |
| Flower of Oblivion | 100 |
| Royal Fern Root | 100 |
| Stonetail Fodder | 20 |
| Spirit Pouch of Ferocious Beast | 20 |
| Pure Forest Breath | 20 |
| Rainbow Gem Fruit | 20 |
| Breezy Conch Seaweed | 20 |
| Deep Blue Hoof Root | 20 |
| Golden Seal – [Imperial Training] | 8 |
| Wind Spirit Stone Fragment | 50 |
| Earth Spirit Stone Fragment | 50 |
| Water Spirit Stone Fragment | 50 |
Horse Breeding Calculator
I highly recommend using the breeding calculator by Famme because it is easy to use and see exactly what horses you can obtain with all the percentages.
Link: http://www.somethinglovely.net/bdo/horses/ 
To use the calculator, enter the tier and level of both the male and female horse.
Click the horse icons to change the horse coat for more accurate results.
Input your Training Mastery %. You can find your current % in your character profile window (P) > Life Skills > Hover over Training.

Change the Breeding Rate % in the top right to 16.

Underneath you will be told possible results you can get and the chances of each (3F refers to a tier 3 female horse, 5M is a tier 5 male horse).
The highest tier you can get from breeding is tier 8.
You will also be able to see 2 charts in the details tab which show what level of horses are required to hit the next breeding "milestone".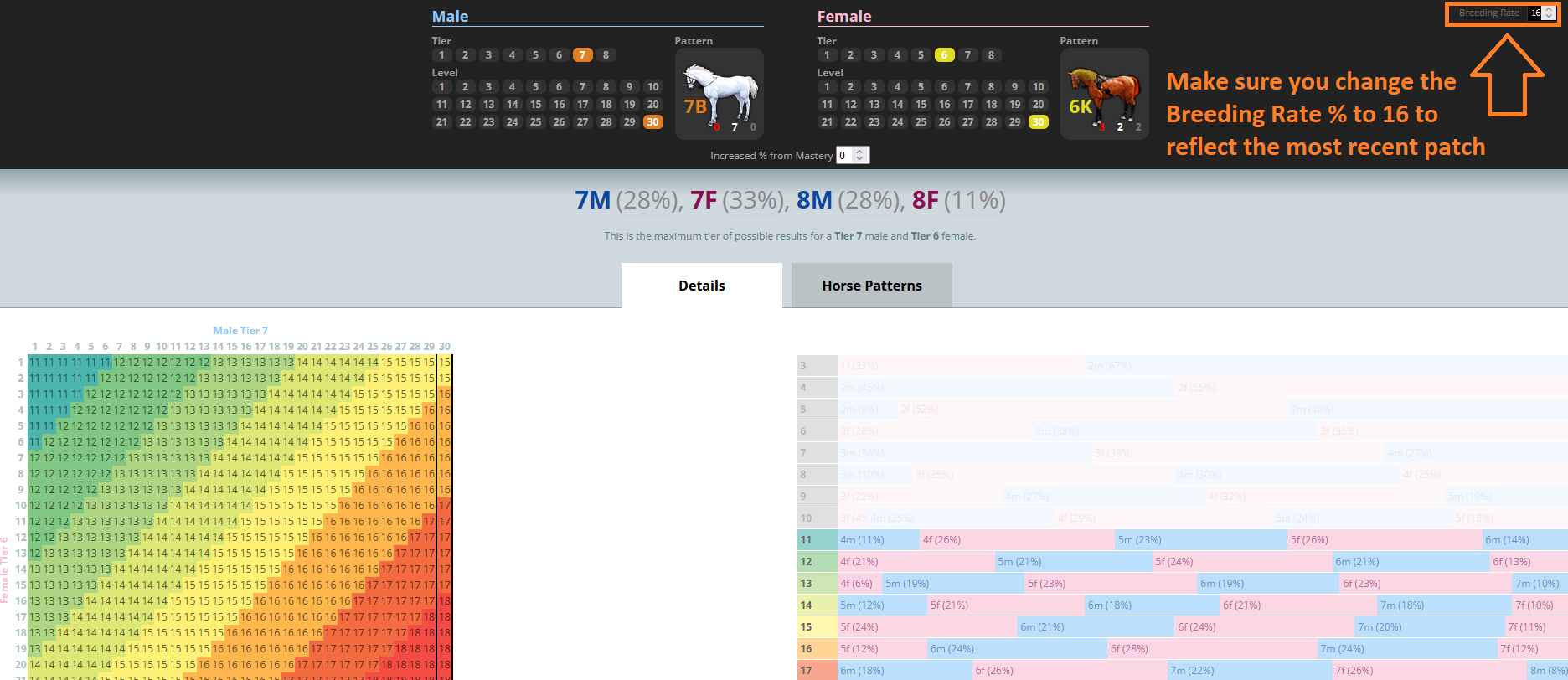 Horse Coats & Color Theory (Advanced)
All horses have 3 different color values which affect their appearance: Red, White, and Black.
There is a theory that using "purebred" horses when breeding will give you higher chances of a higher-tiered foal. It is still unconfirmed, but with lots of testing, many players including myself do believe this theory to be correct. There was also a small reference to it on the old Korean wiki which was written by the developers themselves.
Purebred Horses:
6A
7A
7B
7C

8C

8E
For a full list of all Horse Tiers with their Color Values and chances of learning skills, I recommend using the Horse Skill Learning Percentags Google Sheet. You can also find more information and resources in the Horse Community Discord.
BDO Player "Bouwplan" wrote a very detailed explanation of Color Theory on the old forums in July 2016. Unfortunately, you can no longer access the source, but the explanation is written below: