Introduction
The Traveler's Horse is a horse you can temporarily rent from certain Stable Keepers for free. The horse already has some skills and any player can use the Traveler's Horse, so it is great to use for new players who don't have a permanent horse yet.
Only one Traveler's Horse can be borrowed and no additional horse can be borrowed or taken out while another horse is already taken out.
The Traveler's Horse will return to the nearest Stable after 5 minutes of being dismounted.
Traveler's Horse will return to a Stable when clicking on Disconnect, Character Selection, or Change Character.
The Traveler's Horse cannot equip horse gear or store items, but it can still Sprint without a saddle.
Traveler's Horse cannot use Stable Recovery / Remote Collection / Horse Market / Imperial Delivery / Sell function (but the Mount Information window can be checked).
How to Rent the Traveler's Horse
You can only rent the Traveler's Horse from Stable Keepers in a main city.
Town
Stable Keeper
Velia
Lorenzo Murray
Heidel
Vanacil
Izaro
Glish
Allan
Keplan
Partus
Calpheon
Breesman
Dimanthor
Ashrogue
Romary
Gabril
Altinova
Meisha
Tarif
Muam Mant
The Stable Keepers that you can rent a Traveler's Horse from are marked with a special icon.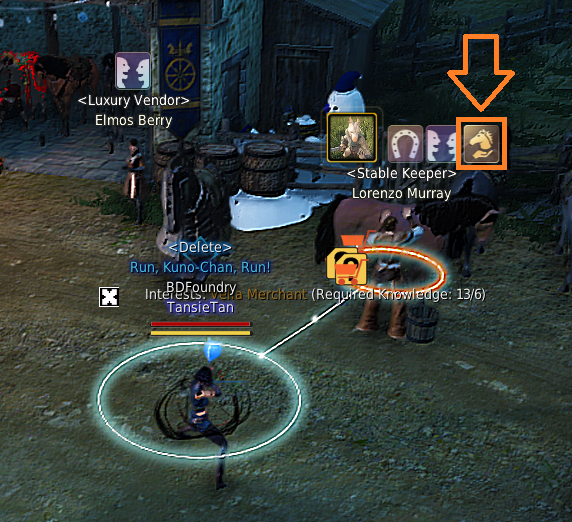 Talk to the Stable Keeper and click the "The Traveler's horse awaits" button to rent your horse.
How to use the Horse Skills
The Traveler's Horse automatically has the following skills leveled to 100%:
The "Drift" skill resets the cooldown of "Instant Accel", meaning you can combo them to make the horse much faster.
First, you will want to set a keybind for Evasions (WW) in your Settings > Action Hotkeys.

Setting a hotkey to this makes it much easier to use the drift combo because you don't have to press [W] after drifting and use fewer key inputs.

Now you can hold the button you assigned and then drift by pressing [A/D] + [S] and press [F] to cancel the drift and get a burst of speed.
Wait until the horse slows down again to use the combo and repeat.
You can also use the combo without changing your keybinds but this involves pressing [A/D] + [S] and then [W] + [F] together, which means your middle finger has to move between [W] and [S] each time, so it's good to get into the habit of using the keybind method instead.
BDO Streamer and Partner "Im Choice" explains and demonstrates it perfectly in this video:
How to feed your Horse
When the horse is running and/or using skills, it will use stamina. Horses also take fall damage and can be attacked by nearby monsters.

To restore the horse's health or stamina you will need to feed it Carrots. All carrots have a cooldown of 5 minutes.
I recommend buying x50 Special Carrots from the Central Market to get you started.
How to return the Traveler's Horse
If you have finished using the Traveler's Horse or accidentally pressed the button and would like to return it, you can either:
Use the "Send back into the wild" button at the Stable Keeper
Go up to the horse unmounted and press "F5" to open the Mount Information window. Then click the "Return Traveler's Horse" icon in the top right.