Introduction
Calpheon Ball took place on 10th December 2022 to showcase upcoming content and answer common player questions. This year the Calpheon Ball was hosted by GM Lemoria live from Los Angeles! Since this Calpheon Ball was presented in Los Angeles, the executive producer (Jae-Hee Kim) joined the stage by GM Alejandro as a live translator.

If you missed the presentation you can catch it at the following official links:
Coupons and Gifts
Due to the release of BDO's first-ever twin classes, this year at Calpheon Ball 2022, we will be getting two J Hammers. The first J Hammer is available today and the 2nd will be shared when Maegu releases in January 2023.
There is also a temporary +1 AP and +1 DP buff automatically applied for all players called "Butterfly Dream". These buffs will be granted on Dec 14, 2022 (Wed) after maintenance – Approx February (one month after the new class "Maegu" is released).
You can redeem coupons by going to the Official Website Main Menu > Shop > Redeem Coupon Code
Or redeem directly in-game through the ESC Menu > Adventurer Support > Redeem Coupon Code
You can get the Promise Gift Box to use with your Promise Gift Box Key. The quest for this can be found in your quest log (O) > New > Welcome to Calpheon Ball!
The quest is available until 4th January 2023
More info here on the official website
Special Login Rewards
Players who log in between 12th December 2022 – 18th January 2023 can enjoy extra rewards!
The new item "Origin of Dark Hunger" can be used to increase your failstack by devouring the item. You can only use Origin of Dark Hunger on stacks that are over 100 and under 230. Devouring an Origin of Dark Hunger will increase your 100 stack to a 111 stack.
Unused Origin of Dark Hunger will be deleted in the maintenance on 8th March 2023
Total Rewards:
Origin of Dark Hunger x10
Cron Stone x1500
[Event] Mystical Artisan's Memory Bundle x1
[Event] Artisan's Memory x20
Horse Breeding Reset (Female) x1
Horse Breeding Reset (Male) x1
Courser's Aura x10
Daily Reward
Day 1
500 Cron Stones
Day 2
100 Cron Stones
Day 3
100 Cron Stones
Day 4
100 Cron Stones
Day 5
100 Cron Stones
Day 6
100 Cron Stones
Day 7
500 Cron Stones
Day 8
[Event] Mystical Artisan's Memory Bundle
Day 9
Horse Breeding Reset (Female)
Day 10
[Event] Artisan's Memory x20
Day 11
Courser's Aura x10
Day 12
Horse Breeding Reset (Male)
Day 13
Origin of Dark Hunger x5
Day 14
Origin of Dark Hunger x5
First Twin Classes
Maegu and Woosa are the first twin classes to be added to Black Desert.
However, initially, Maegu will be released on BDO Mobile, while Woosa will be available on PC and Console.
---
Class Lore
"We came to be on the same day, and yet here we are as enemies…"
The twins are from the Land of the Morning Light region and are heavily based on Korean lore.
There is a custom among Koreans where they take care of all troublesome work during a leap month of the lunar calendar. It is said that no spirit is aware of what happens during a leap day of a leap month, because neither the sun nor moon shines in the sky. The twins were born on a leap year day when neither the sun nor moon lit the sky, and the birth was deemed to be an ominous event.
Maegu and Woosa were sent to the "Woodo" school and exposed to "Do" magic at a young age. The Woodo school focuses on inner discipline and values principle above all else. Woosa displayed exceptional talent at the Woodo school, however, her sister Maegu was told by a famous physiognomist that she will be haunted by spirits, which led Maegu to be shunned by her peers. Maegu grew bitter at the Woodo school after an incident, and ended up forming ties with the nearby school "Jwado". This put Maegu on a different path. In the Jwado school, spiritual enlightenment was achieved by communicating with spirits, and Maegu quickly became popular at the school.
Although the twins were related by blood, their different paths led them to become enemies. They fought daily, and grew apart until the king sent them on a quest beyond Margoria.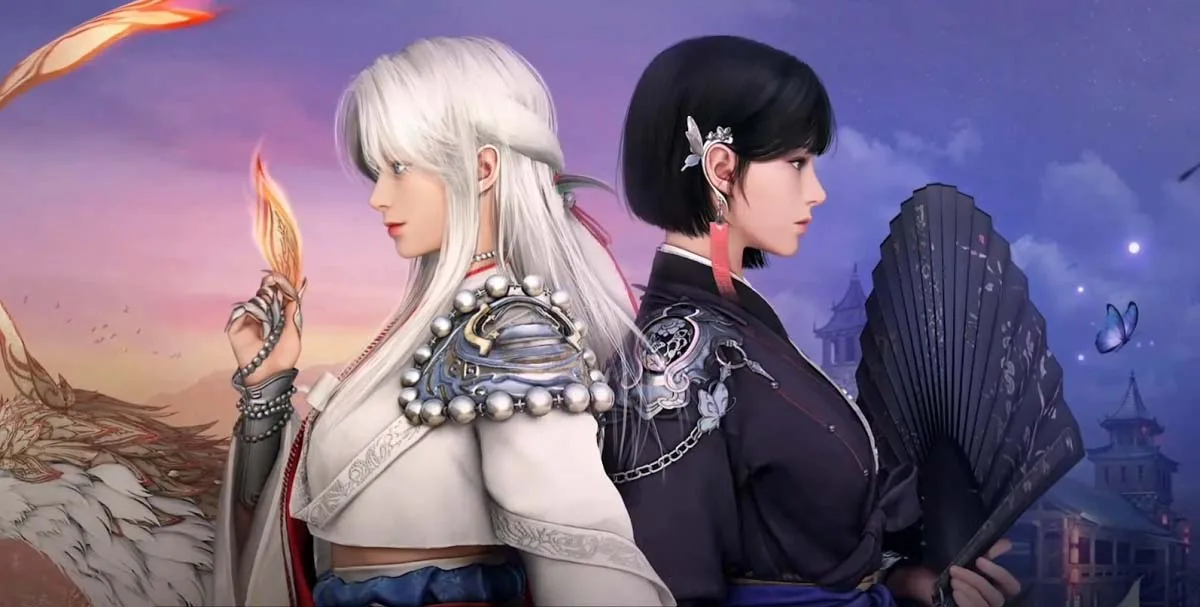 Woosa Class
Woosa will be released globally on BDO PC and Console on 14th December 2022. Pearl Abyss are aiming to release Woosa on BDO Mobile in January 2023.

Woosa is the younger sibling of the twins and her main weapon is a fan called the "Swallowtail Fan". She channels her powers through her fan and unlike her sister, is highly skilled with "Do" magic. Her skills are swift and agile, using martial techniques. Although she appears dainty, she is strong-headed, cool, and collected. Using her signature skills, she can reflect damage taken back onto her enemies.
For her awakening, Woosa will swap weapons with her sister Maegu. She will use a Charm as her awakening, and Maegu will use the fan as her awakening. Although the twins will share the same weapons, their combat styles are very different, and they were designed to be almost polar opposites, so despite the weapons, we can expect a very different style than we have seen so far for their awakenings.
Hailing from the Land of the Morning Light, her traditional Korean outfit exemplifies this by mixing a traditional Korean outfit with a slight dash of modernity. The coloring of the outfit also expresses her personality, as the dark colors radiate the calmness and strength of Woosa's personality. With that said though, the garment itself is relatively soft and breezy, taking on the traditional materials used for hanbok.
Woosa Skills Sneak Peak:
"Stormfall"

The first skill is a super armor skill that applies a stun CC. When Woosa swings her fan, it creates an area of wind around her.
"Cloudrise"

Cloudrise is one of Woosa main skills, she summons a cloud above that showers rain and lightning. Once you unlock succession, you can activate and cancel the skill instantly, If you cancel Cloudrise it will still create a cloud at the location. The skill also has a debuff effect to decrease enemy AP if you don't cancel it.
"Wingbeat"

Woosa enhances the size of the fan and makes a wooshing swing to the side. The skill has no cooldown and high damage. When you unlock succession, you can perform a 2nd attack with higher damage and better range.
"Thunderstroke"

Thunderstroke has an AP increase buff.

"Cloud Carve"

Cloud Carve is a DP reduction debuff.
"Yangban Step"

Yangban Step is one of Woosa's mobility skills. She can move in any direction and disappears for a second before reappearing again (invincibility > super armor).

"Sky Step"

Sky Step is Woosa's signature movement skill. She uses her special "Do" magic skills to move side to side as if walking on clouds and can attack immediately after canceling Sky Step.

"Rain's Thirst"

Rain's Thirst is a unique skill exclusive to Woosa. With succession, the skill becomes a counter. Woosa will stand still in super armor for a second and consume any damage taken as "Do" energy, when she uses her next skill she will return the received damage to her foe as extra damage.

"Cloud"

When Woosa uses Cloud Carve and Thunderstroke, a cloud appears above. If you use a skill after summoning a cloud, lightning will come from the cloud to also deal damage. If Woosa is standing under the cloud and takes damage, lightning will come down from the cloud to protect her.
Check out the combat teaser trailer below for Woosa!
Maegu Class
Maegu will be released globally on BDO Mobile on 13th December 2022. Pearl Abyss are aiming to release Maegu on PC in January 2023.

Maegu is the older twin of the two sisters and wields the Foxspirit Charm as her main weapon, with a hairpin as her secondary weapon. She is a magic user and draws her mystic powers from fox spirits. Her visual effects are reminiscent of the "gumiho" nine-tailed fox from Korean folklore, and her skills are based on the "Magu" diety from Korean mythology. If you were to say that Woosa radiates strength and calmness, then Maegu's gumiho concept is the opposite. Her fascinating characteristics are exemplified in her overall outfit, which displays bright colors with sheer red accents.
For her awakening, Maegu will swap weapons with her sister Woosa. She will use the Fan as her awakening, and Woosa will use the Charm as her awakening. Although the twins will share the same weapons, their combat styles are very different, and they were designed to be almost polar opposites, so despite the weapons, we can expect a very different style than we have seen so far for their awakenings.
Maegu Skills Sneak Peak:
"Fox Orb" is a skill that allows Maegu to weaken her enemies by stealing their essence and empowering herself.
There are 4 different charm skills each tied to the 4 trigrams on the Korean flag. The first is "Charm: Skypounce" which is a mobility skill with invincibility > super armor.
Check the combat teaser trailer below for a sneak peek and Maegu's moves!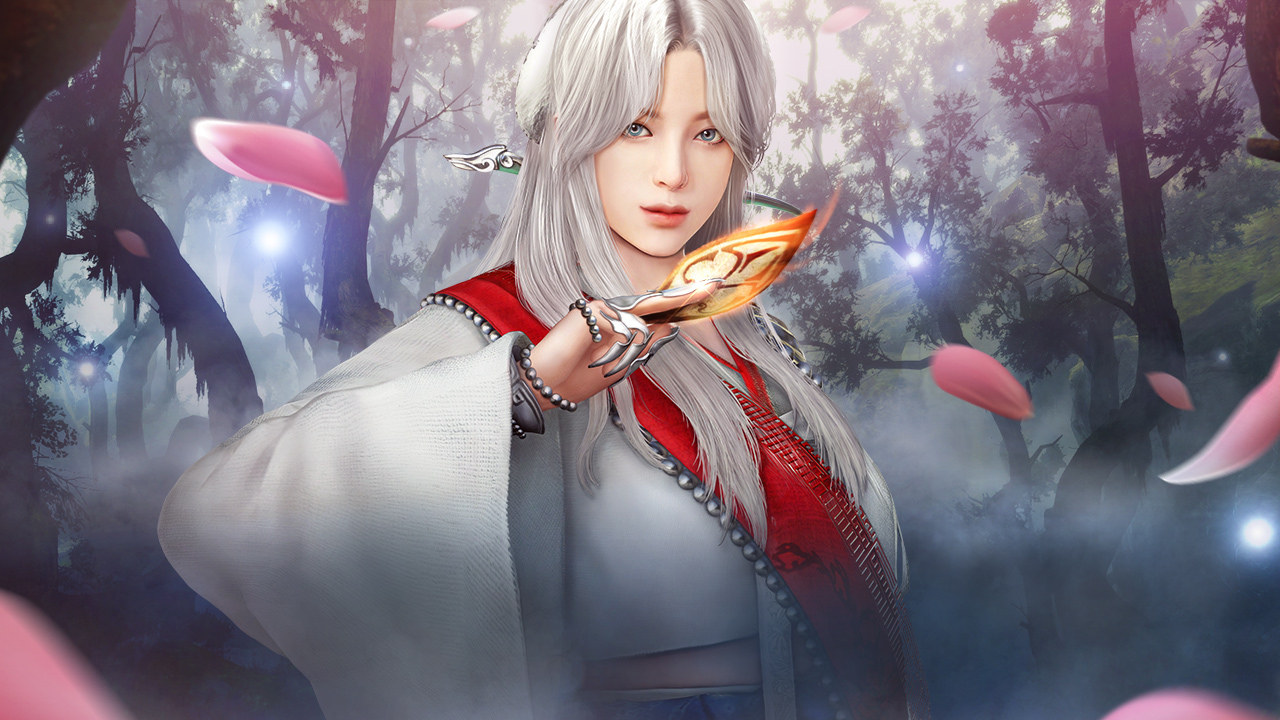 Land of the Morning Light (New Region)
Land of the Morning Light is expected to release mid-Febuary in Korea and will update in other regions as soon as localization has been completed.
Land of the Morning Light is the next region to be added to the Black Desert World. The region is located on the Haso continent, which represented the eastern region of Black Desert and has been completely renewed. Players may already be familiar with "Port Ratt" but the name of the harbor is being changed to "Nampo Harbor", and now players will finally be able to explore the land behind this little town. The new region looks to be around the same size as Kamaslyvia.
You can check out the new region on our Interactive Map!
Story
The Land of the Morning Light was modeled after the Joseon Dynasty, the last dynastic kingdom of Korea.
The setting of the Land of the Morning Light is based off various folktales and legends passed down from ancient times to modern times.
The story quests will be full of folklore and unlike other story quests, players will be able to choose their own path in the story. The Land of the Morning Light splits off into its own story, giving a break from the main plot of Ancient Relics and Illezra the White Witch. Adventurers will find themselves swept up into an incident with Dolswe, leading you to be under the watchful eye of Lee Duksoo, Warden of the Donghae Province.
The story will not have linear progression like in the past, and there are actually 2 different endings for each story. The ending you choose will be stored in your new "Story Book", along with illustrations from your journey. One of the main characters in the story is Yeonghwa. Adventures already met her in the Magnus, but it appears she already made it back to her homeland before us.
There are also new races in Land of the Morning Light. Similar to the Papu and Otter, there is the hare and tortoise race. There is also a new tiger race called the "Horang" which may look somewhat similar to Fadus in design, however, Jae-Hee Kim says that the new race makes Fadus look like "hello kitty" in comparison.
New Hare and Tortoise race
New tiger race "Horang"
Boss Rush
Unlike other regions, Land of the Morning Light does not have ordinary monster zones.
Pearl Abyss wanted to focus on bringing new and refreshing content, so Land of the Morning Light has "boss rush" monsters instead and these are the main content in Land of the Morning Light.
There are various different bosses (8 in total) and each one has complicated mechanics and strategy. Some examples of these new bosses are the Gumiho, Songakshi, Duoksini, the Bamboo Legion and the Changui.
All the bosses are designed to be solo-able, but Pearl Abyss has gained experience while developing Atoraxxion, and these new bosses can also be defeated in co-op with your guild. The guild versions of the bosses have different attack patterns and mechanics from the solo version.
New Items
There are new items also introduced in the new region, the first is the "Dahn's Gloves" which are the Fallen God/Labreska equivalent for the glove armor slot.
There is also the "Bonghwang's Tear" which has lots of item effects and is a new best in slot crystal. However, you can only equip one Bonghwang's Tear.
Other Announcements
Console Updates
14th December 2022 update:
Woosa Class release.
Marni's Realm will be added.
A new fairy skill "Continuous Care" will be added.
Caphras Stone level will be increased from 10 to level 15.
Garmoth solo mode will be added.
Item Collection Scroll Gauge will be added.
Console will be moving to a longer but more consistent patch schedule for the main content, which will ensure a more stable and plentiful content update. Balance and QoL updates will be regularly updated eveyr 2 weeks.
Winter Season
The winter season will start on December 14th 2022 for all regions.
SEA and Thailand Cross-Play
Many Adventurers enjoyed the World Conquest War events that happened in the past. These took place during special events.
We are currently preparing a cross-play server where you can enjoy all the contents of Black Desert with Adventurers from other regions, including Node War and Conquest War.
Cross-play will apply to Thailand and Southeast Asia service areas, as they have relatively close physical distances.
As this is something completely new, it will take time to develop as there are many technical challenges to overcome.
NA Server Relocation
Pearl Abyss is considering relocating the servers from the west coast to a more central location.
Family-wide Silver
Silver will be shared across all of your family. Managing silver will be much easier with this update.
Craftable Pearl Furniture
Starting in January, Pearl Furniture items will become craftable in-game one item at a time. Some items will be craftable at a furniture workshop, and others will be obtained through other methods.
Shakatu Seals Rework
The seals were originally added to reward loyal players, but the rewards needed an update. A new Radiant Shakatu's Seal will be added with more meaningful rewards. These new seals can be exchanged for the items below. You will not be able to exchange any old seals for the new rewards.
A Gold Bar box that can earn up to 1.5 billion silver, Item Increase Scrolls x30, Supreme Old Moon Scrolls and more will be added to a new Shakatu Seal.
It will also include the "Garmoth's Horn," which is an item that can increase the tier of pets obtainable from Garmoth, and a special yellow title, "Shining Knight" can be claimed too.
Dancing Animation and Playing Music
A dance animation is being added of the DokeV dance. It is currently only going to be available on the Shai class.
Dev Talk Q&A
Crystal Presets
The crystal presets will be ready very very soon. It will be updated on the Global Lab first on the 16th of December.
Crystals are equipped on the gear but will be selected using the dedicated UI.
You can create different crystal presets and switch them depending on the desired playstyle and conditions.
Previously there were limitations to equipping certain crystals on certain gear, these have been removed.
For example, Elkarr crystals could only be equipped in main-hand weapons.
Instead, crystals have been changed so you can only equip a certain amount of each one. For example, a maximum of 2 for normal crystals, and 4 for combined crystals (Hoom, etc)
Additional crystal slots have been added. There are 2 new locked slots that can be unlocked in Land of the Morning Light and new upcoming content.
The new Land of the Morning Light crystal can be equipped in one of these new slots.
DP Efficiency
The current DP brackets were made to close the gap between newer players and high geared players as much as possible.
Pearl Abyss agreed that the DP efficiency is too low in PVP and you should not be able to one-shot another player. However, they said that if they were to rush an overhaul to DP, then it would widen the gap. Therefore they are going to take a step-by-step approach by adding new gear rather than just adjusting the bonus defense brackets..
The Vell heart DP upgrade was designed to increase DP, and they want to make similar updates in the future, such as the new Gloves.
Pearl Abyss also received feedback on the difference between Evasion and DR, they believe it also depends on class balance differences.
Arena of Solare: Season 2
It has been 2 months since ended and players are asking when the next Arena of Solare season will start.
The next season will start on December 28th
When you start a new season, you will first play a placement match which will determine your starting rank.
Placement matches are based on your ELO from season 1
A new battlefield is also planned
More variety of gear will be added

For example, Slumber Sage's Armor has high damage reduction, while Eye of the Storm ring has high evasion.
End-game Monster Zones
Pearl Abyss is currently working on the new region so there are no plans at the moment for new end-game monster zones.
They do hear the feedback and to make up for it, they've been working very hard on the Boss Rush for the new region. There will be 8 bosses in total and they will all have unique mechanics and be challenging.
Life Skills
A new function to check the durability of life skill tools is being worked on so you don't have to manually check it in your inventory each time.
More NPCs will be added for exchanging fishing byproducts
You can currently create imperial delivery boxes with a tagged character, but you can't move them in or out of storage. This will be updated soon so that tagged characters will be able to move imperial delivery boxes in and out of storage.

However, Pearl Abyss noted that this is not easy for them to change. They are also worried about potential exploits, so no other trade items will be changed at the moment.

The cheer animation will be removed for Sharp and Hard Black Crystal Shards when gathering.
Ocean Content
Sailing EXP will be obtained in more shallow waters but will grant less EXP than in the great ocean.
There are plans to expand sea monsters and bartering eventually
Pearl Abyss is currently preparing more worthwhile ocean content objectives for players to work towards.
The Epheria Dreadnaught ship is being developed.

The Epheria Dreadnaught ship's stats, speed, and size surpasses all other current ships
The ship is too large and magnificent for permanent ownership. Players will be able to temporarily earn the right to use it by defeating certain sea monsters or through special barters for example. This idea is subject to change depending on feedback and development.
Further information will be released on Global Lab.
QoL Changes
The Low HP blinking effect on your screen will be addressed straight away. Originally was intended for new players, but the constant flickering is difficult on the eyes so there will be a toggle option added for the effect.
The default distance for calling a horse will be tripled, increasing from 50 to 150 range. Players found it is sometimes faster to just go to the horse instead of whistling it, and when you call a horse sometimes you aren't sure if its coming or not. A color indicator will be added to the horse icon showing when the horse is in range of calling
Pearl Abyss is working on a method to be able to open boxes while mounted. However, for gear, there is potential for exploits, especially in Siege, so equipping of gear while mounted will not be added at the moment.
The level restrictions for changing classes are level 6, and level 10 for editing the UI. These restrictions were added to gradually introduce certain features to new players, but will now be removed for players who have achieved level 10 on any character in their family.
A function will be added so that you can right-click a Marni Stone to take you to Wacky Toshi.
Guild Management Improvements
Players have to use Google Sheets and Excel to work out their Guild incentive payments for all their members.
There are currently lots of annoying and inconvenient aspects to sending incentives. For example, if you accidentally closed the window you had to start from scratch.
Pearl Abyss is looking at ways to improve guild management.
Their main focus at the moment is to make it easier for guild masters to calculate payments in just a couple of clicks.
A new contract document will be added which can be sent to members to check for their participation. When you approve the document, the points will automatically be added to the guild management and calculated when sending incentive payments.
In addition, Guild Leaders can set how many participation points you will automatically receive by attending Node and Conquest Wars.
Pearl Abyss would also like to add the ability to renew contracts across all servers, but they found that this update put a lot of stress on servers. When working on optimization for console, they finally found the solution. However, this feature will require reconstructing the guild systems in the backend and will take a long time to develop, but Pearl Abyss promises to keep working on the solution.
Appearance
Pietro, the clown faced Butler strikes fear in the hearts of many. Send a ticket to Customer Service who can help replace it with a less terrifying butler to handle your goods. Pearl Abyss will also be looking to add a toggle function in the future.
Ninja Owl-rimmed glasses will be added next week and Pearl Abyss will continue to provide various accessories, focusing on certain classes lacking variety.
Pearl Abyss receives a lot of feedback about heels on the Pearl Costumes, however, it is not something that can easily be changed due to the character models.
The wait is almost over for the Wizard Body Update. This update is planned for mid-January.

Originally, Jae-Hee Kim said it was going to take around 8 months, but it actually took over a year and was much more work than they thought. Changing the body model was like changing an entire skeleton, and everything had to be remade from scratch.
As such, you won't be able to use your current character customization. However, you will still be able to fully customize your wizard and make them look as old as you like! Wizard customization events will be coming when the body update is released.