Introduction
This guide aims to aid new players or players who haven't ever participated in a node war. It also contains some information and tips for leadership roles in the guild.

Guilds can own and fight other guilds in large-scale PVP battles, over Nodes and Regions to control them, and will earn silver for controlling a node. These are known as "Node Wars" or "Seige Wars/Conquest".
Node wars are held from Sunday to Friday

18:00 UTC – 20:00 UTC for EU
01:00 – 03:00 UTC for NA.

Conquest wars are held on a Saturday at the same times.
To begin to compete for a certain node, a guild must build a fort inside the node territory.
Only one fort can be placed per day. The design for the tower at a Guild Manager NPC. Forts must be rebuilt for each Node War. You can find more information about building further into the guide. This is done by the leadership of the guild and you do not need to worry about the building of the tower if you are a regular guild member.
There are also different tiers of node wars. Each node is designated a different tier between 1 to 4. More information on the tiers and a tier list can be found further in the guide.
The winning guild of a Node War is the last to have their fort still standing. The winning guild will automatically receive a large amount of silver depending on the tier of the node and will automatically participate in the same node war next week. If more than one fort is still standing when the time runs out, this is counted as a draw. The node will then be liberated and the silver reward will be carried over to the next week to give a higher reward. These are known as "rich" nodes.
To participate in a Node War/Seige, each member must change their "Participation" to Yes in the guild member list window.
After participating, you can collect your reward by clicking "Collect Reward" at the bottom of the guild window.
---
Roles and Responsibilities
---
Leadership Roles
---
Guild Leader

Your guild leader is the only person in the guild who can use the teleport skill (command to gather). This skill can be used during the node war to teleport all guild members to their location. It can be useful for some tactics, such as using command to gather on an enemy fort when they have moved out of their base, then using axes to do as much damage as possible to their fort. It can also be used in defensively to bring all members back to your fort if you are under attack.

Shot caller

This person is the voice that the main attack squad will hear during the node war. Their role is to tell you when to engage/disengage, use specific abilities (PA rotations), place traps, tell players when to "bomb" etc.
It is extremely important to listen to all the commands a shot-caller gives. Even if you don't agree, you should commit to their judgment. If you have any feedback then wait until after the node war is over. Shot callers are under extreme stress and are constantly processing information during a node war.

Diplomat

This person is in charge of all the politics that come with a node war. Their role is to type to other guild diplomats for most of the war. They should be trying to make deals such as non-aggression pacts with other guilds, and be getting information as to what other guilds are doing during the node war.
I highly recommend designating a full-time diplomat and putting their family name clearly marked in your guild information so that other guild diplomats can contact them easier. Other diplomats will often try to contact the guild leader or other names listed in your guild information. If they can't get in contact with anyone, you can miss out on key information and deals that may have highly impacted your position in the node war.

Other leadership/officers

Your role may be in other fields such as leading the other squads (defense/flex/bomb/cannon) or feeding key information to the shot-caller. All officers can use the guild skills to give buffs to guild members during the node war.
---
Guild Member Roles
---
Main Attack

The majority of guild members should be in this category. Your job is to listen to your shot-caller and work together as a team. You should be told exactly where and what to do. Even if you don't agree with certain calls, you should commit to the shot caller's judgment. If you have any feedback then wait until after the node war is over. Shot callers are under extreme stress and are constantly processing information during a node war.

Bomb

The role of "Bombers" is to engage separately just before the main attack makes their engage. This is to disrupt, distract and get as many kills as possible. Bombers are usually high AP players and specific classes who have high burst damage. They will usually go in and get multiple kills before using V to escape, or dying.
Classes that suit this role are: Valkyrie, Berserker, Kunoichi, Tamer, Wizard, and Witch (most wiz/witch are usually best in main attack for PA but high-geared wiz/witches can join bomb squad and be very effective)

Flank/Flex

The role of "Flank/Flex" is, as the name suggests, quite flexible. They have various roles and it really depends on what is going in the moment. Flank/Flex may be sent to take out cannons, help the defense team, cause havoc at an enemy base, or may assist main attack by flanking the enemy on their engages.
Classes that struggle in main attack are usually put into flank/flex: Musa, Maehwa, Dark Knight, Sorceress, Lahn

Defense

The defense team has a very important role during the node war. They must defend the base against any attacks. Good communication between the defense leader and the other leading roles is vital. Players will occupy the Flame Towers and Hwachas which have been built and use these to help defend. They are also in charge of placing traps around the base and upgrading barricades at the start of the node war.
All defense team members should have the quartermaster role and a guild allowance set.
One player is also deligated to ride the elephant if your guild has one. The elephant is sometimes used for defense, or to attack another guild's base.
Sometimes defense can be a quieter role and a good role for players will lower gearscore or if they struggle with computer issues during a node war, whilst still being very useful.

Cannon

Cannon squad is usually a very small team and may only be one person if your guild doesn't have many members. It is also optional because of the use of elephants and the limited amount of annex buildings you can place. However, you shouldn't underestimate the damage that cannons can do. The aim is to set up a cannon in a spot that is hard to reach, then fire cannonballs onto an enemy fort. Cannonballs deal high damage to Flame towers, Hwachas, Recovery Centers, and Supply Depots. Cannonballs will also knock down all enemies in the area that they hit, so they can easily disrupt fort repairs or be very useful right before your main attack engages if you can coordinate well.
Classes that suit this role are: Ninja, Kunoichi, Lahn
Ninja and Kunoichi are best suited to the cannon squad because they have a double jump and can get into really good spots to place cannons. Lahn is also a good class for the cannon squad due to her "flight" skill which helps her get into spots that other classes will find hard to get to.
---
War Heroes
---
If you have room in your guild for more members, you can hire "War Heroes" to fight for your guild during Node wars and conquest wars and receive rewards.
You must be on the same server to receive an invite
Make sure you remove ALL items with [Guild] in them.
If the guild has placed a fort or command post, they cannot invite a war hero.
Guild members that currently own a region (from siege) cannot become a war hero.
Guild Masters cannot become a war hero
| Node War | War Heroes |
| --- | --- |
| Tier 1: Beginner | None |
| Tier 1: Intermediate | None |
| Tier 2 | 3 |
| Tier 3 | 4 |
| Tier 4 | 5 |
War Heroes are given a different contract that lasts until 00:00 UTC the same day. The contract is automatically terminated and cannot be canceled early. When you join as a War Hero, a certain percentage of the guild funds are given to you as a down payment (up to 10 million silver) when you leave the guild. If you win, a victory reward will be given as well (up to 20 million silver). If the territory is liberated or the guild did not participate in the warfare, the money will be returned to the guild at 00:00 UTC the same day.
War heroes may join the main attack, work with flank/flex/bomb, or may work on their own as a separate unit if they are familiar with each other. It really depends on the classes of war heroes and how many there are.
---
How and Where to build your fort
---
Node War Tiers
---
There are 4 tiers of nodes:
Tier 1

Tier 1 nodes are split into Beginner and Intermediate node categories
Each node has stat limit caps depending on which category they are in, this just means that if you are over the limit, your stats will be reduced to the limit for that node.
These numbers can seem daunting at first and one thing to note is that it is not your sheet AP/DP. It is actually the total hidden AP and includes your AP bracket bonus AP and any buffs which give AP. This means that if you are over the limit you don't always need more AP buffs. All stat limits are based on your character's Total Stats available in the View My Stats window.
If you occupy a tier 1 node, you will not be able to challenge a node on tier 2-4. If you occupy a tier 2-4 node, you will not be able to challenge for a node on tier 1.
Stat Restrictions by Node Tier
Node Tier
Tier 1 Beginner
Tier 1 Intermediate
Tier 2
Tier 3
Tier 4
AP
245
335
514
572
None
Damage Reduction
223
286
354
398
Accuracy
645
695
757
796
Evasion
741
805
870
922
Damage Reduction Rate
7%
14%
21%
26%
Accuracy Rate
15%
15%
20%
None
Evasion Rate
15%
15%
20%
None
Special Evasion
0%
0%
20%
None
Resistance
20%
30%
50%
None
 In Tier 1 (Beginner and Intermediate), your max HP is also limited to 5,000 and your maximum HP will reduce by -500 every 20 minutes.

For example, at the beginning of the node war, your Maximum HP is 5,000, then it drops to 4,500 after 20 minutes, then 4,000 after another 20 minutes, etc.
Different nodes also have different limits to the maximum number of participants. You should keep this in mind when selecting a node and make sure you will have enough members active on the day you choose.
The higher the tier and its difficulty, the more silver reward can be earned if you win the node. The higher maximum number of participants on the node also affects the silver reward.
You can find the node war tier and information by hovering over a node.
You can only proceed with Node Wars in one Node territory but you can participate in one node war per day and own up to 3 nodes at a time.

For example, if you win a node in Balenos, you can only participate in node wars in the Balenos region until the node is lost.

You will not be able to participate in Tier 2-4 Conquest Wars if you participate in Tier 1 (Beginner/Intermediate) conquest wars. (Rules apply vice versa)
You may also participate in node wars while owning a region, but you are not able to own nodes.
Node War Tier
Days to Participate
Tier 1 Beginner
Mon, Tues, Thurs, Fri
Tier 1 Intermediate
Sun, Mon, Wed, Thurs, Fri
Tier 2
Every day except for Saturdays when Node/Conquest Wars are in progress
Tier 3
Tier 4
---
Tier 1 Beginner (4 Total)
Node Location
Day
People needed
Western Guard Camp
Tuesday
20
Northern Plain of Serendia
Thursday
20
Treant Forest
Friday
25
Polly's Forest
Sunday
30
---
Tier 1 Intermediate (5 Total)
Node Location
Day
People needed
Cron Castle
Monday
25
Alejandro Farm
Wednesday
25
Abandoned Iron Mine
Thursday
30
Desert Naga Temple
Sunday
30
Tooth Fairy Forest
Friday
35
---
Tier 2 (11 Total)
Node Location
Day
People needed
Glish Ruins
Monday
30
Mansha Forest
Tuesday
30
Mirumok Ruins
Wednesday
30
Wolf Hills
Friday
30
Helms Post
Monday
40
Saunil Camp
Wednesday
40
Castle Ruins
Friday
40
Ibellab Oasis
Sunday
40
Omar Lava Cave
Tuesday
40
Khuruto Cave
Thursday
40
Manshaum Forest
Sunday
40
---
Tier 3 (12 Total)
Node Location
Day
People needed
Roud Sulfur Mine
Monday
40
Canyon of Corruption
Thursday
40
North Abandoned Quarry
Friday
40
Quint Hill
Monday
55
Valencia Castle Site
Tuesday
55
Ancado Coast
Wednesday
55
Bashim Base
Thursday
55
Elder's Bridge
Sunday
55
Navarn Steppe
Tuesday
70
Orc Camp
Wednesday
70
Hexe Sanctuary
Sunday
70
Sausan Garrison
Sunday
70
---
Tier 4 (8 Total)
Node Location
Day
People needed
Ivory Wasteland
Monday
50
Hasrah Cliff
Friday
50
Basilisk Den
Tuesday
75
Pilgrim's Sanctum: Obedience
Thursday
75
Gyfin Rhasia Temple
Sunday
75
Calpheon Castle Site
Wednesday
100
Bloody Monastery
Sunday
100
Ash Forest
Sunday
100
Participation System
The Participation System was added to help deal with "sniping" so that guilds are discouraged from building a fort if they don't intend to actually fight for it.
You are given 1 "participation opportunity" per week. This is consumed when you build a fort, but if you meet the minimum requirements, it will be refunded so that you can participate in a node war again in the same week. Participation opportunities are reset every Saturday at midnight.
The minimum requirements are as follows:            
If an enemy fort is destroyed, or the number of kills/deaths is greater than 20
How to build your fort
---
Once you've selected which node you would like to build your fort on, make sure you are in the correct channel on the day of the node war.
For example, if the node is in serendia, you need to join Serendia 1. Next, find a Guild Manager close to the area you are going to build. You must build the fort no later than 1 hour before the start of the node war but can continue to build the annex buildings.
You must be an officer or guild master in order to build the fort and will need a guild allowance to buy the items required.
If you are doing a tier 1 or tier 2 node, you will need to buy the [Node] Square Fort for 500,000 silver.
If you are doing a tier 3 node, you will need to buy the [Node] Strong Square Fort for 500,000 silver.
If you are doing a tier 4 node, you will need to buy the [Node] Sturdy Square Fort for 500,000 silver.
On the item description you can see the maximum amount of "Annexes" you can build on each one. The higher tier, the more annexes you can build. More information about Annexes is in the next section.
After buying the correct fort, go to the node war area to place it and begin building. You can turn on the Node war filter on the map to see the whole node war area you can build in. Do this by opening your world map (M) then pressing the Node war filter icon in the top right corner. It has 2 swords crossed (refer to the screenshot below). You can then click the node you will be fighting on to highlight the whole area.
Now it is time to place the fort! You have a huge area to decide where to build the fort and its location is very important and can impact the way things turn out for you later on. There are lots of things to consider when you are thinking about the location.
For starters, you want to look out for any large rocks or mountains/high points nearby, because these can be good spots for classes like wizards and witches to hit your base without you being able to defend against it very well. Avoid them at all costs!
Instead, look for flat areas without much obstruction around them, ideally at the top of hills/mountains or areas/buildings that may force your opponents into a choke point to get to you.
Watch out for nearby safe zones since players cannot fight in these areas. This can work for or against you so be careful. Enemies are able to group up easily in the safe zone and go in and out of it to avoid being hit.
While you are placing, watch out for officers from other guilds in the area. They may also be placing their fort and this can give you an advantage in making allies and pacts early on, or you may choose to change your location to get a better strategic location to take them out. You can also take flares with you to reveal anyone standing around or trying to place in a ghillie suit.
It's also good to note that the fort and its buildings are invisible until the node war begins, but you can still be scouted by other players. Use a character under level 50 with a ghillie suit if you have one to avoid being spotted by enemy guilds and so you cannot be attacked while placing and trying to build. Some guilds may try to stop you from being able to place and build by attacking you otherwise.
You also cannot place your fort too close to an enemy fort.
After picking your location, right-click the fort in your inventory and it will open up the grid. You can only place the fort when it goes blue so move the fort around a bit until it does, if the fort shows red, it means it cannot be placed in that particular spot on the grid. Don't worry though if the area around is red, you can still build your annex buildings around without any problem.
You will then get a confirmation showing which node you are placing the fort on to compete. Double check it is the correct one! It will then take 15 seconds for you to place the fort. After placing, it will take 1 hour for the fort to build fully. During this time you can pick the fort back up to cancel it. You can now start to place the annexes around your fort as well. Once the hour is up, you cannot back out of the node war.
Placing the fort or any buildings directly on top of your character will give you a short loading screen. Don't worry, it's normal!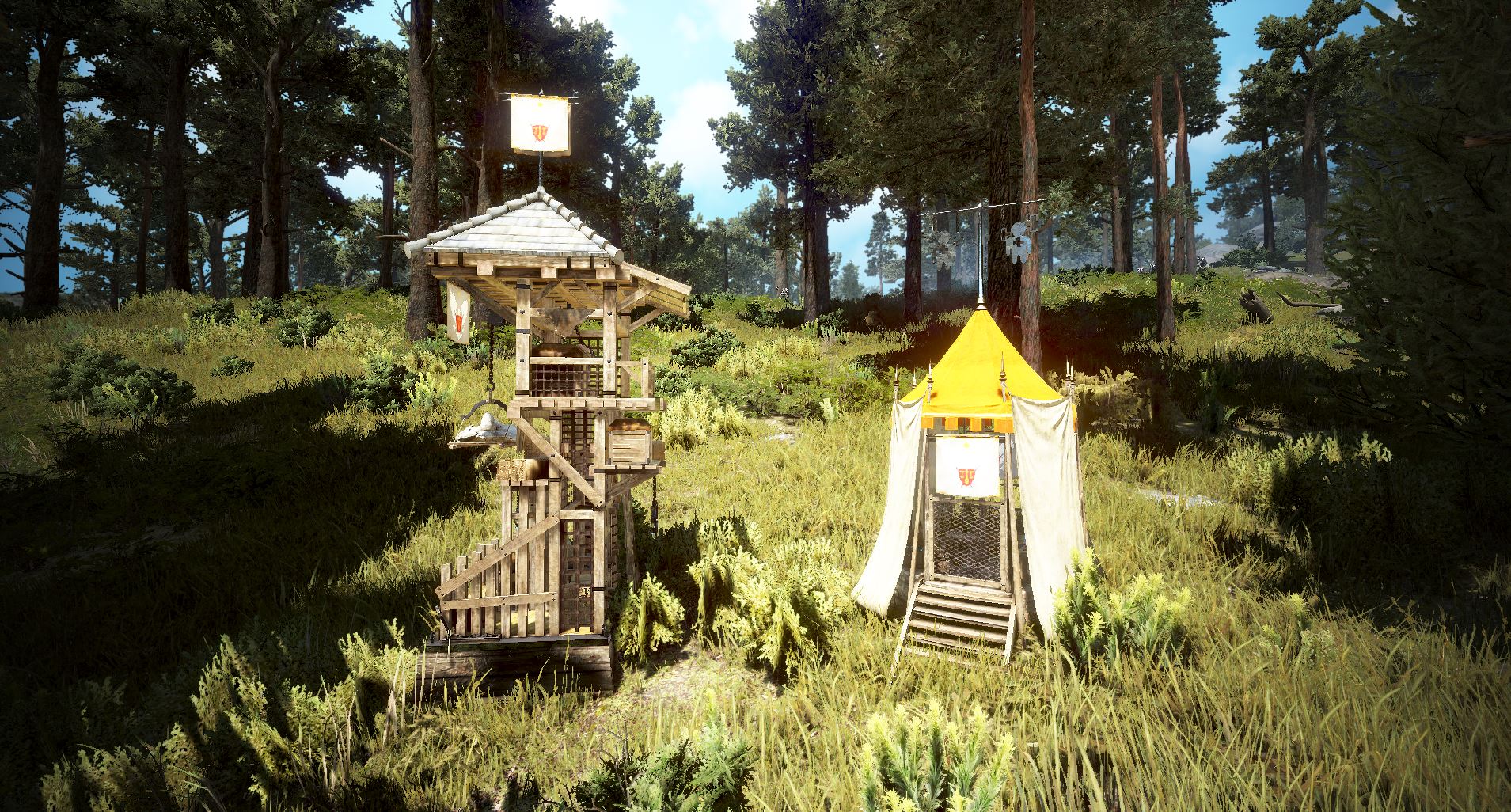 ---
Annex Buildings
---
There are nine different annex buildings you can buy and place around your fort.
When placing each item you will get a window that shows how many you can place and how many you have already placed. You only have a certain amount of grid space available though so you will not be able to get the maximum of everything.
You can rotate the annexes by pressing [ and ].
I recommend starting by building the maximum amount of Flame Towers and Hwachas first. Place the Flame Towers apart from each other so that you have them covering all sides of the fort if possible. Then build the Hwacha so that it is protected by a Flame Tower but can hit players in the direction you think is most vulnerable. If the annex buildings are destroyed during the node war you can move them to a better location so don't worry too much about getting a perfect position and adapting during the node war if needed.
Next, place the supply tower. This is an important one and you want to make sure it is placed where it is protected by the flame towers and close to the fort, making it harder for the enemy to reach. Don't put it directly next to a flame tower though and make sure to space things out well so that all your important annexes can't get hit at the same time.
The recovery centers are next, try to place these as spread out as possible but make sure they are in the range of the flame towers so they are protected, or at least in a hard-to-reach spot.
Afterward, place the flag factory, cannon observatories, and/or elephant nursery if will be using them in the node war. Place these wherever you have room.
Finally, add barricades and a wooden fence gate to use the remaining grid spaces. Don't place the gate directly next to any annex because you may get splash damage hitting them. I recommend putting them in front of the supply depot to protect them. When building the barricades, make sure you don't leave gaps between them and try to place them so that enemies are forced to enter your base where the flame towers can easily hit them and create a choke point with them. You can also place one barricade facing the hwacha and then that can be used to do a melee shot with the hwacha if it needs to defend itself. You will probably use at least 10 – 20 barricades, depending on the node tier.

Extra tip: if you are on a T1 or T2 node, you can preload the flame towers and hwachas with ammo since they don't need to be upgraded at the start of the node war.
---
Node War Gear
---
Since some node wars have capped stats, you want to min-max your gear.
You can check all the stat limits using the World Map, by activating the "Node War Information" filter in the top right, then hovering over a node.
Your stats will be green if you are over the stat limit, and red if you are under the stat limit.
There are two accessories that can be purchased at Mandolf the Armor Vendor in Trent (Calpheon) for 100,000 silver each.
Chimera's Pupil Gem x2

Down Attack Extra Damage +10%

Kaia Necklace

Back Attack Extra Damage +10%
---
Fort Repair Time
---
During a node war, your fort will take damage and will need to be repaired by your guild.
The default fort repair time is 40 seconds, but you can reduce this down to 20 seconds. This is extremely important and usually a requirement for hardcore node war guilds.
Your life skill levels on your character reduce the time by a certain amount of seconds:
Professional – 1-second reduction

Artisan

– 2-second reduction
Master – 3-second reduction
Guru – 4-second reduction
It is recommended to mix and match your life skills to reduce the time.
The easiest combination is the following:
---
Preparing for a Node War
---
There are multiple things you should be doing before a Node war to prepare. Different guilds will have different requirements based on the tier of nodes they go for and how strict they are.
Here is a quick checklist you can use, more information can be found under each section below:
Channel – double check you are in the correct channel for the node war. Node wars take place in channel 1, depending on the region you are participating in. You should be told in advance which channel to go to
Participation – make sure your participation is set to "yes" in the guild window
Potions – you will need as many potions as you can since you could be fighting for a maximum of 2 hours
Repair your gear – repair your gear at a blacksmith or using your tent (tents disappear 15 mins before node war starts on a node war channel)
Alchemy stone – make sure it is charged and remember to switch it on just before the node war starts
Traps – if you have the Quartermaster (or higher) role you can buy traps in advance at a guild manager. Buy stun traps only (you may be told to buy elephant traps as well). I recommend buying a minimum of 3 and a maximum of 10 to start with
Villa buff – you will need a villa invitation to get the Body Enhancement villa buff, more detailed information can be found below
Food buff – if you are using a 4-food rotation (not recommended anymore) you will need to start this an hour and a half, before the node war. I recommend using an exquisite cron meal
Elixirs/Perfume – you will probably be asked to bring certain elixirs and may be required to use perfumes. Ask your guild what their requirements are if you are not sure.
Other buffs (crit/furniture/church/etc.) – some of these buffs may be optional depending on your guild requirements, node war tier, and your gear score
Repair materials – you should always have a minimum of 30 polished stones on you in case you need to help repair the fort
Trina Axe – make sure you have your axe in your inventory and fully repaired
Horse – don't forget to be on your horse when you take the teleport at the start of the node war, otherwise, it will not teleport with you
Party/Platoon invites – you should be invited to a platoon or party beforehand for the group you have been assigned to. This should be told to you in advance but if you are not told anything presume you are in the main attack and x up in guild chat when told to. You will probably be told to join discord or TeamSpeak 30 minutes in advance as well where they will brief you on any info and probably go through a checklist.
Guild allowance – if you are a defense team member, double-check your guild allowance and make sure you have enough set by your guild master.
---
Villa Buff
---
The Villa Buff is extremely important and gives a variety of buffs. You will need to buy a Villa Invite, which costs 10 million silver (10M Gold Bar x1) and the invite lasts for 7 days. If you have the Pearl Store Tent, you can buy any Villa invite from any villa and then buy the Body Enhancement buff directly from your tent. If you don't have a tent, you must go to the correct Villa to get the Body Enhancement villa buff.
There are only 2 places where you can get the Body Enhancement villa buff

Lohan's Villa – Just north of Gahaz.

Astosa's Villa – Central south desert (Near Fogans)
The buff costs 4.5 million silver you get a 3-hour buff. You can take the buff anywhere up to an hour before and it will still last the full duration of the node war. If you have the Pearl Store Tent, it's important to remember that you can only use the tent up to 10 minutes before the node war if you are on a node war channel because tents are removed on these channels at this time.
---
Food/Elixir Buffs
---
The 4-food rotation is no longer recommended because cron meals were buffed and it takes 1 and a half hours to prepare a 4-food rotation.
I recommend using the Exquisite Cron Meal.
If the exquisite cron meal is unavailable for any reason, you can use the 4-food rotation in this order:
Knight's Combat Rations, Kamaslyvia Meal, King of Jungle Hamburg, Valencia Meal
You will need to pop the first food 1 hour and 30 minutes beforehand then pop each meal every 30 minutes and then go back to the start once you've popped the Valencia Meal to keep up the buffs for the full duration of the node war.
For your Elixirs, it really depends on your guild's requirements. They will probably have a list of what they expect from you or you should ask if you are not sure. There are a lot of elixirs to choose from but here are the main ones that are used:
---
Other Buffs
---
These are other buffs you can collect and you should get them right before the node war starts (5 minutes before).
Church Buff

2-hour duration
Obtained from priests in some towns/cities: locations
Gives a random buff depending on which category you choose. Pick the AP and Accuracy one unless you the node is AP capped.

Always worth taking because it's very cheap (5 x 1g bars = 500k)

Carolin's Crit Buff

30-minute duration
Obtained from Carolin in Heidel (in the building near the skill instructor) but you need at least 50 Amity with her.

Gives Critical Damage +10% buff

Always worth getting and only costs 25 energy

Alusin's HP Buff

You can only take this OR the Crit buff from Carolin. The Crit Buff is usually much more desired.
30-minute duration
Obtained from Alustin in Velia but you need at least 151 amity with him to unlock.
Gives 100 HP buff
Costs 5 energy

Furniture Buffs

Furniture buffs last 1 hour unless they are event furniture (which lasts 2 hours).
Ancient Slate Ornament is easy to obtain. It gives an All Evasion +16 buff. The better version is the Muskn's Bloody Steel Helmet but it can be harder to obtain.
Ancient Kamel Statue is also really nice and gives an AP +9 effect. The better version is the Imp Captain's Knife but it can be harder to obtain.
Ancient Artifact Pot gives a DP +8 effect which can be useful if you are already at the AP cap.
You can only have 1 furniture buff running. The durability of the furniture is used when you obtain the buff.

Alchemy Stone

Use a Destruction Alchemy stone and if you are over the AP cap, use a Protection stone instead. If you don't have either of these, you can use the Destruction Spirit Stone. You should be aiming for at least a sturdy alchemy stone for node wars.
---
Materials/Items
---
Polished Stone

You should bring at least Polished stone x30 for fort repairs. Do not underestimate how important this material is and don't leave it to the defense team only. It isn't always used but can save your guild's fort when it is. If only half of the guild brings Polished stone then your fort repairs will not be as effective and can make the difference between winning or losing a node war.

To obtain Polished Stone, mine rough stone with a pickaxe and then process [L] > Grinding into Polished Stone.

Barrier upgrades

This one is usually left to the defense team but it is always nice to have a spare just in case.

You should bring Iron Ingots x30 and Melted Copper Shards x15 but it is worth having more if you can.

Flares

Bring flares with you, these can be used to reveal elephant traps, and then you can destroy them. They can also reveal Ninja and Kunoichi players around your base, who may be scouting for enemy cannoneers or feeding information back to their guild leadership.
---
Trina Axe
---
The Trina Axe is used to deal high amounts of damage to a node war fort. You can obtain one by completing a series of quests from Dalian in Trent. You will need to be level 50 and will need a variety of materials. I advise taking these with you to save some time.
Fir Timber x10

Melted Iron Shards x10

Lightweight Plume x10

Melted Lead Shard x10

Powder of Flame x10

Rough Stone x10

Cedar Timber x10

Melted Iron Shards x10

Black Stone Powder x10
The quest chain will also give you the Matchlock and Bullet (for the matchlock). These items are not really considered to be very useful and I wouldn't bother enhancing them.
Once you have unlocked the knowledge of the Trina Axe you can craft it yourself using the following materials and then processing (L) > Manufacture.
Steel x5

Cedar Timber x1

Pure Iron Crystal x1

Black Stone Powder x10
Enhance the axe as if it is a normal blue-grade weapon and craft additional axes to repair the max durability. Ideally, you want to enhance it to at least TRI.

You can quickly swap to the Trina Axe by putting it on your Hotbar and rolling sideways as your switch. Only switch to the axe when you are told to by your shot-caller because the axe will leave you immobile and unable to PVP.
Use LMB x2 and then RMB x1 and repeat to deal the most amount of damage possible. You can cancel a hit by rolling to the side with SHIFT + A/D. RMB is also a reliable front guard if you don't spam it.
---
During the Node War
---
Start of the Node War
---
First of all, double check you have everything you need and you are in the correct channel with participation set to yes!
Once the node war begins, in the top right of your screen, there will be a new icon that looks like a shield and will flash blue and green. Click this to be teleported to your fort. If you are in the desert or in margoria sea (where your map is hidden) then you will NOT get the teleport. So if you are grinding in Aakman beforehand, for example, you will need to move to Sand Grain Bazaar or Valencia to get the teleport. Make sure you are on your horse as well so that it gets teleported with you.
Now that you are at your fort, you may get instructions to start scouting for enemy forts. Before you leave, go to the supply depot and pick up 3-5 stun traps and place three of them outside your base. Do not place them inside or directly next to any annex buildings because this can prevent the defense team from being able to rebuild annexes in the same spot.
Now that you've placed three traps, go and have a look around the node war area on your horse and if you do find a fort, let your guild members know. You can try to charge the fort with your horse to reveal it's location on the map for all guild members, but you must directly hit the fort and you will probably be attacked by the enemy's defense team.
If you are part of the defense team for your guild, do not go out and scout. You will be staying in the base for the duration of the node war unless told otherwise.
Start the processes on the annex buildings by going up to them and interacting with them: Cannon Observatory, Flag Factory, and Elephant Nursery.
Start upgrading the barricades as well. If your flame towers and hwachas don't have ammo in them yet, fill those up so they are ready for incoming attacks from players trying to scout you. Communicate with your other defense members in a platoon so that you can be more efficient and also call out if there are any white dots (enemy players) around you. Place stun traps and elephant traps outside the base and then make sure all the hwachas and flame towers have a player in them. The rest of the defense team will be around the base on foot ready to kill enemies. Prioritize any classes with grabs to be on foot, then others should be in the hwacha/flame towers.
---
Main Attack
---
Listen to your shot-caller and follow pings as closely as possible. Try to keep in a blob as much as you can when you move and don't stand still at one point to regroup for too long because you will probably be spotted and engaged on by enemy bombers. Listen out for PA (Protected Area) calls and stay around wizards/witches to get the buff when you go in. Depending on the number of wizards/witches you have in your guild, you may have PA 1 and PA 2 calls to extend the duration of the buff. Avoid 1v1s or skirmishes during the fight or when regrouping. Do not chase classes such as Musa and Maehwa even if they are low HP! If you are about to die, make use of your [V] skill to try and escape because every death adds extra time to respawn for the whole guild.
If you do die during the node war, respawn at your fort unless told otherwise. Place traps before you leave then take your horse and regroup as quickly as possible. Do not 1v1 or skirmish on the road when on your way to the regroup point! Doing this makes regrouping take much longer than needed and you can miss out on valuable time you could be attacking the fort and doing some real damage.
At some point, you may be told to hold respawns if you are defending and have quite bad respawn timers. If asked, put your respawn time in guild chat so the shot-caller has as much information as possible and knows when most people can respawn to get the best defense possible and help you rebuild.
If you are a wizard or witch, you should also be telling the shot-caller when your PA is ready to be used again.
If you need to repair your gear, use the supply depot to do so. You can also get your horse from here if it dies. If the supply depot has been destroyed, go to the closest town to repair. You can also go to town if you need more potions (these should not be bought from the supply depot because it costs a lot of the guild funds). You do not need to let anyone know you are going to town to repair or get potions, but go as quickly as possible and then regroup.
---
Strategies
---
It is hard to give detailed information on the strategies you should use during the node war since it really depends on the situation and you should use your instincts when deciding what to do.
Make sure to have a diplomat for your guild so you can make alliances and get information from guilds you temporarily ally with or have non-aggression pacts with.
Always make sure to utilize stun traps, either around your base, or you can use them in an area before you fight if you can get them to engage onto you.
If you have a bomb squad, send these in first to distract and take out as many enemies as possible before sending in the main attack force.
At the start, death timers will be very low and you will not be able to make any impact on a fort. Try to get some good fights early on to make the enemy's death timers higher. You will eventually be able to start making a push onto their fort.
Send Maehwas and Musas to pop traps before the rest of the guild goes in. They can use their super armor dash to disable the traps without getting stunned. You can also use horses to do this but it is easy to knock players off their horses with flame traps placed in a row.
Horses and elephants can be used to charge barricades to deal damage to them if you are having trouble getting into a base. Look out for any high ground and weaknesses in the enemy base that you can use to get inside easier, or deal ranged damage from afar safely.
Knock the rider off the enemy elephant and then get the elephant down to low HP. Do

not

kill the elephant and instead leave it so that your enemies cannot revive it or get back to it.
Cannons deal high damage to flame towers and hwachas and can destroy them in just a few hits, which allows your members you get inside the base easier and take out the recovery centers and supply depot.
Focus on the recovery center and supply depot as soon as flame towers and hwachas are destroyed.
Once death timers start getting quite long, you can use Trina axes to deal high damage to the fort. Charging the fort with horses also does a decent amount of damage but will only work until the fort is at 50% HP.
Send in your flank squad or bomb squad to stop the enemies from repairing their fort or rebuilding. You can also use cannon fire to disrupt and take out any annexes they are trying to rebuild.
Use a flag to get a spawn point closer to the base so you can keep pressure on them. Make sure to only select the flag respawn option if you are told to because it may be placed for the flank/flex team on a different enemy fort further away. You can only place 1 flag at a time and cannot change the location once it is placed. If it is destroyed then you can collect another from the flag factory.
The guild master can use the guild teleport skill (command to gather) to teleport all members to their location. This can be a risky play but is sometimes used to base race or catch your enemy out.
When you spawn at your base, you have lingering invulnerability for 8 seconds. You do not have lingering invulnerability if you spawn at your guild's flag.
---
Defense
---
All of the defense team need to be quartermasters or higher rank and have an allowance set by the guild master.

The defense team will stay in the base for the duration of the node war unless they are told otherwise. Make sure to keep someone in the flame tower and hwacha at all times and watch out for any white dots appearing on the mini-map. If you see a large cluster starting to group up or you get attacked to the point you cannot defend alone, then immediately let your leaders know so they can send the flank/flex team to help you, or in some cases, the entire guild may come back to help defend. Keep replacing stun and elephant traps by placing them outside the base.
One member will be the rider for the guild elephant and this may be used to help defend, or to attack an enemy base. As soon as the elephant is ready, tell your leaders and they will tell you what they would like you to do with it. You can use certain skills while on the elephant to stomp and deal damage to surrounding structures or players.
If any structures are destroyed while defending, then you can buy them at the supply depot and place them again. They take a few minutes to rebuild and if they are hit they will be destroyed because they are significantly weaker whilst being built, so stay high alert. If your supply depot is destroyed, you must send someone to town to go and pick one up from the guild manager. It's advised to keep a few spares just in case this happens.
You should also be watching out for any cannon fire hitting your base. If you are hit by a cannonball, let your leaders know and tell them which direction the fire came from, so they can send flank/flex to deal with them. If flank/flex is too busy at the time then you may have to send some of your defense members instead.
If the fort is attacked and loses some HP, you can repair it using Polished Stone (so make sure to keep some of this on you!) It takes around 15 seconds to do one repair, which restores 1% of the fort's HP. If you are stunned during this time then it will not work and you have to start casting it again.
---
Cannon
---
This section will go over some of the basics of Cannoneering. I used to be on the cannon team in my guild so I have a lot of experience! If you are interested in being in or starting a cannon squad for your guild then I recommend using the practice cannon to get an idea of how it works.
If your guild placed a Cannon Observatory, you can use cannons to deal damage to the enemy base. The Cannon team is usually a small team and may even only be 1 person, but they must be trained to know how to shoot the cannon correctly to be as precise as possible. It's also important that the cannoneer is well-geared and good in 1v1s. Classes that suit this role well are Kunoichi, Ninja, Lahn, and Tamer because they all excel in 1v1s and also have skills that help them get into spots other classes can't reach. Cannoneers are also required to bring their own cannonballs which they must either buy or craft before the node war starts. You can easily use over 200 cannonballs in a node war so have some spare in your storage and use maids to collect them if needed, since they weigh a lot.

The cannon squad will begin by making sure the Cannon Observatory has been started. This will take 5 minutes so you should stay around the base and place stun traps and help defend during this time. Once the cannon is ready, pick it up and get confirmation from your leaders as to which base to start firing on (if any). Scout for a good location to set up the cannon. Ideally, you want to be high up and in a hard-to-reach spot which is between 60m and 300m from the enemy fort. You can check the distance by pinging the fort and then checking the number which appears near your feet, this is the distance.
Once you are set up in a good spot place a few cannonballs into the cannon.
You cannot get the cannonballs back once you have placed them in, so only do groups of 5 to make sure you don't waste lots of cannonballs if the cannon is destroyed or no longer needed.
Use the following guidelines to aim your cannon correctly based on the distance to the enemy fort.
Angle – This is the angle you aim your cannon at. Hold shift and then tap [S] the number of times indicated to get the correct angle. The highest angle is 6 and the lowest is 0.
Power – This is the power of the shot. When you hold [LMB] to fire the cannon, the bar will go up to a maximum of 100 power. There are actually only 10 cannon power levels though. 0 – 9 is the first level, 10 – 19 is the second level, etc. This means that if you fire anywhere between 10 and 19, you will be firing with the second level. You should always aim to fire at 5, 15, 25, 35, 45, 55, etc. so that you are in the middle of the level and if you are slightly off by holding it too long/short, then it won't matter.
Use your pings to ping the enemy base then direct the cannon so it is lined up with the waypoint and fire. During the node war, there will probably be a lot of pings on the map from your leaders and the shot caller. You can remove these waypoints by opening your map and then using Ctrl and LMB to click on the pings and remove them. You can get a player to scout the area for you, this requires a ninja, kunoichi, musa, or maehwa since they can dash or go into stealth to scout for you. Scouts can RMB their minimap to get precise pings for you to aim at.
Cannonballs have a big AOE when they hit something so you can get away with being a little off. Double-check with guild members or your scout to make sure your cannons are hitting because they may hit a nearby tree and you may have to adjust your angles or position a little. You should be prioritizing killing the flame towers and hwacha as a cannoneer, but can also use cannonballs to disrupt repairs on a fort, or destroy buildings that are being rebuilt since they have low HP. You can also coordinate cannonball hits with a main attack engage to stun enemies on impact. NEVER use the flame cannonballs when your guild is engaging! I personally wouldn't use these at all. The flames can cause a lot of lag for your guildies when they go in and are more annoying than anything.
If your base is under attack you can also use cannonballs and fire at your base to stun enemies and try to disrupt them. If the cannon observatory is destroyed then your cannon will be destroyed as well though and you should go back to base and help defend.
If you are scouted and your cannon is destroyed, pick up another back at your base and move location. I recommend taking spare cannons with you if you can but they do weigh a lot.
You may also want to invest in jump gear to reach better spots and look into any jump skill cancels that your class has. Kunoichi, Ninja, and Tamer all have skills that allow them to double jump and also jump even higher with skill cancels. Giving your character the maximum height in character creation is also rumored to help with jump height.
---
Rewards and Node War Shop
All members gain Resplendent Medal of Honor for participating in a node war.
Guild Members whose performance is in the top 5%, also receive 5 additional Resplendent Medals of Honor
The following number of Resplendent Medal of Honor given depends on the results of the Node Wars and the tier of the nodes:
Node Tier

Number of Resplendent Medal of Honor Obtained
Win
Liberation
Lose
Tier 1
12
12
12
Tier 2
16
16
16
Tier 3
20
20
20
Tier 4
24
24
24
When you win a node war, you also gain access to the "Node War shop" until the next day when the next node wars begin. You can use your personal silver to buy items from the shop.
| Node War Shop Tier | NPC |
| --- | --- |
| Tier 1 | Ray Poilet |
| Tier 2 | Torex Bekin |
| Tier 3 | Eulicas |
| Tier 4 | Baghulas Portia |
---
Tier 1
Mass of Pure Magic x1
Sour Green Grape Juice x10
Sweet Wild Berry Juice x10
Fresh Orange Juice x10
Tears of War x1
Glorious Extra Combat EXP Scroll x1
Glorious Extra Skill EXP x1
Glorious Item Drop Rate Increase Scroll x1
Marni's Unstable Fuel x5
Essence of Gallantry x3
Essence of Glory x3
Item Collection Increase Scroll x1
Glorious Box of Spoils x2
---
Tier 2
Mass of Pure Magic x1
Sour Green Grape Juice x10
Sweet Wild Berry Juice x10
Fresh Orange Juice x10
Tears of War x1
Glorious Extra Combat EXP Scroll x1
Glorious Extra Skill EXP x1
Glorious Item Drop Rate Increase Scroll x1
Marni's Unstable Fuel x5
Essence of Gallantry x3
Essence of Glory x3
Item Collection Increase Scroll x1
Caphras Stone Box x1 – 50 Caphras
Glorious Box of Spoils x2
---
Tier 3
Mass of Pure Magic x1
Sour Green Grape Juice x10
Sweet Wild Berry Juice x10
Fresh Orange Juice x10
Tears of War x1
Glorious Extra Combat EXP Scroll x1
Glorious Extra Skill EXP x1
Glorious Item Drop Rate Increase Scroll x1
Marni's Unstable Fuel x5
Essence of Gallantry x5
Essence of Glory x5
Item Collection Increase Scroll x1
Caphras Stone Box x1 – 50 Caphras
Glorious Box of Spoils x2
---
Tier 4
Mass of Pure Magic x1
Sour Green Grape Juice x10
Sweet Wild Berry Juice x10
Fresh Orange Juice x10
Tears of War x1
Glorious Extra Combat EXP Scroll x1
Glorious Extra Skill EXP x1
Glorious Item Drop Rate Increase Scroll x1
Marni's Unstable Fuel x5
Essence of Gallantry x5
Essence of Glory x5
Item Collection Increase Scroll x1
Caphras Stone Box x1 – 50 Caphras
Glorious Box of Spoils x3