Introduction
Between June 21st 2023 – August 30th 2023, all players, new and old can obtain a completely FREE Tier 9 Dream horse of their choice.
The dream horse you choose will automatically have all possible skills unlocked and leveled to 100%. The horse will be level 1, so you still need to level it up, but even if you choose to reset the horse level for better stats, all skills will remain acquired and will remain at 100%.
You can also choose between a male or female horse. So the horse is great for new players who want a good permanent horse to use, and also for players who want to use it to awaken into a Mythical Tier 10 horse.
For players who already have a T9 horse, you also have the choice of the Mythical Censer Bundle instead, which contains Mythical Censer x5, an item used for Tier 10 horse attempts!
How to Obtain
To obtain your free horse, you first need to collect 2 items from your (Y) Challenge rewards. All players obtain these rewards simply by logging in during the event period, and there are no other requirements to obtain them.
The items you need are called:
Vipiko's Rocking Horse
Vipiko's Calling Horn
Once you have both of the items, press L to open the Processing window, and then choose the Manufacture button at the top.
Right-click both of the items to put them into the processing window, then press the "Start" button to process them.
This will give you an item called 
Vipiko's Dreaming Horse
Now that you have the
Vipiko's Dreaming Horse item, you can right-click it to select your reward.

Items obtainable by using "Vipiko's Dreaming Horse"
(Choose one of the following items)
  Horse Emblem: Dream Doom (Female)
  Horse Emblem: Dream Diné (Female)
 Horse Emblem: Dream Arduanatt (Female)
  Horse Emblem: Dream Doom (Male)
  Horse Emblem: Dream Diné (Male)
  Horse Emblem: Dream Arduanatt (Male)
Mythical Censer Bundle
(Mythical Censer x5)
After selecting your reward, you need to enter the relevant text into the text box to confirm your choice.
For example, for the reward below, you would enter "Arduanatt (Female)"
Doom (Female)
Doom (Male)
Diné (Female)
Diné (Male)
Arduanatt (Female)
Arduanatt (Male)
Mythical Censer
Which Horse should I choose?
All three of the Tier 9 horses have their unique uses and appearances which makes them desirable and your choice is based on your personal preferance. The horses below (in order left to right) are Arduanatt, Doom, then Dine.
Below you can also find more information about each horse, or you can check out our Tier 9 Dream Horse Guide for a closer look at each horse's appearance and skills.
It might also be worth looking into Tier 10 Mythical Horses, which is what your horse can be upgraded into, since Tier 10 horses gain additional skills and changes of appearance.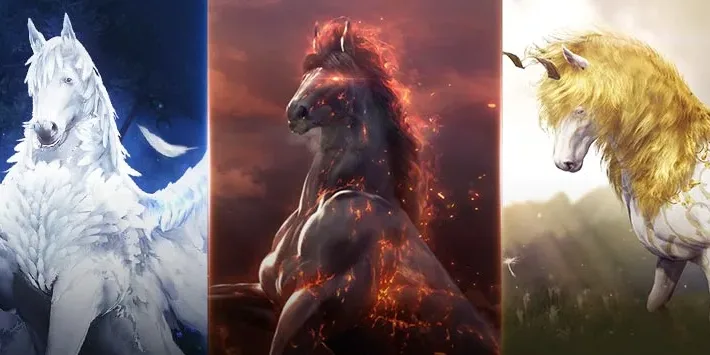 Arduanatt
Arduanatt (also known as Pegasus) is always a good choice and very popular since it is the "flying" horse. The horse technically doesn't fly and actually glides, but from a high point you can travel quite far and for a long time. The horse also has a buff when it flies to remove fall damage, so you can safely land after gliding across the map. The horse is a great pick if you like to take shortcuts and fly over mountains.
Doom
Doom is known as the "hell horse" and stands out thanks to its red flames. Technically, Doom is the fastest land mount because it has 3 instant accel (dashes), while other horses only have a maximum of 2. This means it is considered faster than Arduanatt unless you make an effort to off-road and take shortcuts.
Doom is also the only tier 9 horse with the 2-seater skill, allowing a 2nd person in your party or guild to ride on the back of your horse.
Finally, Doom is used in PvP because of its damage skills and ability to deal high damage to Node War structures.
Dine
Dine (also known as the Unicorn) is often the least popular out of the 3 horses because it has a more niche use.
Dine is the only horse in the game that is not affected by the desert debuff, which usually slows horse movement speed and disables their skills. Therefore, if you spend a lot of time going across the Valencia desert or at desert grind spots, then Dine is a great option.
As well, Dine has 2 skills that can be used to heal or buff up to 10 allies:
Heals a maximum of 10 friendly targets (+300 HP and +300 MP/WP/SP per 3 seconds for 30 seconds in total)
Buffs a maximum of 10 friendly targets (+10 DP and +10 Evasion for 30 seconds)