Introduction
Fughar's Timepiece is an item in BDO that lets you transfer your current combat/skill exp and season status to an existing character. This is useful if you would like to change your season character. It is a much better option than deleting your season character and starting from scratch.
It is highly recommended to use your Fughar's Timepiece before graduating since you can basically boost a character to level 61 for free.
How does it work?
Your current Combat EXP and skill EXP will be

COPIED

 to the new character (so get as high level and skill EXP as possible first).
Even if you are finished with the season, you can use Fughar's Timepiece to get a FREE high-level character.
Your new character will become your season character.
Your original season character will become a normal character that can equip normal gear now and can't wear your Tuvala gear anymore.

However, if you graduate straight after using the Timepiece, you can convert your Tuvala gear and continue progressing with your original character.

If you want to continue with the new character instead, you will get Tuvala exchange coupons to change the weapons to the new class.
Quest progress, inventory slots, weight limit, costumes, life skills, etc. are NOT copied across.
You will have to do the main story quest again on the new character, however, you can complete the simplified questline.
How to obtain Fughar's Timepiece
You will need your season character to be level 25 or higher and your normal character to be level under level 25.
Go to Fughar and complete the quest '[Season] Fugar's Special Timepiece' to obtain the special timepiece item.
| Item  | How to Obtain  |
| --- | --- |
| Fughar's Timepiece | Complete the [Season] Fughar's Special Timepiece quest with a Lv. 25 or higher season character to obtain one per Family! |
How to use Fughar's Timepiece
Fughar's Timepiece will go into your Pearl Inventory tab.
Unequip all your gear on your season character

Make sure to unequip everything, including Fughar's Riding Crop.

Then right-click Fughar's Timepiece to begin the transferal.
You will then see a screen that allows you to choose the character you want to swap your season status to.
Your characters do not need to be in the same place to use Fughar's Timepiece, but it can make the transfer easier if you want to swap the weapons to your new class.
Select your target character and click the "Season Character Transferal" button.
You will be given exchange coupons which are used to swap the Tuvala weapons to your new class if you want to.
Tuvala Weapon Exchange Coupons
After using Fughar's Timepiece, you will have 3 weapon exchange coupons in the inventory of your original character.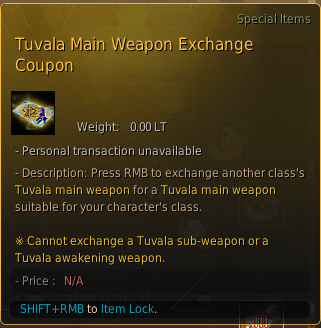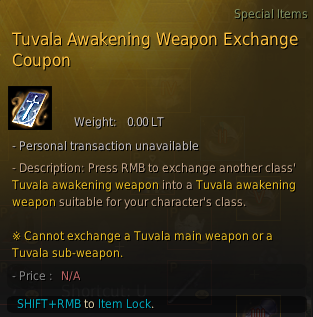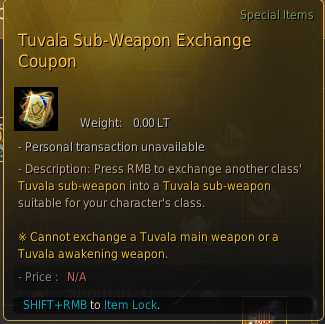 Although you can wear armors on any class, weapons are locked to certain classes only.
You can use these coupons if are continuing with the season and/or would like to swap your Tuvala weapons from your original character to your new season character. If you want to keep the gear on your original character, you can ignore these coupons.
Put the Coupons and your gear in your storage, then collect them on your new character.
Right-click the exchange coupon and select the Tuvala weapon you would like to exchange.
Click the "Exchange" button to confirm.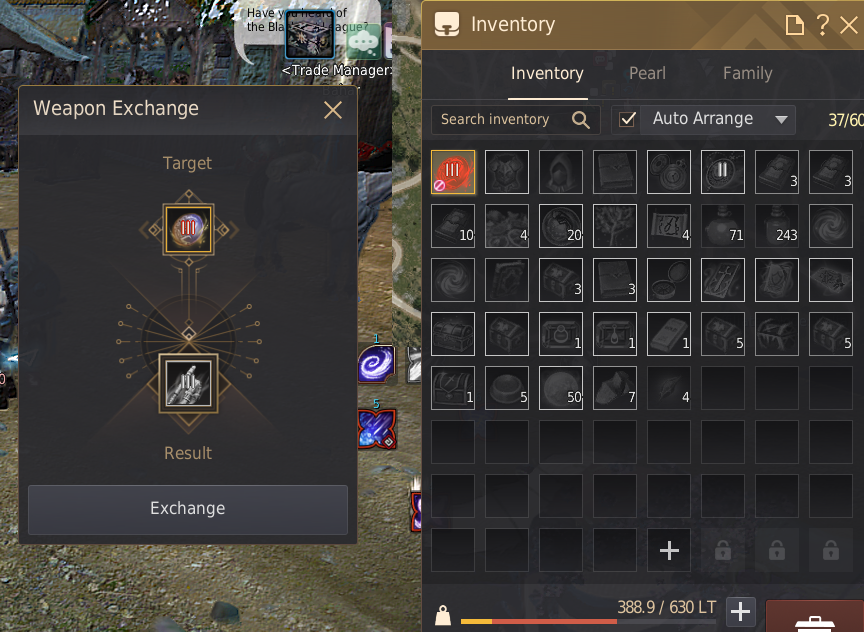 Tuvala Exchange Coupons can be used on converted Tuvala Weapons (after the season ends) or unconverted Tuvala Weapons (during the season).