---
Below is the recommended storage options for Heidel. You should which is best for you and how much storage space you need or contribution points you have. I would highly recommend using the

orange

and

red

options because they give a lot of storage space for very little CP. If you're looking for just a bit of extra space the

green

and

pink

options may be best for you. For more details on all of the storage properties in Heidel, view the tables below.
CLICK IMAGE TO VIEW FULL SIZE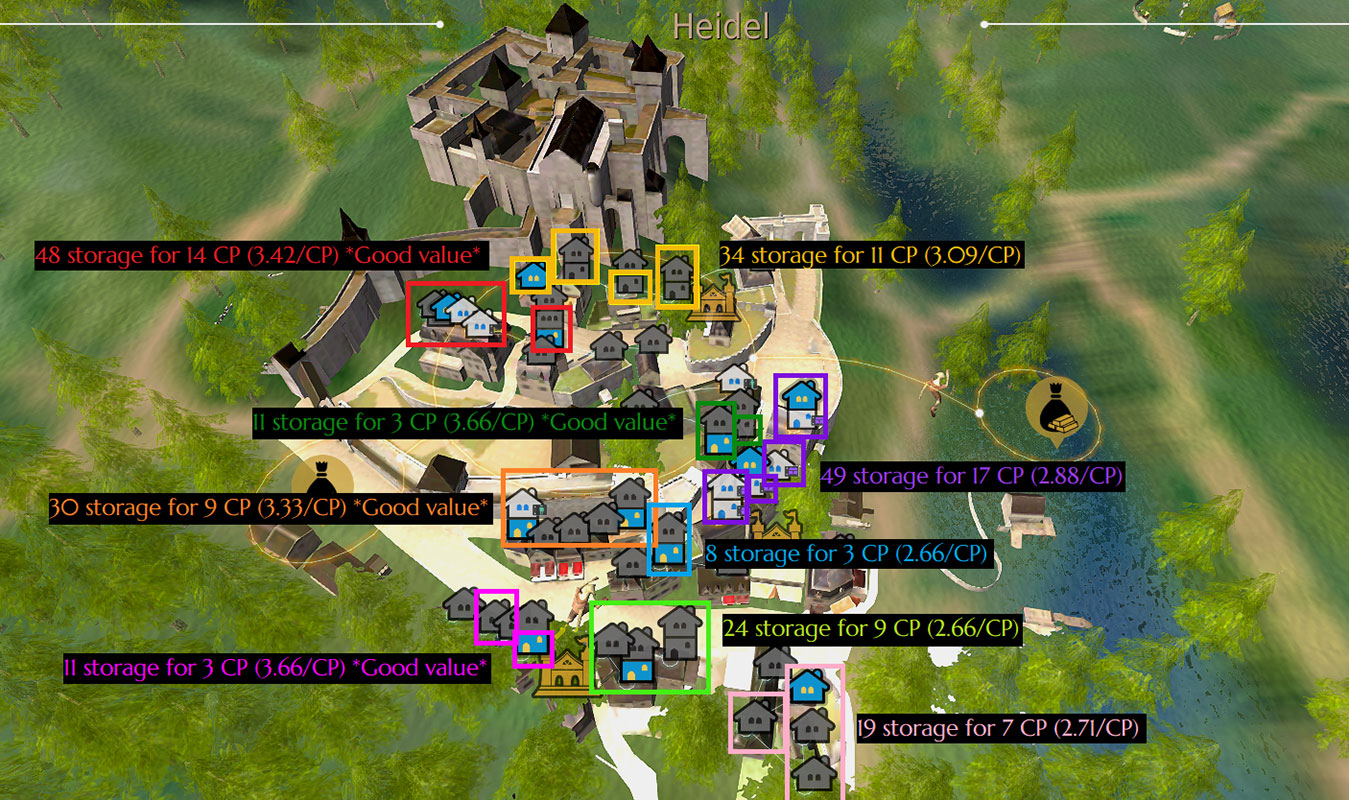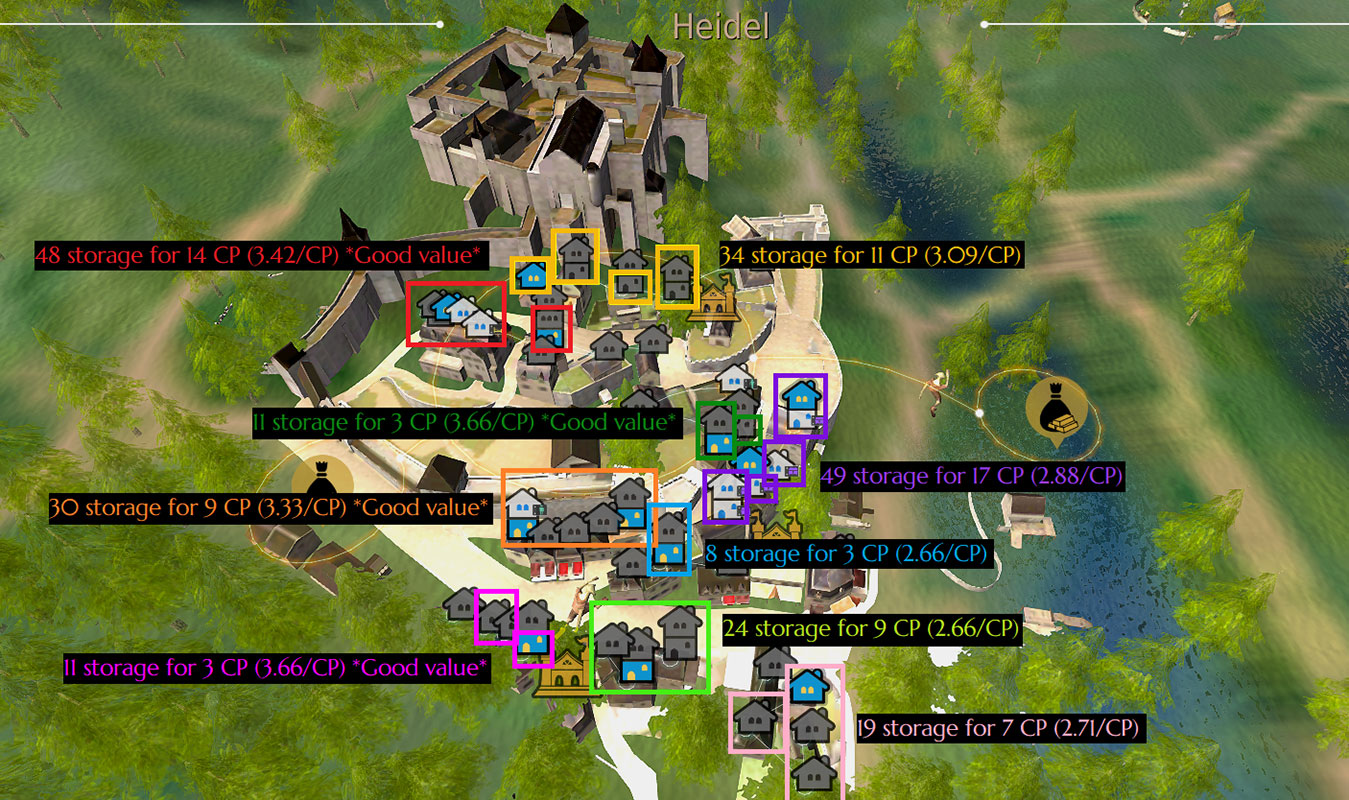 | House Number | Storage Spaces | CP Cost | Storage Space per CP |
| --- | --- | --- | --- |
| Heidel 1-1 | 3 | 1 | 3 |
| Heidel 1-2 | 3 | 1 | 3 |
| Heidel 1-3 | 5 | 2 | 2.5 |
| Heidel 1-4 | 8 | 3 | 2.66 |
| Heidel 1-5 | 8 | 4 | 2 |
Recommended: 19 storage for 7 CP (2.71/CP)
All housing: 27 storage for 11 CP (2.45/CP)
| House Number | Storage Spaces | CP Cost | Storage Space per CP |
| --- | --- | --- | --- |
| Heidel 2-1, 1F | 3 | 1 | 3 |
| Heidel 2-1, 2F | 3 | 1 | 3 |
| Heidel 2-2 | 5 | 3 | 1.66 |
| Heidel 2-3, 1F | 5 | 2 | 2.5 |
| Heidel 2-3, 2F | 8 | 2 | 4 |
Recommended: 24 storage for 9 CP (2.66/CP)
| House Number | Storage Spaces | CP Cost | Storage Space per CP |
| --- | --- | --- | --- |
| Heidel 3-1, 1F | 3 | 1 | 3 |
| Heidel 3-1, 2F | 8 | 4 | 2 |
| Heidel 3-2 | 3 | 1 | 3 |
| Heidel 3-3 | 5 | 1 | 5 |
| Heidel 3-4 | 8 | 5 | 1.6 |
Recommended: 11 storage for 3 CP (3.66/CP) 

*Good value*
All housing: 27 storage for 12 CP (2.25/CP)
| House Number | Storage Spaces | CP Cost | Storage Space per CP |
| --- | --- | --- | --- |
| Heidel 4-1, 1F | 3 | 1 | 3 |
| Heidel 4-1, 2F | 3 | 1 | 3 |
| Heidel 4-2, 1F | 3 | 1 | 3 |
| Heidel 4-2, 2F | 5 | 1 | 5 |
| Heidel 4-3 | 3 | 1 | 3 |
| Heidel 4-4 | 5 | 1 | 5 |
| Heidel 4-5 | 8 | 3 | 2.66 |
Recommended: 30 storage for 9 CP (3.33/CP) 

*Good value*
| House Number | Storage Spaces | CP Cost | Storage Space per CP |
| --- | --- | --- | --- |
| Heidel 5-1, 1F | 3 | 2 | 1.50 |
| Heidel 5-1, 2F | 5 | 1 | 5 |
| Heidel 5-2 | 8 | 5 | 1.6 |
| Heidel 5-3 | 8 | 4 | 2 |
| Heidel 5-4 | 16 | 5 | 3.2 |
Recommended: 8 storage for 3 CP (2.66/CP)
All housing: 40 storage for 17 CP (2.35/CP)
| House Number | Storage Spaces | CP Cost | Storage Space per CP |
| --- | --- | --- | --- |
| Heidel 6-1, 1F | 3 | 1 | 3 |
| Heidel 6-1, 2F | 5 | 2 | 2.5 |
| Heidel 6-2, 1F | 5 | 2 | 2.5 |
| Heidel 6-2, 2F | 3 | 3 | 1 |
| Heidel 6-3 | 8 | 4 | 2 |
| Heidel 6-4, 1F | 12 | 3 | 4 |
| Heidel 6-4, 2F | 16 | 5 | 3.2 |
Recommended: 49 storage for 17 CP (2.88/CP)
All housing: 52 storage for 20 CP (2.6/CP)
| House Number | Storage Spaces | CP Cost | Storage Space per CP |
| --- | --- | --- | --- |
| Heidel 7-1 | 3 | 1 | 3 |
| Heidel 7-2, 1F | 5 | 2 | 2.5 |
| Heidel 7-2, 2F | 8 | 3 | 2.66 |
| Heidel 7-3, 1F | 5 | 1 | 5 |
| Heidel 7-3, 2F | 8 | 4 | 2 |
| Heidel 7-4, 1F | 5 | 2 | 2.5 |
| Heidel 7-4, 2F | 8 | 2 | 4 |
| Heidel 7-5 | 12 | 5 | 2.4 |
Recommended: 34 storage for 11 CP (3.09/CP)
All housing: 54 storage for 20 CP (2.7/CP)
| House Number | Storage Spaces | CP Cost | Storage Space per CP |
| --- | --- | --- | --- |
| Heidel 8-1, Rm.1 | 3 | 1 | 3 |
| Heidel 8-1, Rm.2 | 5 | 2 | 2.5 |
| Heidel 8-1, Rm.3 | 8 | 2 | 4 |
| Heidel 8-1, Rm.4 | 12 | 3 | 4 |
| Heidel 8-1, Rm.5 | 12 | 4 | 3 |
| Heidel 8-2, B1 | 3 | 1 | 3 |
| Heidel 8-2, 1F | 5 | 1 | 5 |
| Heidel 8-2, 2F | 5 | 2 | 2.5 |
| Heidel 8-3 | 5 | 2 | 2.5 |
| Heidel 8-4 | 8 | 3 | 2.66 |
| Heidel 8-5 | 8 | 4 | 2 |
Recommended: 48 storage for 14 CP (3.42/CP) 

*Good value*
All housing: 74 storage for 25 CP (2.96/CP)
| House Number | Storage Spaces | CP Cost | Storage Space per CP |
| --- | --- | --- | --- |
| Heidel 9-1, 1F | 3 | 1 | 3 |
| Heidel 9-1, 2F | 5 | 1 | 5 |
| Heidel 9-2, 1F | 3 | 1 | 3 |
| Heidel 9-2, 2F | 5 | 2 | 2.5 |
| Heidel 9-3 | 8 | 4 | 2 |
| Heidel 9-4 | 12 | 5 | 2.4 |
Recommended: 11 storage for 3 CP (3.66/CP) *Good value*
All housing: 36 storage for 14 CP (2.57/CP)



ADDITIONAL STORAGE FOR HEIDEL CAN BE FOUND BELOW


| Location | House Number | Storage Spaces | CP Cost | Storage Space per CP |
| --- | --- | --- | --- | --- |
| Alejandro Farm | 1-1, 1F | 3 | 1 | 3 |
| Alejandro Farm | 1-1, 2F | 5 | 2 | 2.5 |
| Alejandro Farm | 1-2 | 8 | 2 | 4 |
| Costa Farm | 2-1, 1F | 3 | 1 | 3 |
| Costa Farm | 2-1, 2F | 5 | 2 | 2.5 |
| Costa Farm | 2-2 | 5 | 2 | 2.5 |
| Costa Farm | 2-3 | 8 | 3 | 2.66 |
| Elda Farm | 3 | 5 | 2 | 2.5 |
| Lynch Ranch | 5 | 5 | 2 | 2.5 |
| Moretti Plantation | 4 | 5 | 2 | 2.5 |
Alejandro Farm: 16 storage for 5 CP (3.2/CP)
Costa Farm: 21 storage for 8 CP (2.62/CP)