Witch – Coming Soon!

Wizard – Coming Soon!
Introduction
Skill Add-ons are unlocked after level 50 and can be used to give 2 extra stats on a skill. You can have up to 6 add-ons which unlock at level 50, 52, 54, 56, 58 and 60. You are given 3 add-ons for your main hand skills, and 3 awakening add-ons.
When you use an add-on, you will be able to choose 2 stats from a list, which will give you a stat bonus each time you use that skill. Check out the Skill Add-On Outcomes section for more specifics.
How to Add-On Skills
The Skill Add-On System can be accessed via a Skill Instructor NPC. You can find the closest Skill Instructor by clicking the NPC Magnifying Glass (to the left of your mini-map), then clicking "Skill Instructor" at the top.
Once you are at the Skill Instructor, click the "Skill Add-On" option and select the skills you would like to add stats to. You can choose up to two effects to apply each skill. These will activate every time you use the skill and will appear on your buff bar. When you have finished selecting the skill and it's effects, click "Skill Add-on to confirm your choices.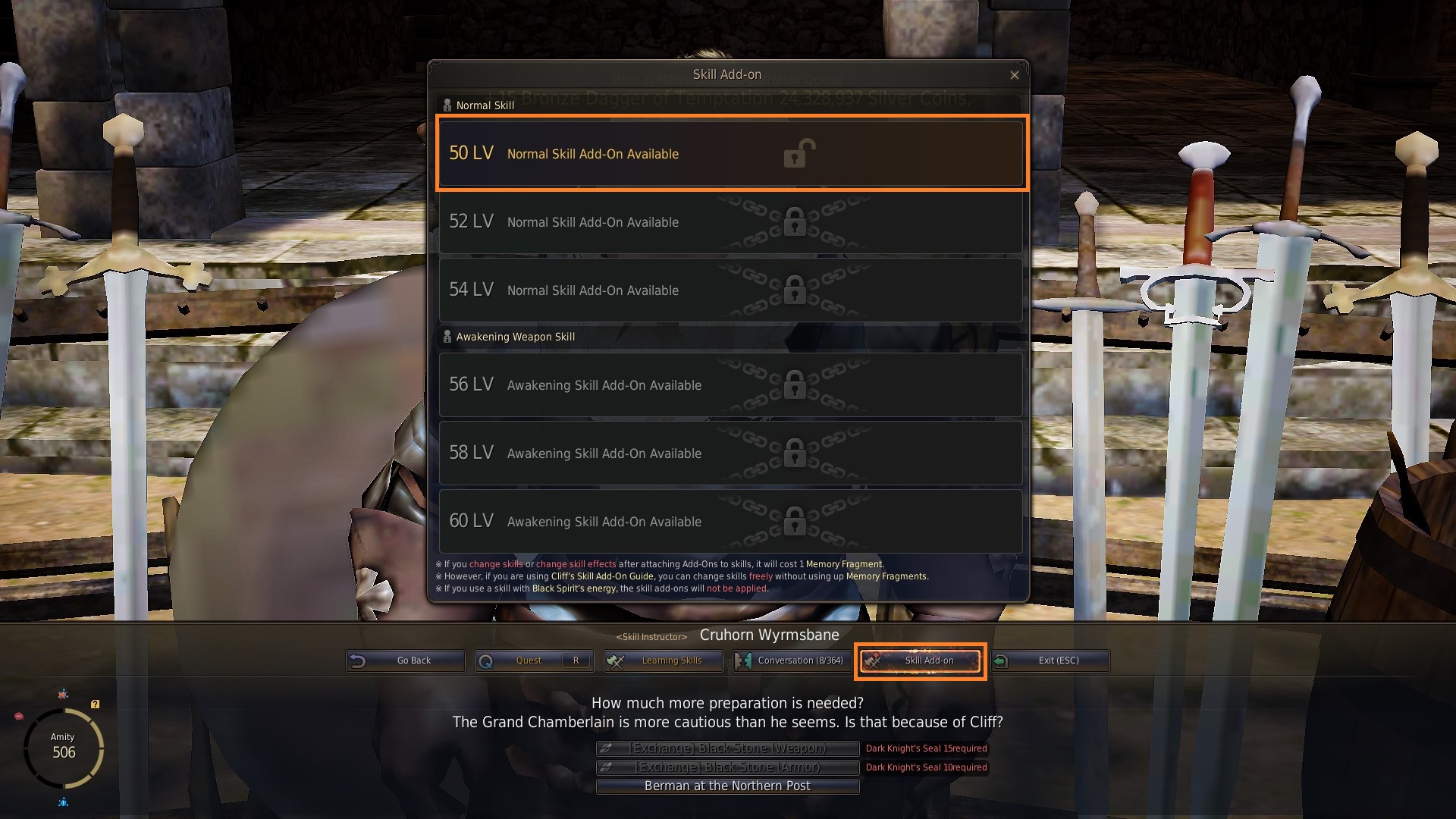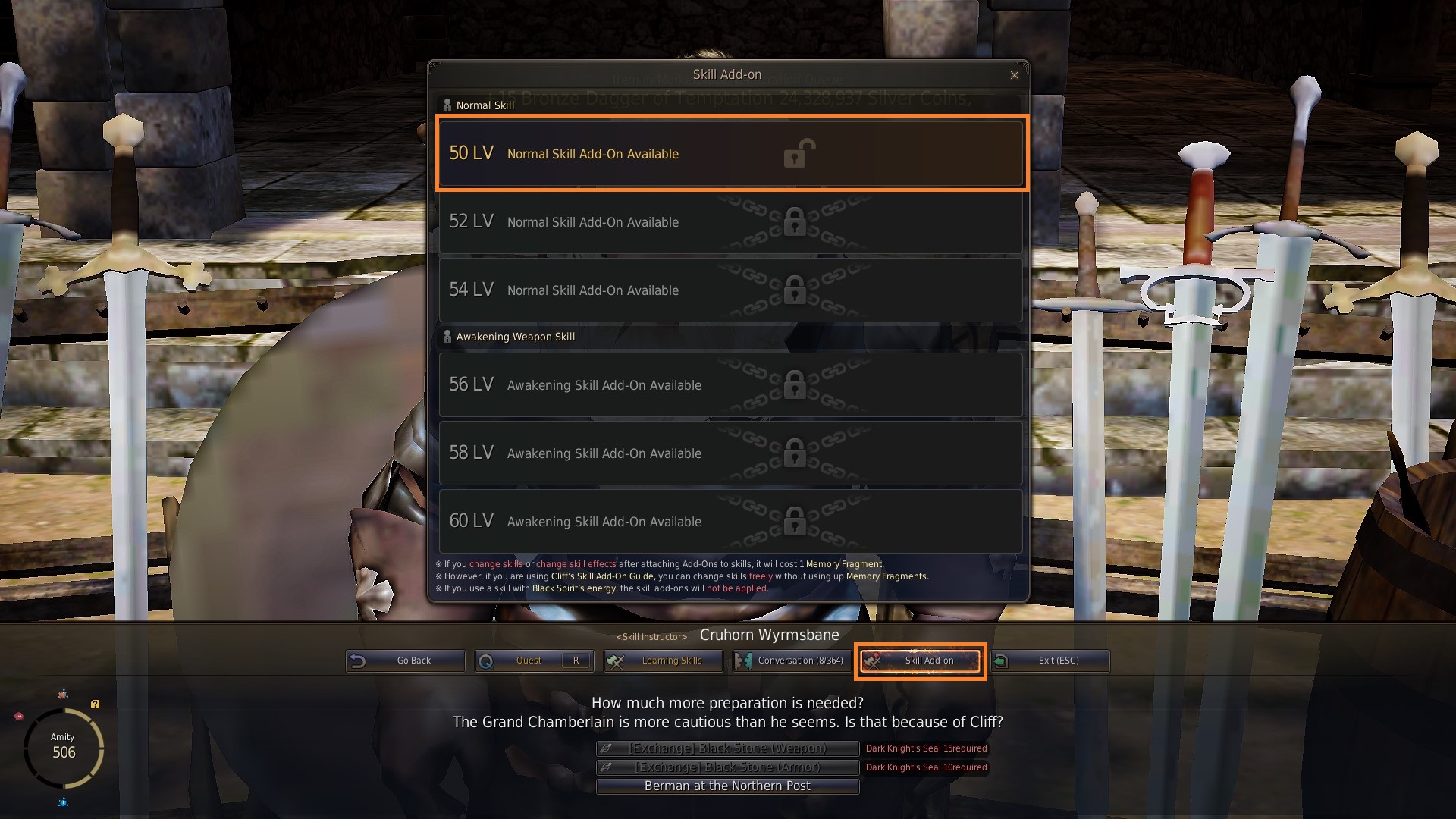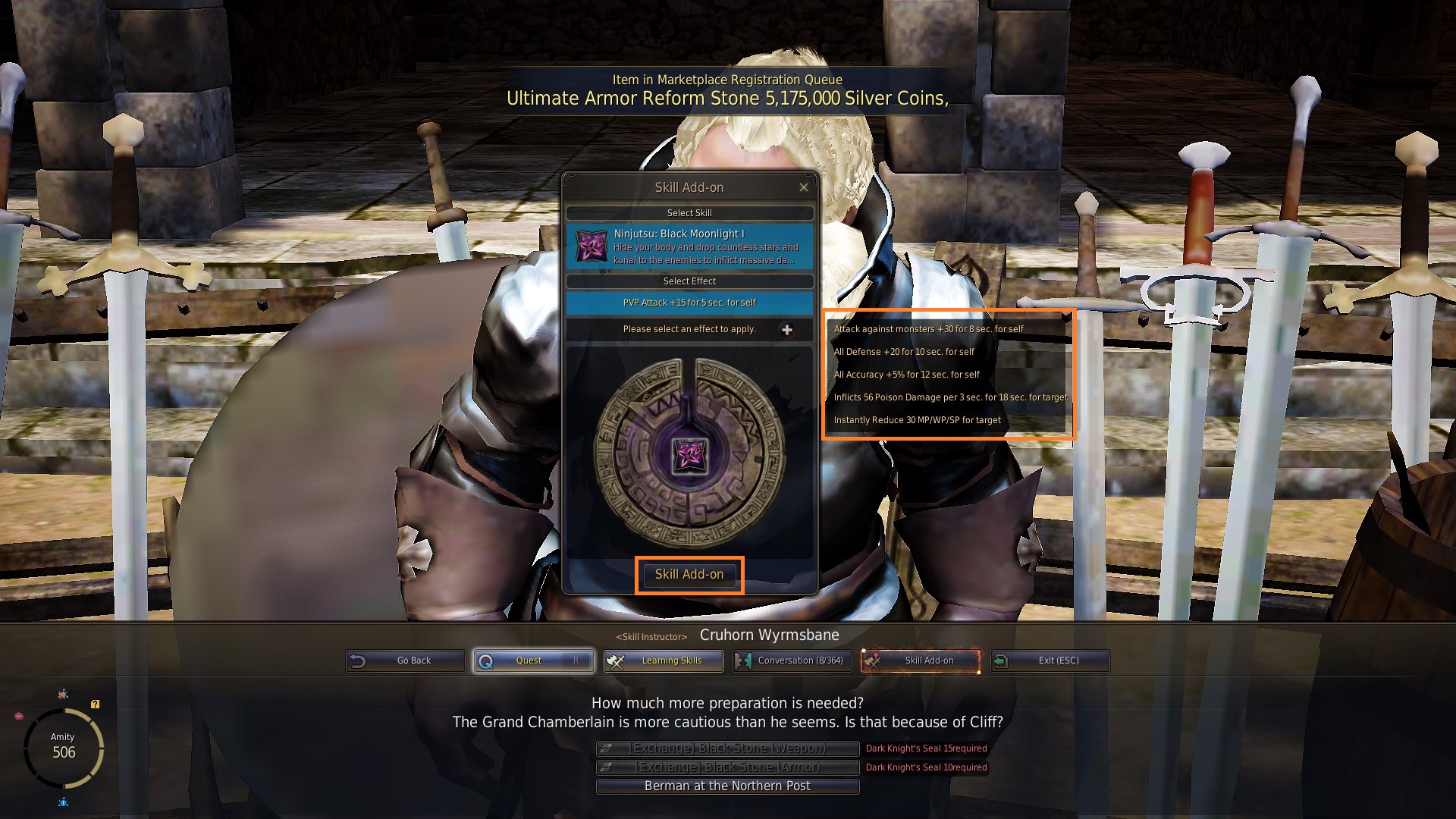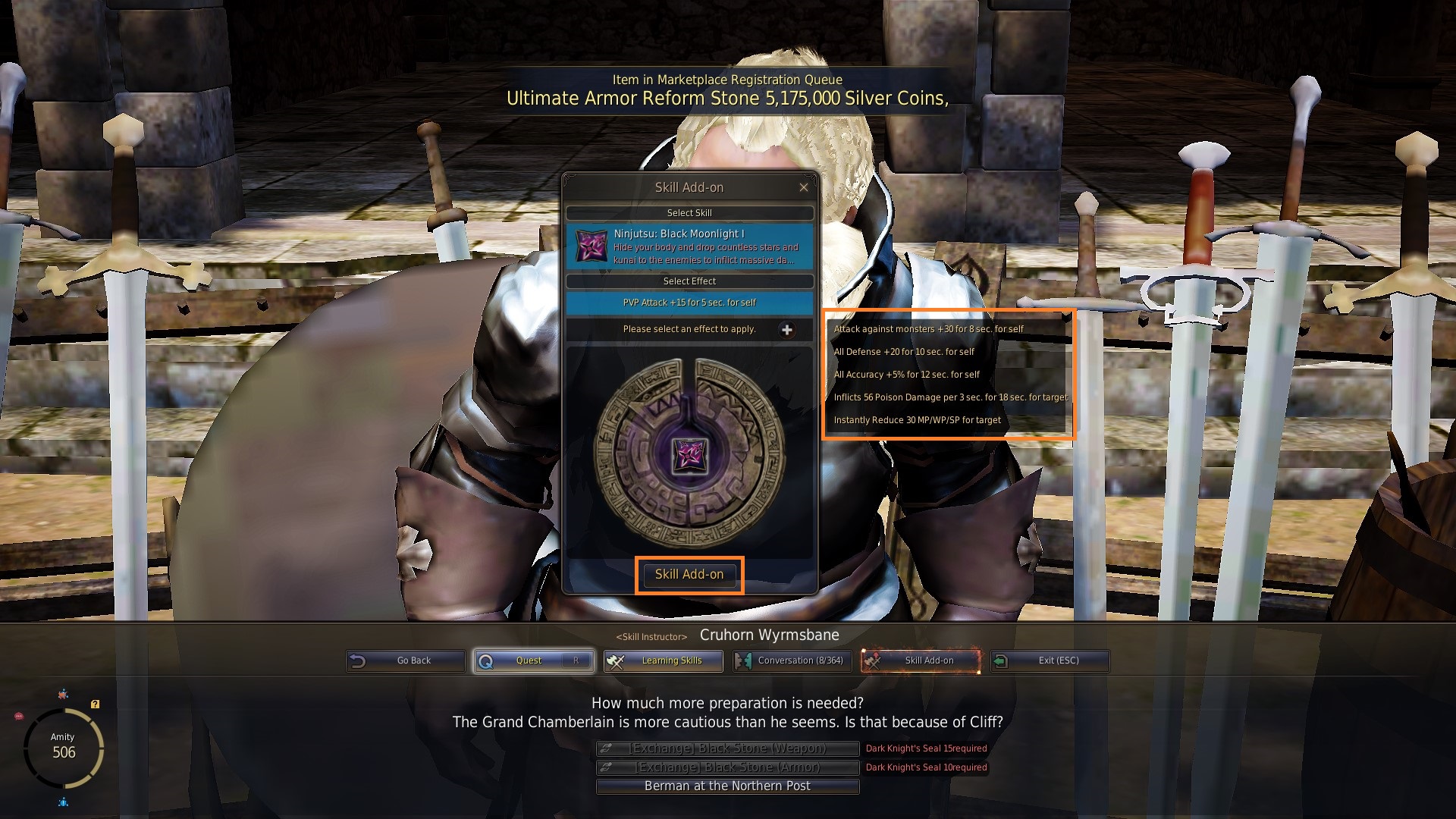 You can check a skills awakening stats in the skill window (K) by hovering over the skill.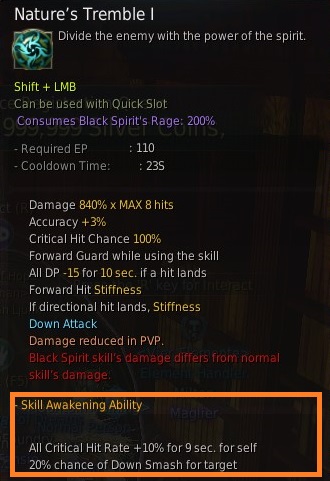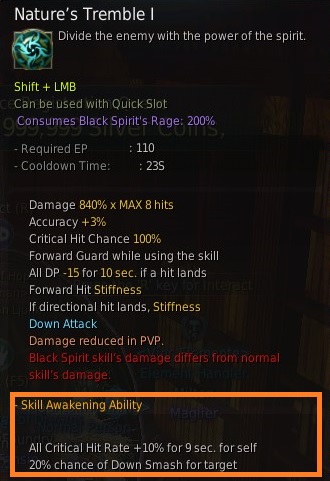 Changing Add-On Skills
You can consume a Memory Fragment to change one Skill Add-on and/or it's effects. You may also use the item, Cliff's Skill Add-On Guide which will allow you to freely attach or change add-ons without using Memory Fragments. 

Cliff's Skill Add-On Guide is available one of two ways:
Challenge Rewards
Play Time +500 Hours will give Cliff's Skill Add-On Guide (30 Day)

Play Time +10,000  Hours will give Cliff's Skill Add-On Guide (30 Day)
Pearl Shop
Cliff's Skill Add-On Guide (30 Days) – 700 Pearls
Go to the Skill Instructor, click Skill Add-On, then click the swap icon the right to change your Skill Add-On. 
It's important to note that your Skill Add-Ons will remain the same even if you reset your skill build.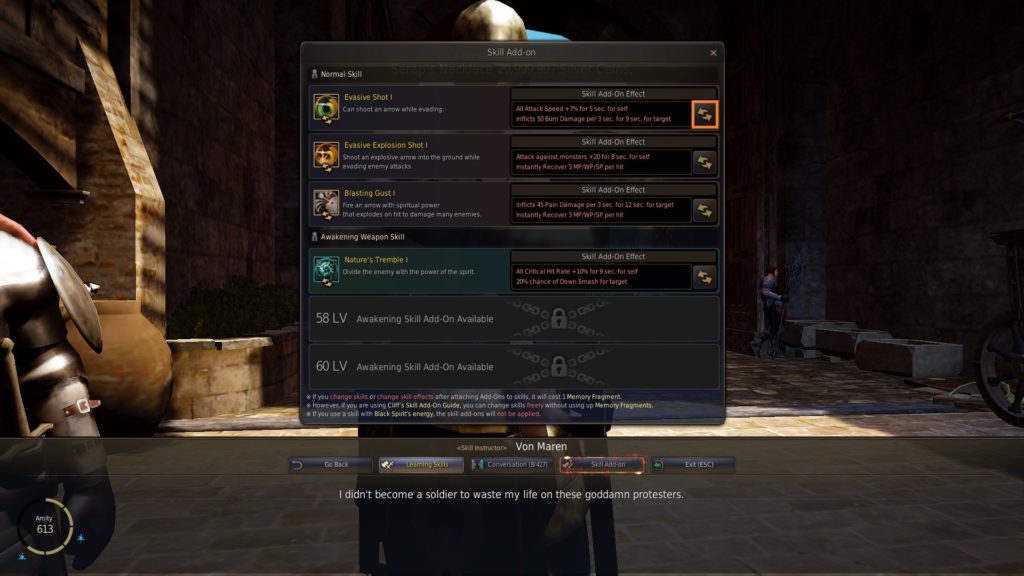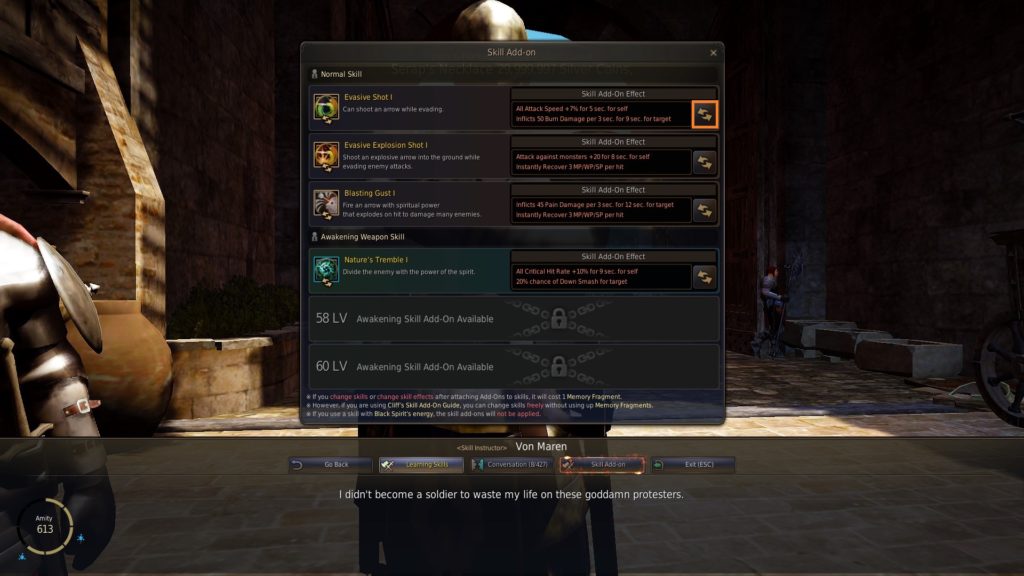 Complete Skill Add-On List
Below is the complete list of Skill Add-ons for each class. Each class has particular stats which they benefit from more than others, and you should aim to add-on skills you use often.
Warrior
IMG
SKILL NAME
SKILL ADD-ONS
Charging Slash

All Evasion +5% for 10 sec. for self




All Attack Speed +4% for 5 sec. for self




All Movement Speed -10% for 7 sec. for target




Inflicts 42 Bleeding Damage per 3 sec. for 15 sec. for target




Instantly Recover 20 HP per hit




3% chance to Knockback for target

Charging Thrust

Attack against monsters +25 for 8 sec. for self




All Defense +15 for 10 sec. for self




All Accuracy +4% for 12 sec. for self




All Attack Speed +4% for 5 sec. for self




All Movement Speed -7% for 7 sec. for target




Instantly Reduce 14 MP/WP/SP per 3 sec. for 9 sec. for target

Chopping Kick

Attack against monsters +20 for 8 sec. for self




PVP Attack +5 for 5 sec. for self




All Accuracy +3% for 12 sec. for self




All Attack Speed +4% for 5 sec. for self




All Movement Speed +4% for 10 sec. for self




15% chance of Air Smash for target

Counter

All Evasion +5% for 10 sec. for self




All Accuracy +4% for 12 sec. for self




All Attack Speed +4% for 5 sec. for self




All Movement Speed -4% for 7 sec. for target




Inflicts 42 Bleeding Damage per 3 sec. for 15 sec. for target




Instantly Recover 6 HP per hit

Deep Thrust

Attack against monsters +20 for 8 sec. for self




PVP Attack +5 for 5 sec. for self




All Accuracy +3% for 12 sec. for self




All Movement Speed -4% for 7 sec. for target




Inflicts 42 Bleeding Damage per 3 sec. for 15 sec. for target




Instantly Reduce 20 MP/WP/SP for target

Forward Slash

All Critical Hit Rate +10% for 9 sec. for self




All Attack Speed -4% for 7 sec. for target




All Casting Speed -4% for 7 sec. for target




Instantly Recover 3 HP per hit




Instantly Recover 3 MP/WP/SP per hit




Instantly Reduce 3 MP/WP/SP for target

Frenzied Charge

All Defense +20 for 10 sec. for self




All Accuracy +5% for 12 sec. for self




All Movement Speed +10% for 10 sec. for self




All Attack Speed -10% for 7 sec. for target




All Casting Speed -10% for 7 sec. for target




Inflicts 50 Burn Damage per 3 sec. for 9 sec. for target

Furious Blow

All Accuracy +5% for 12 sec. for self




All Attack Speed +10% for 5 sec. for self




All Movement Speed +10% for 10 sec. for self




Inflicts 70 Burn Damage per 3 sec. for 9 sec. for target




Instantly Recover 30 HP per hit




Instantly Recover 30 MP/WP/SP per hit

Ground Roar

Attack against monsters +20 for 8 sec. for self




All Evasion +3% for 10 sec. for self




All Attack Speed -4% for 7 sec. for target




All Casting Speed -4% for 7 sec. for target




Instantly Reduce 7 MP/WP/SP per 3 sec. for 9 sec. for target




Instantly Recover 10 HP per hit

Ground Smash

All Attack Speed +4% for 5 sec. for self




All Movement Speed +7% for 10 sec. for self




Inflicts 40 Poison Damage per 3 sec. for 18 sec. for target




Instantly Recover 30 HP per hit




Instantly Recover 30 MP/WP/SP per hit




Instantly Reduce 15 MP/WP/SP per 3 sec. for 15 sec. for target

Heavy Strike

Attack against monsters +20 for 8 sec. for self




All Defense +10 for 10 sec. for self




Inflicts 42 Bleeding Damage per 3 sec. for 15 sec. for target




Instantly Recover 6 MP/WP/SP per hit




Instantly Reduce 3 MP/WP/SP for target




10% chance of Down Smash for target

Hilt Smash

All Evasion +3% for 10 sec. for self




All Accuracy +3% for 12 sec. for self




All Movement Speed +4% for 10 sec. for self




All Attack Speed -4% for 7 sec. for target




All Casting Speed -4% for 7 sec. for target




10% chance of Air Smash for target

Kick

All Evasion +3% for 10 sec. for self




All Accuracy +3% for 12 sec. for self




All Movement Speed +4% for 10 sec. for self




All Attack Speed -4% for 7 sec. for target




All Casting Speed -4% for 7 sec. for target




10% chance of Air Smash for target

Piercing Spear

All Critical Hit Rate +10% for 9 sec. for self




All Movement Speed +4% for 10 sec. for self




All Movement Speed -4% for 7 sec. for target




Inflicts 54 Pain Damage per 3 sec. for 12 sec. for target




Instantly Recover 20 MP/WP/SP per hit




Instantly Reduce 20 MP/WP/SP for target

Shield Charge

Attack against monsters +20 for 8 sec. for self




PVP Attack +10 for 5 sec. for self




All Defense +15 for 10 sec. for self




All Attack Speed +4% for 5 sec. for self




All Attack Speed -7% for 7 sec. for target




All Movement Speed -7% for 7 sec. for target

Shield Strike

All Evasion +3% for 10 sec. for self




All Accuracy +3% for 12 sec. for self




All Movement Speed +4% for 10 sec. for self




All Attack Speed -4% for 7 sec. for target




All Casting Speed -4% for 7 sec. for target




10% chance of Air Smash for target

Sideways Cut

All Evasion +3% for 10 sec. for self




All Accuracy +3% for 12 sec. for self




All Movement Speed +4% for 10 sec. for self




All Attack Speed -4% for 7 sec. for target




All Casting Speed -4% for 7 sec. for target




10% chance of Down Smash for target

Spinning Slash

All Evasion +3% for 10 sec. for self




All Accuracy +3% for 12 sec. for self




All Movement Speed +4% for 10 sec. for self




Inflicts 50 Burn Damage per 3 sec. for 9 sec. for target




Instantly Recover 3 MP/WP/SP per hit




3% chance to Stun for target

Upper Shield Strike

All Defense +10 for 10 sec. for self




All Accuracy +4% for 12 sec. for self




All Attack Speed +4% for 5 sec. for self




Inflicts 45 Pain Damage per 3 sec. for 12 sec. for target




Instantly Recover 20 HP per hit




Instantly Recover 10 MP/WP/SP per hit

Balance Strike

Attack against monsters +20 for 8 sec. for self




PVP Attack +5 for 5 sec. for self




All Attack Speed +7% for 5 sec. for self




All Movement Speed +4% for 10 sec. for self




All Attack Speed -7% for 7 sec. for target




All Movement Speed -7% for 7 sec. for target

Flow: Ankle Break

Attack against monsters +25 for 8 sec. for self




All Evasion +5% for 10 sec. for self




All Movement Speed +10% for 10 sec. for self




Inflicts 60 Burn Damage per 3 sec. for 9 sec. for target




Instantly Recover 20 HP per hit




Instantly Recover 20 MP/WP/SP per hit

Flow: Armor Break

Attack against monsters +20 for 8 sec. for self




PVP Attack +5 for 5 sec. for self




All Critical Hit Rate +20% for 9 sec. for self




All Movement Speed -10% for 7 sec. for target




Inflicts 50 Bleeding Damage per 3 sec. for 15 sec. for target




Instantly Recover 30 MP/WP/SP per hit

Flow: Hilt Strike
All Accuracy +4% for 12 sec. for self
All Critical Hit Rate +20% for 9 sec. for self
Inflicts 60 Burn Damage per 3 sec. for 9 sec. for target
Inflicts 50 Bleeding Damage per 3 sec. for 15 sec. for target
Instantly Reduce 20 MP/WP/SP for target
Instantly Reduce 21 MP/WP/SP per 3 sec. for 9 sec. for target
Flow: Overwhelm

Attack against monsters +25 for 8 sec. for self




PVP Attack +10 for 5 sec. for self




All Accuracy +4% for 12 sec. for self




All Movement Speed +7% for 10 sec. for self




All Attack Speed -7% for 7 sec. for target




15% chance of Air Smash for target

Flow: Reckless Blow

Attack against monsters +30 for 8 sec. for self




PVP Attack +15 for 5 sec. for self




All Defense +20 for 10 sec. for self




All Critical Hit Rate +20% for 9 sec. for self




All Movement Speed -10% for 7 sec. for target




Instantly Recover 30 HP per hit

Grave Digging

Attack against monsters +30 for 8 sec. for self




PVP Attack +15 for 5 sec. for self




All Critical Hit Rate +20% for 9 sec. for self




Inflicts 63 Pain Damage per 3 sec. for 12 sec. for target




Instantly Recover 30 HP per hit




Instantly Reduce 30 MP/WP/SP for target

Merciless

Attack against monsters +25 for 8 sec. for self




All Accuracy +5% for 12 sec. for self




All Attack Speed +7% for 5 sec. for self




All Movement Speed -7% for 7 sec. for target




Inflicts 60 Burn Damage per 3 sec. for 9 sec. for target




Instantly Reduce 21 MP/WP/SP per 3 sec. for 9 sec. for target

Pulverize

All Critical Hit Rate +20% for 9 sec. for self




All Attack Speed +10% for 5 sec. for self




All Attack Speed -7% for 7 sec. for target




Inflicts 50 Bleeding Damage per 3 sec. for 15 sec. for target




Instantly Recover 30 MP/WP/SP per hit




Instantly Reduce 20 MP/WP/SP for target

Solar Flare

All Defense +20 for 10 sec. for self




All Accuracy +5% for 12 sec. for self




All Critical Hit Rate +20% for 9 sec. for self




All Attack Speed +10% for 5 sec. for self




All Attack Speed -7% for 7 sec. for target




All Movement Speed -10% for 7 sec. for target
Sorceress
IMG
SKILL NAME
SKILL ADD-ONS
Absolute Darkness

All Accuracy +5% for 12 sec. for self




All Critical Hit Rate +30% for 9 sec. for self




All Casting Speed +7% for 5 sec. for self




All Movement Speed +7% for 10 sec. for self




All Movement Speed -10% for 7 sec. for target




Inflicts 50 Burn Damage per 3 sec. for 9 sec. for target

Abyssal Flame

All Accuracy +4% for 12 sec. for self




All Critical Hit Rate +10% for 9 sec. for self




All Movement Speed -7% for 7 sec. for target




Inflicts 60 Burn Damage per 3 sec. for 9 sec. for target




Instantly Recover 30 MP/WP/SP per hit




Instantly Reduce 20 MP/WP/SP for target

Beak Kick

Attack against monsters +20 for 8 sec. for self




PVP Attack +5 for 5 sec. for self




All Accuracy +3% for 12 sec. for self




Instantly Recover 3 HP per hit




Instantly Recover 3 MP/WP/SP per hit




10% chance of Down Smash for target

Black Wave

All Movement Speed -10% for 7 sec. for target




Inflicts 48 Poison Damage per 3 sec. for 18 sec. for target




Instantly Recover 3 HP per hit




Instantly Recover 3 MP/WP/SP per hit




Instantly Reduce 3 MP/WP/SP for target




3% chance to Freeze for target

Bloody Calamity

All Casting Speed +10% for 5 sec. for self




All Movement Speed +10% for 10 sec. for self




Inflicts 42 Bleeding Damage per 3 sec. for 15 sec. for target




Instantly Recover 30 HP per hit




Instantly Reduce 30 MP/WP/SP for target




6% chance to Stun for target

Claws of Darkness

All Accuracy +3% for 12 sec. for self




All Casting Speed +7% for 5 sec. for self




Inflicts 42 Bleeding Damage per 3 sec. for 15 sec. for target




Instantly Recover 3 HP per hit




Instantly Recover 3 MP/WP/SP per hit




Instantly Reduce 3 MP/WP/SP for target

Crow Flare

All Defense +10 for 10 sec. for self




All Evasion +3% for 10 sec. for self




All Casting Speed +4% for 5 sec. for self




All Movement Speed +4% for 10 sec. for self




All Casting Speed -7% for 7 sec. for target




Instantly Reduce 3 MP/WP/SP for target

Dark Backstep

Attack against monsters +20 for 8 sec. for self




PVP Attack +5 for 5 sec. for self




All Accuracy +4% for 12 sec. for self




All Casting Speed +4% for 5 sec. for self




All Movement Speed -7% for 7 sec. for target




Instantly Reduce 10 MP/WP/SP for target

Dark Flame

Attack against monsters +20 for 8 sec. for self




All Accuracy +4% for 12 sec. for self




Inflicts 60 Burn Damage per 3 sec. for 9 sec. for target




Instantly Recover 6 HP per hit




Instantly Reduce 10 MP/WP/SP for target




20% chance of Down Smash for target

Darkness Released

All Evasion +3% for 10 sec. for self




All Casting Speed +7% for 5 sec. for self




All Movement Speed +4% for 10 sec. for self




All Movement Speed -4% for 7 sec. for target




Inflicts 50 Burn Damage per 3 sec. for 9 sec. for target




Instantly Recover 3 MP/WP/SP per hit

Dream of Doom

Attack against monsters +25 for 8 sec. for self




PVP Attack +10 for 5 sec. for self




All Accuracy +4% for 12 sec. for self




All Casting Speed +7% for 5 sec. for self




Inflicts 70 Burn Damage per 3 sec. for 9 sec. for target




Instantly Recover 30 MP/WP/SP per hit

Low Kick

All Evasion +3% for 10 sec. for self




All Accuracy +3% for 12 sec. for self




All Critical Hit Rate +10% for 9 sec. for self




All Casting Speed +4% for 5 sec. for self




All Movement Speed -4% for 7 sec. for target




Instantly Reduce 10 MP/WP/SP for target

Midnight Stinger

Attack against monsters +20 for 8 sec. for self




PVP Attack +5 for 5 sec. for self




All Accuracy +5% for 12 sec. for self




All Casting Speed +4% for 5 sec. for self




All Movement Speed -7% for 7 sec. for target




Instantly Recover 10 MP/WP/SP per hit

Rushing Crow

Attack against monsters +20 for 8 sec. for self




PVP Attack +5 for 5 sec. for self




All Casting Speed +4% for 5 sec. for self




Inflicts 45 Pain Damage per 3 sec. for 12 sec. for target




Instantly Recover 10 MP/WP/SP per hit




Instantly Reduce 20 MP/WP/SP for target

Shadow Eruption

Attack against monsters +25 for 8 sec. for self




PVP Attack +10 for 5 sec. for self




All Accuracy +4% for 12 sec. for self




All Casting Speed +10% for 5 sec. for self




Inflicts 56 Poison Damage per 3 sec. for 18 sec. for target




All Movement Speed -7% for 7 sec. for target

Shard Explosion

All Critical Hit Rate +20% for 9 sec. for self




All Casting Speed +10% for 5 sec. for self




All Movement Speed -10% for 7 sec. for target




Inflicts 63 Pain Damage per 3 sec. for 12 sec. for target




Instantly Recover 20 MP/WP/SP per hit




6% chance to Stun for target

Sharp Nails

PVP Attack +5 for 5 sec. for self




All Critical Hit Rate +10% for 9 sec. for self




All Casting Speed +4% for 5 sec. for self




All Movement Speed -4% for 7 sec. for target




Instantly Recover 3 HP per hit




Instantly Recover 3 MP/WP/SP per hit

Sinister Energy

All Attack Speed -4% for 7 sec. for target




All Casting Speed -4% for 7 sec. for target




All Movement Speed -4% for 7 sec. for target




Inflicts 40 Poison Damage per 3 sec. for 18 sec. for target




Instantly Recover 3 HP per hit




Instantly Reduce 10 MP/WP/SP per 3 sec. for 15 sec. for target

Storming Crow

Attack against monsters +25 for 8 sec. for self




PVP Attack +10 for 5 sec. for self




All Evasion +5% for 10 sec. for self




Inflicts 54 Pain Damage per 3 sec. for 12 sec. for target




Instantly Recover 30 HP per hit




Instantly Recover 30 MP/WP/SP per hit

Cartian's Nightmare
All Casting Speed +10% for 5 sec. for self
Inflicts 50 Burn Damage per 3 sec. for 9 sec. for target Instantly Recover 10 HP per hit
Instantly Recover 10 MP/WP/SP per hit
Instantly Reduce 20 MP/WP/SP for target
3% chance to Bound for target
Cartian's Protection

All Defense +15 for 10 sec. for self




All Casting Speed +7% for 5 sec. for self




All Movement Speed +10% for 10 sec. for self




All Attack Speed -7% for 7 sec. for target




All Casting Speed -7% for 7 sec. for target




Inflicts 56 Poison Damage per 3 sec. for 18 sec. for target

Dead Hunt

All Evasion +5% for 10 sec. for self




All Accuracy +5% for 12 sec. for self




Inflicts 45 Pain Damage per 3 sec. for 12 sec. for target




Instantly Recover 3 HP per hit




Instantly Recover 6 MP/WP/SP per hit




Instantly Reduce 3 MP/WP/SP for target

Grim Reaper's Judgment

Attack against monsters +30 for 8 sec. for self




PVP Attack +15 for 5 sec. for self




All Casting Speed +10% for 5 sec. for self




Inflicts 45 Pain Damage per 3 sec. for 12 sec. for target




Instantly Recover 10 HP per hit




Instantly Recover 10 MP/WP/SP per hit

Soul Harvest

Attack against monsters +20 for 8 sec. for self




PVP Attack +5 for 5 sec. for self




All Defense +10 for 10 sec. for self




All Accuracy +4% for 12 sec. for self




All Casting Speed +7% for 5 sec. for self




All Movement Speed -4% for 7 sec. for target

Turn-back Slash

All Accuracy +4% for 12 sec. for self




All Casting Speed +7% for 5 sec. for self




All Movement Speed -7% for 7 sec. for target




Inflicts 50 Bleeding Damage per 3 sec. for 15 sec. for target




Instantly Recover 3 HP per hit




Instantly Recover 10 MP/WP/SP per hit

Violation

All Evasion +5% for 10 sec. for self




All Accuracy +4% for 12 sec. for self




All Casting Speed +7% for 5 sec. for self




Inflicts 45 Pain Damage per 3 sec. for 12 sec. for target




Instantly Recover 3 HP per hit




Instantly Recover 3 MP/WP/SP per hit
Ranger
IMG
SKILL NAME
SKILL ADD-ONS
Blasting Gust

PVP Attack +5 for 5 sec. for self




All Accuracy +3% for 12 sec. for self




All Attack Speed +4% for 5 sec. for self




Inflicts 45 Pain Damage per 3 sec. for 12 sec. for target




Instantly Recover 3 MP/WP/SP per hit




10% chance of Down Smash for target

Charging Kick

Attack against monsters +20 for 8 sec. for self




All Evasion +4% for 10 sec. for self




All Accuracy +4% for 12 sec. for self




All Attack Speed +7% for 5 sec. for self




All Movement Speed -7% for 7 sec. for target




Inflicts 56 Poison Damage per 3 sec. for 18 sec. for target

Charging Wind

Attack against monsters +20 for 8 sec. for self




All Defense +10 for 10 sec. for self




All Accuracy +5% for 12 sec. for self




All Critical Hit Rate +10% for 9 sec. for self




All Movement Speed -7% for 7 sec. for target




Inflicts 40 Poison Damage per 3 sec. for 18 sec. for target

Crescent Kick

Attack against monsters +20 for 8 sec. for self




All Evasion +4% for 10 sec. for self




All Accuracy +4% for 12 sec. for self




All Attack Speed +7% for 5 sec. for self




All Attack Speed -7% for 7 sec. for target




Inflicts 56 Poison Damage per 3 sec. for 18 sec. for target

Evasive Explosion Shot

Attack against monsters +20 for 8 sec. for self




All Defense +15 for 10 sec. for self




All Evasion +5% for 10 sec. for self




All Attack Speed +4% for 5 sec. for self




All Movement Speed +7% for 10 sec. for self




Instantly Recover 3 MP/WP/SP per hit

Evasive Landing Shot

Attack against monsters +20 for 8 sec. for self




All Evasion +4% for 10 sec. for self




All Accuracy +5% for 12 sec. for self




All Attack Speed +10% for 5 sec. for self




All Movement Speed -10% for 7 sec. for target




Inflicts 56 Poison Damage per 3 sec. for 18 sec. for target

Evasive Shot

All Evasion +3% for 10 sec. for self




All Accuracy +3% for 12 sec. for self




All Critical Hit Rate +10% for 9 sec. for self




All Attack Speed +7% for 5 sec. for self




Inflicts 50 Burn Damage per 3 sec. for 9 sec. for target




Instantly Reduce 10 MP/WP/SP for target

Moving Shot

Attack against monsters +20 for 8 sec. for self




All Accuracy +4% for 12 sec. for self




Instantly Recover 10 HP per hit




Instantly Recover 10 MP/WP/SP per hit




Instantly Reduce 10 MP/WP/SP for target




6% chance to Stiffness for target

Penetrating Wind

PVP Attack +5 for 5 sec. for self




All Accuracy +5% for 12 sec. for self




All Movement Speed -7% for 7 sec. for target




Inflicts 40 Poison Damage per 3 sec. for 18 sec. for target




Instantly Reduce 7 MP/WP/SP per 3 sec. for 9 sec. for target




15% chance of Down Smash for target

Pinpoint

Attack against monsters +20 for 8 sec. for self




All Evasion +4% for 10 sec. for self




All Accuracy +4% for 12 sec. for self




All Critical Hit Rate +10% for 9 sec. for self




All Attack Speed +7% for 5 sec. for self




Instantly Recover 10 MP/WP/SP per hit

Razor Wind

Attack against monsters +20 for 8 sec. for self




All Accuracy +3% for 12 sec. for self




All Attack Speed +7% for 5 sec. for self




All Attack Speed -4% for 7 sec. for target




Instantly Recover 3 MP/WP/SP per hit




Instantly Reduce 10 MP/WP/SP for target

Round Kick

Attack against monsters +20 for 8 sec. for self




All Evasion +4% for 10 sec. for self




All Accuracy +4% for 12 sec. for self




All Attack Speed +7% for 5 sec. for self




All Movement Speed -7% for 7 sec. for target




Inflicts 56 Poison Damage per 3 sec. for 18 sec. for target

Tearing Arrow

All Accuracy +5% for 12 sec. for self




All Attack Speed -7% for 7 sec. for target




All Casting Speed -7% for 7 sec. for target




All Movement Speed -7% for 7 sec. for target




Inflicts 50 Bleeding Damage per 3 sec. for 15 sec. for target




3% chance to Stiffness for target

Will of the Wind

All Evasion +3% for 10 sec. for self




All Attack Speed +7% for 5 sec. for self




All Accuracy +5% for 12 sec. for self




Inflicts 45 Pain Damage per 3 sec. for 12 sec. for target




Instantly Reduce 3 MP/WP/SP for target




10% chance of Down Smash for target

Breezy Blade

Attack against monsters +20 for 8 sec. for self




All Defense +10 for 10 sec. for self




All Attack Speed +7% for 5 sec. for self




Inflicts 70 Burn Damage per 3 sec. for 9 sec. for target




Instantly Recover 3 HP per hit




Instantly Recover 3 MP/WP/SP per hit

Cold Blade

Attack against monsters +20 for 8 sec. for self




PVP Attack +5 for 5 sec. for self




All Critical Hit Rate +10% for 9 sec. for self




Instantly Recover 6 HP per hit




Instantly Recover 10 MP/WP/SP per hit




Instantly Reduce 20 MP/WP/SP for target

Elven Rage

Attack against monsters +20 for 8 sec. for self




All Defense +10 for 10 sec. for self




All Attack Speed +7% for 5 sec. for self




Inflicts 70 Burn Damage per 3 sec. for 9 sec. for target




Instantly Recover 3 HP per hit




Instantly Recover 10 MP/WP/SP per hit

Flow: Disillusion

All Defense +20 for 10 sec. for self




All Accuracy +5% for 12 sec. for self




All Attack Speed -10% for 7 sec. for target




All Movement Speed -10% for 7 sec. for target




Instantly Recover 10 MP/WP/SP per hit




Instantly Reduce 10 MP/WP/SP for target

Nature's Tremble

Attack against monsters +30 for 8 sec. for self




All Accuracy +3% for 12 sec. for self




All Critical Hit Rate +10% for 9 sec. for self




Inflicts 42 Bleeding Damage per 3 sec. for 15 sec. for target




Instantly Recover 6 HP per hit




20% chance of Down Smash for target

Regeneration

Attack against monsters +30 for 8 sec. for self




PVP Attack +15 for 5 sec. for self




All Critical Hit Rate +20% for 9 sec. for self




Instantly Recover 20 HP per hit




Instantly Recover 10 MP/WP/SP per hit




Instantly Reduce 20 MP/WP/SP for target

Vine Knot

PVP Attack +10 for 5 sec. for self




All Accuracy +5% for 12 sec. for self




All Critical Hit Rate +10% for 9 sec. for self




All Attack Speed +10% for 5 sec. for self




All Movement Speed -4% for 7 sec. for target




Inflicts 40 Poison Damage per 3 sec. for 18 sec. for target

Wailing Wind

Attack against monsters +20 for 8 sec. for self




PVP Attack +5 for 5 sec. for self




All Accuracy +3% for 12 sec. for self




All Attack Speed +10% for 5 sec. for self




All Movement Speed -10% for 7 sec. for target




Instantly Recover 6 MP/WP/SP per hit

Waltz of Wind

All Evasion +4% for 10 sec. for self




All Critical Hit Rate +10% for 9 sec. for self




All Attack Speed +7% for 5 sec. for self




Instantly Recover 3 MP/WP/SP per hit




Instantly Recover 3 HP per hit




Instantly Reduce 10 MP/WP/SP for target
Berserker
IMG
SKILL NAME
SKILL ADD-ONS
Beast Roar

All Defense +20 for 10 sec. for self




All Accuracy +4% for 12 sec. for self




All Critical Hit Rate +20% for 9 sec. for self




All Attack Speed +7% for 5 sec. for self




All Movement Speed -10% for 7 sec. for target




20% chance of Down Smash for target

Beastly Wind Slash

All Accuracy +4% for 12 sec. for self




PVP Attack +5 for 5 sec. for self




Attack against monsters +20 for 8 sec. for self




All Critical Hit Rate +10% for 9 sec. for self




All Movement Speed +4% for 10 sec. for self




Inflicts 59 Bleeding Damage per 3 sec. for 15 sec. for target

Falling Rock

All Critical Hit Rate +20% for 9 sec. for self




All Defense +10 for 10 sec. for self




Attack against monsters +20 for 8 sec. for self




All Movement Speed +7% for 10 sec. for self




All Movement Speed -7% for 7 sec. for target




Inflicts 54 Pain Damage per 3 sec. for 12 sec. for target

Fearsome Tyrant

PVP Attack +5 for 5 sec. for self




All Defense +20 for 10 sec. for self




All Accuracy +3% for 12 sec. for self




All Critical Hit Rate +20% for 9 sec. for self




All Movement Speed -10% for 7 sec. for target




3% chance to Stiffness for target

Fierce Strike

All Accuracy +3% for 12 sec. for self




All Attack Speed -4% for 7 sec. for target




All Movement Speed +4% for 10 sec. for self




Inflicts 50 Burn Damage per 3 sec. for 9 sec. for target




All Movement Speed -10% for 7 sec. for target




Instantly Reduce 7 MP/WP/SP per 3 sec. for 9 sec. for target

Frenzied Destroyer

All Accuracy +5% for 12 sec. for self




All Defense +15 for 10 sec. for self




Attack against monsters +20 for 8 sec. for self




All Critical Hit Rate +20% for 9 sec. for self




Inflicts 42 Bleeding Damage per 3 sec. for 15 sec. for target




Instantly Reduce 20 MP/WP/SP for target

Headbutt

All Defense +15 for 10 sec. for self




All Attack Speed -4% for 7 sec. for target




Inflicts 50 Bleeding Damage per 3 sec. for 15 sec. for target




Instantly Recover 3 HP per hit




Instantly Reduce 3 MP/WP/SP for target




15% chance of Down Smash for target

Ire of Beast

All Accuracy +5% for 12 sec. for self




All Movement Speed +10% for 10 sec. for self




All Attack Speed -4% for 7 sec. for target




All Casting Speed -7% for 7 sec. for target




Instantly Recover 30 HP per hit




Instantly Reduce 30 MP/WP/SP for target

Predatory Hunt

PVP Attack +10 for 5 sec. for self




All Defense +20 for 10 sec. for self




All Evasion +5% for 10 sec. for self




All Movement Speed -7% for 7 sec. for target




Instantly Recover 6 HP per hit




Instantly Reduce 14 MP/WP/SP per 3 sec. for 9 sec. for target

Raging Thunder

Instantly Recover 10 HP per hit




All Movement Speed +7% for 10 sec. for self




All Attack Speed -4% for 7 sec. for target




All Movement Speed -4% for 7 sec. for target




All Casting Speed -4% for 7 sec. for target




All Critical Hit Rate +10% for 9 sec. for self

Rock Smash

All Evasion +5% for 10 sec. for self




All Defense +20 for 10 sec. for self




Attack against monsters +20 for 8 sec. for self




All Movement Speed +4% for 10 sec. for self




Instantly Recover 30 HP per hit




15% chance of Down Smash for target

Shake Off

All Defense +20 for 10 sec. for self




All Attack Speed +4% for 5 sec. for self




All Attack Speed -4% for 7 sec. for target




All Casting Speed -4% for 7 sec. for target




All Movement Speed -4% for 7 sec. for target




Instantly Recover 10 MP/WP/SP per hit

Smack Down

PVP Attack +5 for 5 sec. for self




All Accuracy +4% for 12 sec. for self




All Attack Speed +4% for 5 sec. for self




All Movement Speed +4% for 10 sec. for self




All Attack Speed -4% for 7 sec. for target




All Movement Speed -4% for 7 sec. for target

Storming Beast

PVP Attack +5 for 5 sec. for self




All Accuracy +4% for 12 sec. for self




All Attack Speed -4% for 7 sec. for target




All Casting Speed -4% for 7 sec. for target




All Movement Speed -4% for 7 sec. for target




Inflicts 45 Pain Damage per 3 sec. for 12 sec. for target

Tackling Rock

Attack against monsters +20 for 8 sec. for self




PVP Attack +5 for 5 sec. for self




All Evasion +4% for 10 sec. for self




All Critical Hit Rate +10% for 9 sec. for self




All Attack Speed -4% for 7 sec. for target




Instantly Reduce 5 MP/WP/SP per 3 sec. for 15 sec. for target

Undertaker

All Evasion +3% for 10 sec. for self




All Movement Speed -10% for 7 sec. for target




Inflicts 42 Bleeding Damage per 3 sec. for 15 sec. for target




Instantly Recover 30 MP/WP/SP per hit




Instantly Reduce 7 MP/WP/SP per 3 sec. for 9 sec. for target




10% chance of Down Smash for target

Weakling Hunt

All Attack Speed -7% for 7 sec. for target




All Accuracy +4% for 12 sec. for self




All Attack Speed +7% for 5 sec. for self




PVP Attack +5 for 5 sec. for self




All Casting Speed -7% for 7 sec. for target




All Movement Speed -7% for 7 sec. for target

Wrath of Beast

PVP Attack +10 for 5 sec. for self




All Defense +20 for 10 sec. for self




All Critical Hit Rate +30% for 9 sec. for self




All Attack Speed +10% for 5 sec. for self




All Movement Speed -10% for 7 sec. for target




Inflicts 59 Bleeding Damage per 3 sec. for 15 sec. for target

Blasting

Attack against monsters +20 for 8 sec. for self




All Defense +15 for 10 sec. for self




All Critical Hit Rate +20% for 9 sec. for self




All Attack Speed -7% for 7 sec. for target




All Casting Speed -7% for 7 sec. for target




Inflicts 59 Bleeding Damage per 3 sec. for 15 sec. for target

Devastation
Attack against monsters +30 for 8 sec. for self
PVP Attack +15 for 5 sec. for self
All Defense +15 for 10 sec. for self
All Attack Speed +7% for 5 sec. for self
Inflicts 63 Pain Damage per 3 sec. for 12 sec. for target
Instantly Reduce 15 MP/WP/SP per 3 sec. for 15 sec. for target
Flame Buster

All Evasion +5% for 10 sec. for self




All Accuracy +4% for 12 sec. for self




All Movement Speed +10% for 10 sec. for self




15% chance of Down Smash for target




15% chance of Air Smash for target




Instantly Recover 20 HP per hit

Giant Leap

PVP Attack +5 for 5 sec. for self




All Accuracy +5% for 12 sec. for self




All Critical Hit Rate +20% for 9 sec. for self




All Attack Speed -4% for 7 sec. for target




Inflicts 70 Burn Damage per 3 sec. for 9 sec. for target




Instantly Recover 30 HP per hit

Ground Lifting

Attack against monsters +20 for 8 sec. for self




All Defense +10 for 10 sec. for self




All Accuracy +4% for 12 sec. for self




All Attack Speed +4% for 5 sec. for self




All Movement Speed -4% for 7 sec. for target




Instantly Reduce 10 MP/WP/SP for target

Titan Blow

Attack against monsters +25 for 8 sec. for self




PVP Attack +10 for 5 sec. for self




All Defense +20 for 10 sec. for self




All Attack Speed +10% for 5 sec. for self




Instantly Recover 30 MP/WP/SP per hit




Instantly Reduce 30 MP/WP/SP for target

Titan Step

Attack against monsters +25 for 8 sec. for self




PVP Attack +10 for 5 sec. for self




All Accuracy +4% for 12 sec. for self




All Attack Speed -7% for 7 sec. for target




All Movement Speed -4% for 7 sec. for target




Instantly Recover 10 HP per hit
Tamer

IMG
SKILL NAME
SKILL ADD-ONS
Bolt Wave

All Defense +10 for 10 sec. for self




All Evasion +4% for 10 sec. for self




All Accuracy +5% for 12 sec. for self




All Attack Speed +7% for 5 sec. for self




All Attack Speed -4% for 7 sec. for target




All Movement Speed -4% for 7 sec. for target

Evasive Attack

All Evasion +3% for 10 sec. for self




All Attack Speed +4% for 5 sec. for self




All Movement Speed +7% for 10 sec. for self




All Movement Speed -4% for 7 sec. for target




Inflicts 59 Bleeding Damage per 3 sec. for 15 sec. for target




Instantly Reduce 14 MP/WP/SP per 3 sec. for 9 sec. for target

Flash

PVP Attack +5 for 5 sec. for self




All Evasion +3% for 10 sec. for self




All Critical Hit Rate +10% for 9 sec. for self




All Movement Speed -4% for 7 sec. for target




Instantly Recover 30 HP per hit




Instantly Recover 30 MP/WP/SP per hit

Flash: Pole Thrust

All Defense +10 for 10 sec. for self




All Critical Hit Rate +10% for 9 sec. for self




All Attack Speed -4% for 7 sec. for target




All Casting Speed -4% for 7 sec. for target




All Movement Speed -4% for 7 sec. for target




3% chance to Stiffness for target

Heilang: Lightning of Earth

Attack against monsters +25 for 8 sec. for self




All Defense +10 for 10 sec. for self




All Critical Hit Rate +10% for 9 sec. for self




All Attack Speed +7% for 5 sec. for self




Instantly Recover 6 HP per hit




Instantly Recover 6 MP/WP/SP per hit

Heilang: Roaring

Attack against monsters +20 for 8 sec. for self




PVP Attack +5 for 5 sec. for self




All Defense +20 for 10 sec. for self




All Critical Hit Rate +20% for 9 sec. for self




All Attack Speed -10% for 7 sec. for target




Inflicts 42 Bleeding Damage per 3 sec. for 15 sec. for target

Heilang: Scratch

All Defense +10 for 10 sec. for self




All Evasion +3% for 10 sec. for self




All Attack Speed +4% for 5 sec. for self




All Movement Speed +4% for 10 sec. for self




All Movement Speed -4% for 7 sec. for target




Instantly Reduce 10 MP/WP/SP for target

Heilang: Surging Tide

Attack against monsters +25 for 8 sec. for self




PVP Attack +10 for 5 sec. for self




All Defense +15 for 10 sec. for self




All Accuracy +5% for 12 sec. for self




All Critical Hit Rate +20% for 9 sec. for self




All Attack Speed +10% for 5 sec. for self

Heilang: Throat-Burn

PVP Attack +5 for 5 sec. for self




All Defense +10 for 10 sec. for self




All Critical Hit Rate +10% for 9 sec. for self




All Attack Speed +7% for 5 sec. for self




All Movement Speed -4% for 7 sec. for target




Instantly Recover 6 HP per hit

Heilang: Trample

Attack against monsters +20 for 8 sec. for self




All Evasion +3% for 10 sec. for self




All Accuracy +3% for 12 sec. for self




All Attack Speed +4% for 5 sec. for self




Instantly Recover 3 HP per hit




Instantly Recover 3 MP/WP/SP per hit

Heilang: Upward Claw

PVP Attack +10 for 5 sec. for self




All Defense +15 for 10 sec. for self




All Critical Hit Rate +10% for 9 sec. for self




All Attack Speed +10% for 5 sec. for self




All Attack Speed -7% for 7 sec. for target




All Movement Speed -7% for 7 sec. for target

Heilang: Whiplash

All Accuracy +3% for 12 sec. for self




All Critical Hit Rate +10% for 9 sec. for self




All Attack Speed +4% for 5 sec. for self




All Attack Speed -4% for 7 sec. for target




Instantly Recover 3 HP per hit




Instantly Recover 3 MP/WP/SP per hit

Jolt Wave

Attack against monsters +20 for 8 sec. for self




PVP Attack +5 for 5 sec. for self




All Critical Hit Rate +10% for 9 sec. for self




All Attack Speed +10% for 5 sec. for self




Instantly Recover 3 HP per hit




Instantly Recover 3 MP/WP/SP per hit

Stretch Kick

All Defense +10 for 10 sec. for self




All Evasion +4% for 10 sec. for self




All Attack Speed +7% for 5 sec. for self




All Movement Speed +4% for 10 sec. for self




All Attack Speed -4% for 7 sec. for target




All Movement Speed -4% for 7 sec. for target

Void Lightning

All Defense +15 for 10 sec. for self




All Attack Speed -7% for 7 sec. for target




All Casting Speed -7% for 7 sec. for target




All Movement Speed -7% for 7 sec. for target




Instantly Recover 10 HP per hit




Instantly Recover 10 MP/WP/SP per hit

Allround Spinner

Attack against monsters +30 for 8 sec. for self




PVP Attack +15 for 5 sec. for self




All Attack Speed +10% for 5 sec. for self




All Attack Speed -7% for 7 sec. for target




All Casting Speed -7% for 7 sec. for target




Instantly Recover 6 HP per hit

Beast Rampage

Attack against monsters +25 for 8 sec. for self




All Defense +20 for 10 sec. for self




All Critical Hit Rate +20% for 9 sec. for self




All Attack Speed +10% for 5 sec. for self




All Attack Speed -10% for 7 sec. for target




Inflicts 54 Pain Damage per 3 sec. for 12 sec. for target

Cloud Stomping

All Evasion +5% for 10 sec. for self




All Movement Speed +10% for 10 sec. for self




All Attack Speed -10% for 7 sec. for target




All Casting Speed -10% for 7 sec. for target




All Movement Speed -10% for 7 sec. for target




Inflicts 42 Bleeding Damage per 3 sec. for 15 sec. for target

Echo Pierce

All Defense +10 for 10 sec. for self




All Evasion +4% for 10 sec. for self




All Accuracy +4% for 12 sec. for self




All Attack Speed +10% for 5 sec. for self




Instantly Recover 3 HP per hit




Instantly Recover 3 MP/WP/SP per hit

Flow: Ascension

All Attack Speed -7% for 7 sec. for target




All Casting Speed -7% for 7 sec. for target




Inflicts 45 Pain Damage per 3 sec. for 12 sec. for target




Instantly Reduce 20 MP/WP/SP for target




15% chance of Down Smash for target




15% chance of Air Smash for target

Flow: Full Moon

All Critical Hit Rate +10% for 9 sec. for self




All Movement Speed -7% for 7 sec. for target




Instantly Recover 10 HP per hit




Instantly Recover 10 MP/WP/SP per hit




Instantly Reduce 5 MP/WP/SP per 3 sec. for 15 sec. for target




3% chance to Stun for target

Flow: Soaring Strike

Attack against monsters +25 for 8 sec. for self




PVP Attack +10 for 5 sec. for self




All Critical Hit Rate +30% for 9 sec. for self




Inflicts 42 Bleeding Damage per 3 sec. for 15 sec. for target




Instantly Recover 10 HP per hit




20% chance of Down Smash for target

Garuda

Attack against monsters +20 for 8 sec. for self




PVP Attack +5 for 5 sec. for self




All Attack Speed +7% for 5 sec. for self




All Attack Speed -7% for 7 sec. for target




All Casting Speed -7% for 7 sec. for target




All Movement Speed -7% for 7 sec. for target

Legendary Beast Dance

Attack against monsters +20 for 8 sec. for self




PVP Attack +5 for 5 sec. for self




All Critical Hit Rate +20% for 9 sec. for self




All Attack Speed +7% for 5 sec. for self




All Attack Speed -4% for 7 sec. for target




All Casting Speed -4% for 7 sec. for target

Moonlight Strike

All Evasion +4% for 10 sec. for self




All Accuracy +4% for 12 sec. for self




All Attack Speed +10% for 5 sec. for self




All Movement Speed +7% for 10 sec. for self




All Movement Speed -7% for 7 sec. for target




Instantly Recover 6 HP per hit
Valkyrie
IMG
SKILL NAME
SKILL ADD-ONS
Celestial Spear

Attack against monsters +20 for 8 sec. for self




PVP Attack +5 for 5 sec. for self




All Critical Hit Rate +20% for 9 sec. for self




Instantly Recover 30 HP per hit




Instantly Recover 30 MP/WP/SP per hit




10% chance of Down Smash for target

Counter

All Defense +15 for 10 sec. for self




All Evasion +5% for 10 sec. for self




All Casting Speed +7% for 5 sec. for self




All Attack Speed -7% for 7 sec. for target




Instantly Reduce 14 MP/WP/SP per 3 sec. for 9 sec. for target




15% chance of Air Smash for target

Divine Power

Attack against monsters +25 for 8 sec. for self




PVP Attack +10 for 5 sec. for self




All Accuracy +5% for 12 sec. for self




All Critical Hit Rate +20% for 9 sec. for self




Instantly Recover 30 MP/WP/SP per hit




Instantly Reduce 21 MP/WP/SP per 3 sec. for 9 sec. for target

Flurry of Kicks

All Evasion +4% for 10 sec. for self




All Accuracy +4% for 12 sec. for self




All Casting Speed +7% for 5 sec. for self




All Attack Speed -7% for 7 sec. for target




All Movement Speed -7% for 7 sec. for target




10% chance of Air Smash for target

Forward Slash

All Defense +10 for 10 sec. for self




All Critical Hit Rate +10% for 9 sec. for self




All Casting Speed +4% for 5 sec. for self




All Movement Speed +10% for 10 sec. for self




All Movement Speed -4% for 7 sec. for target




Instantly Reduce 3 MP/WP/SP for target

Glaring Slash

All Defense +10 for 10 sec. for self




All Evasion +3% for 10 sec. for self




All Accuracy +3% for 12 sec. for self




All Attack Speed -4% for 7 sec. for target




All Casting Speed -4% for 7 sec. for target




All Movement Speed -4% for 7 sec. for target

Judgment of Light

All Defense +20 for 10 sec. for self




All Critical Hit Rate +20% for 9 sec. for self




Instantly Recover 30 HP per hit




Instantly Recover 30 MP/WP/SP per hit




Instantly Reduce 30 MP/WP/SP for target




Instantly Reduce 15 MP/WP/SP per 3 sec. for 15 sec. for target

Righteous Charge

PVP Attack +10 for 5 sec. for self




All Accuracy +5% for 12 sec. for self




All Casting Speed +10% for 5 sec. for self




All Attack Speed -10% for 7 sec. for target




All Casting Speed -10% for 7 sec. for target




Inflicts 50 Bleeding Damage per 3 sec. for 15 sec. for target

Severing Light

All Evasion +5% for 10 sec. for self




All Accuracy +3% for 12 sec. for self




All Defense +10 for 10 sec. for self




All Casting Speed +4% for 5 sec. for self




All Attack Speed -4% for 7 sec. for target




All Movement Speed -7% for 7 sec. for target

Sharp Light

Attack against monsters +25 for 8 sec. for self




PVP Attack +10 for 5 sec. for self




All Critical Hit Rate +20% for 9 sec. for self




Inflicts 42 Bleeding Damage per 3 sec. for 15 sec. for target




Instantly Recover 30 HP per hit




Instantly Reduce 30 MP/WP/SP for target

Shield Push

All Movement Speed -7% for 7 sec. for target




Inflicts 42 Bleeding Damage per 3 sec. for 15 sec. for target




Instantly Recover 10 HP per hit




Instantly Recover 10 MP/WP/SP per hit




Instantly Reduce 14 MP/WP/SP per 3 sec. for 9 sec. for target




10% chance of Down Smash for target

Shield Strike

PVP Attack +5 for 5 sec. for self




All Defense +10 for 10 sec. for self




All Accuracy +3% for 12 sec. for self




All Attack Speed -4% for 7 sec. for target




All Casting Speed -4% for 7 sec. for target




All Movement Speed -4% for 7 sec. for target

Shield Throw

Attack against monsters +20 for 8 sec. for self




PVP Attack +5 for 5 sec. for self




All Critical Hit Rate +20% for 9 sec. for self




All Movement Speed +10% for 10 sec. for self




Inflicts 50 Bleeding Damage per 3 sec. for 15 sec. for target




Instantly Recover 6 MP/WP/SP per hit

Shining Dash

PVP Attack +15 for 5 sec. for self




All Casting Speed +10% for 5 sec. for self




All Movement Speed +10% for 10 sec. for self




Inflicts 63 Pain Damage per 3 sec. for 12 sec. for target




Inflicts 59 Bleeding Damage per 3 sec. for 15 sec. for target




15% chance of Down Smash for target

Sideways Cut

All Evasion +5% for 10 sec. for self




All Accuracy +3% for 12 sec. for self




All Casting Speed +4% for 5 sec. for self




All Attack Speed -4% for 7 sec. for target




All Casting Speed -4% for 7 sec. for target




Instantly Reduce 7 MP/WP/SP per 3 sec. for 9 sec. for target

Skyward Strike

PVP Attack +5 for 5 sec. for self




All Accuracy +3% for 12 sec. for self




All Attack Speed -7% for 7 sec. for target




All Casting Speed -7% for 7 sec. for target




All Movement Speed -7% for 7 sec. for target




10% chance of Air Smash for target

Sword of Judgment

All Defense +10 for 10 sec. for self




All Evasion +3% for 10 sec. for self




All Accuracy +3% for 12 sec. for self




All Casting Speed +4% for 5 sec. for self




All Movement Speed +4% for 10 sec. for self




Instantly Recover 6 MP/WP/SP per hit

Blitz Stab

Attack against monsters +25 for 8 sec. for self




PVP Attack +10 for 5 sec. for self




All Accuracy +3% for 12 sec. for self




All Movement Speed +4% for 10 sec. for self




Inflicts 63 Pain Damage per 3 sec. for 12 sec. for target




Instantly Recover 10 HP per hit

Castigatio

Attack against monsters +20 for 8 sec. for self




All Defense +15 for 10 sec. for self




All Accuracy +4% for 12 sec. for self




All Critical Hit Rate +10% for 9 sec. for self




All Movement Speed -4% for 7 sec. for target




15% chance of Down Smash for target

Hastiludium

PVP Attack +10 for 5 sec. for self




All Accuracy +3% for 12 sec. for self




All Critical Hit Rate +10% for 9 sec. for self




All Movement Speed +7% for 10 sec. for self




All Movement Speed -7% for 7 sec. for target




Instantly Recover 30 HP per hit

Promptness

PVP Attack +5 for 5 sec. for self




All Evasion +3% for 10 sec. for self




All Accuracy +3% for 12 sec. for self




All Casting Speed +4% for 5 sec. for self




All Movement Speed -4% for 7 sec. for target




Instantly Recover 20 HP per hit

Purificatione

All Evasion +5% for 10 sec. for self




All Casting Speed +4% for 5 sec. for self




All Critical Hit Rate +10% for 9 sec. for self




All Movement Speed +4% for 10 sec. for self




Inflicts 40 Poison Damage per 3 sec. for 18 sec. for target




Instantly Reduce 15 MP/WP/SP per 3 sec. for 15 sec. for target

Sacrum Ferit

PVP Attack +5 for 5 sec. for self




All Evasion +4% for 10 sec. for self




All Movement Speed -4% for 7 sec. for target




Inflicts 54 Pain Damage per 3 sec. for 12 sec. for target




Instantly Recover 10 HP per hit




10% chance of Air Smash for target

Sanctitas de Enslar

PVP Attack +5 for 5 sec. for self




All Movement Speed -10% for 7 sec. for target




Inflicts 59 Bleeding Damage per 3 sec. for 15 sec. for target




Instantly Recover 30 HP per hit




Instantly Reduce 30 MP/WP/SP for target




20% chance of Down Smash for target

Terra Sancta

All Defense +10 for 10 sec. for self




All Accuracy +5% for 12 sec. for self




All Casting Speed +10% for 5 sec. for self




All Movement Speed -10% for 7 sec. for target




Inflicts 59 Bleeding Damage per 3 sec. for 15 sec. for target




20% chance of Down Smash for target

Verdict: Lancia Iustitiae

Attack against monsters +25 for 8 sec. for self




All Defense +20 for 10 sec. for self




All Casting Speed +4% for 5 sec. for self




All Attack Speed -4% for 7 sec. for target




All Movement Speed -4% for 7 sec. for target




10% chance of Air Smash for target