Introduction
Calphe:ON Ball 2021 Part 2 took place on 26th March 2022 to showcase upcoming content and answer common player questions. This time the presentation was hosted and translated by CM StarsEnd, GM Lemoria and CM Endlaive.
If you missed the presentation you can catch it at the following official links:
Coupon Codes
Coupon Codes can be redeemed on the official website, or in-game by going to the ESC menu > Adventurer Support (F11) > Use Coupon (4)
HOPE-TOSE-EYOU-SOON


[Event] Rubin's Letter
Artisan's Blessing (30 Days)
Mainhand Weapon Exchange Coupon x1
Awakening Weapon Exchange Coupon x1
Offhand Weapon Exchange Coupon x2
Cron Stones x2,000

GRAB-YOUR-JSHA-MMER

THX4-WATC-HING-EPI2

Marni's Unstable Fuel x500
Advice of Valks (+150)
[Event] Shining Shakatu's Seal x20

QUIZ-SHOW-GIFT-HERE

Valks' Advice (+100) x1

[Event] Enhancement Support Box I x 1

[Event] Rare Runner-up Training Box x 1

Valks' Advice (+40) x1

[Event] 1 rare furniture selection box

[Event] 1 rare interior selection box

1 special order from J

1 Patrigio's Costume Bag

[Event] Enhancement Support Box III x 1

1 pack of Mystic Artisan's Memory
Events
[Event] Rubin's Letter – Questline
March 26, 2022 (Sat) – April 27, 2022 (Wed) before the maintenance.
Right-click the letter to go to NPC Wishing Child in Calpheon
Must be level 50+
Follow the quests to obtain these rewards:

[Event] Child's Wish Lantern x1
[Event] Blessing of Old Moon Pack (7 Days) x1
Cron Stone x1,000
[Event] Tiger Wish Lantern x10
Wish Lantern of Happiness x5
Wish Lantern of Health x5
A Lantern-lit Night of Stars
CalpheON Episode 2's Special Buff

March 26, 2022 (Sat) 7:30 (UTC) – March 30, 2022 (Wed) before maintenance
Go to GM Silver in Calpheon to recieve a buff

Energy Recovery +1
Item Drop Rate +10%
Combat/Skill/Life EXP +10%
Chance to Gain Knowledge +10%
Movement Speed +1
Luck +1
Gifts from a Stranger
March 26, 2022 (Sat) – April 27, 2022 (Wed) before maintenance
Accept the [Event] The Mysterious Man quest from your Black Spirit > Event Quest
Go to Basquean Ljurik in Clapheon to continue the questline
Obtain the following rewards:

5,000 Loyalties
J's Special Box x2

J's Special Scroll x2
Black Spirit's Special Dice Box x1
[Event] Giovan Grolin's Support Scroll x3
Memory Fragment x20
[Event] Magical Elixir x5
Item Collection Increase Scroll (60 min) x5
Ancient Spirit Dust x500
Upcoming Content
New Class – Drakania!
Release Date
Drakania will be the next class (24th class) in Black Desert Online. The class will be release on 6th April 2022 globally and pre-creation will start on 30th March 2022.
A new season will also be starting on 6th April, and Mountain of Eternal Winter will be released in EU/NA PC.
The class will be released with the Succession skill kit, but Awakening for the class is still under development and will be released at a later date. From now on, all future classes will be brought with succession and awakening kits will come later.
---
Class Lore
Drakania is the "Destroyer of Ynix" and descendant of the the dragon Markthanan. Since the Guardian class is a decendant of Labreska, the two are mortal enemies (as teased in the trailer) and are at war. More of the story will be revealed in the game, such as the identity of Drakania's mother.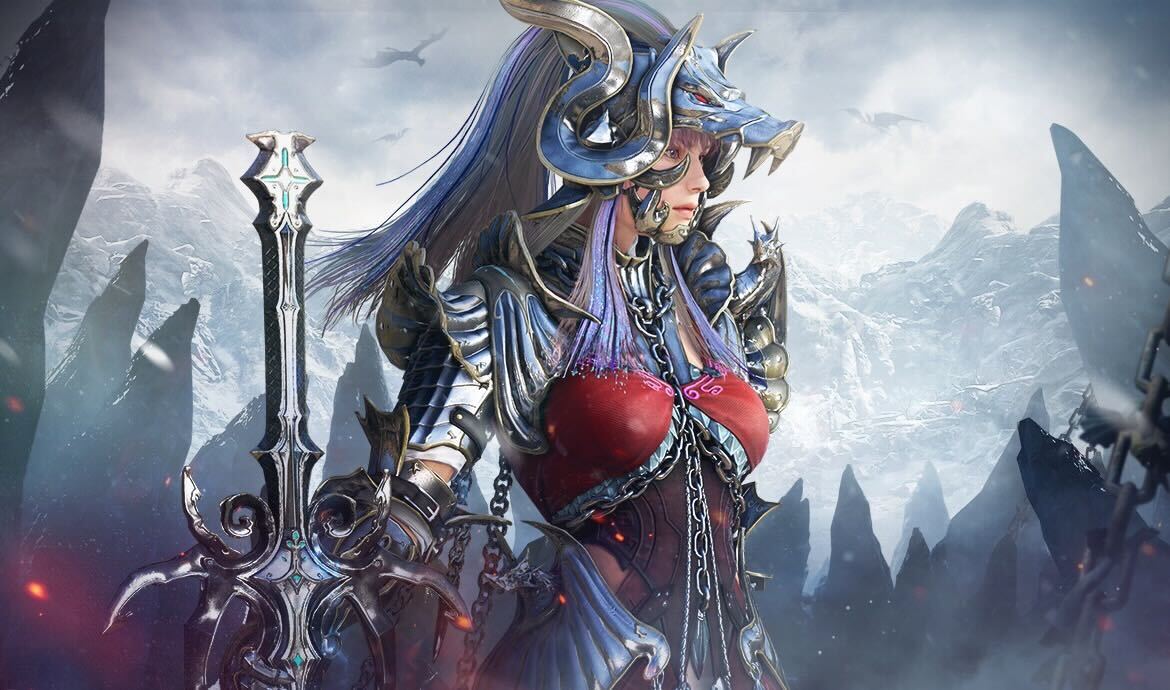 ---
Combat Trailer and Skill Teaser
Drakania uses a 2 handed greatsword called "Slayer".  She has a mixture of lightning and fire skills with a dragon theme. Her skills are hard hitting melee skills and the developers wanted to break the stereotype that two handed swords are slow. During development Pearl Abyss considered whether she should be the mirror class to an Awakened Warrior, but they wanted to capture a unique style and feel to the class.
The "Slayer" mainhand has a "Heart" inside it and the offhand is a smaller sword named the "Shard". The class also has a new resource called "Ion Energy" with is obtained through the "Shard" offhand weapon. Another common issue with other classes is that the charging attacks are not worth it because of such a long delay. Ion Energy aims to fix this problem.
Drakania can remove the "Shard" from her main-hand during combat and use it to hit enemies. This will generate energy, and can also steal resources directly from enemies. Once the Ion Energy is full, skills can be used to their full power without having to charge them first. In addition, when using Ion Energy, a "Ion Area" is created around her. Inside the Ion Energy, monsters are hit by trauma and are taunted. The Ion Area can also be used in different ways. For example, it can be used strategically in PVP remove debuffs (such as movement speed debuffs) from allies. Using the Ion resource also has a visual effect on the skills so you can differenciate between normal and enhanced skills. Complicated combos and resource management will be key when playing Drakania to get the most out of the class.
Example Skills:
Drakania collects energy from around her –  enemies are pulled towards Drakania and resources (MP) are stolen from them – skill has superarmor while charging, power is released after charging with a powerful blow, flow skill inflicts an extra blow at the end
Drakania creates a protective barrier around her – increases damage reduction by 50% – skill has superarmor while charging
Passive skill – When Drakania's HP drops to 50% or lower, all Ion energy skills will restore HP
Audio Remaster 2
Black Desert has lots of great soundtracks, but Pearl Abyss felt that there wasn't enough opportunities to hear the music outside of the game. The music of the game will be added through the Pearl Abyss Music Channel.
Pearl Abyss Music Channel:
This is a Youtube channel where you can listen to all the muic and all videos are seperated so you can make your own playlists depending on your taste. Various tracks, such as a 1 hour track, music video, orchestra, and behind-the-scenes videos will be added.
Audio has been remasted in the past, but Audio Remaster 2 hopes to solve some of the problems that were not addressed in the last remaster. After this remaster, the audio will be revamped so that there are different categories, and an area will have music according to which characteristics they meet.
Normal atmosphere
Dark and tense atmosphere (including dungeons)
Hunting grounds with normal atmosphere
Safe zones (village, city, camps, etc.)
Each zone will be split into many different areas to give more variety, instead of just one song for the entire region. With the Audio remaster, horse riding music will be brought back as well, it was removed in the past because there were cases where horse riding music didn't fit into the area you were in. In addition, players may notice small easter eggs, such as old music from before the initial rework, when they stay in one area for a long time. This update is going to come in two parts, with the first being at the beginning of April, and the 2nd update planned for the end of April.
In the future, players will also be able to choose which music players and will be able to turn it on and off at will.
New shai "Marni" instruments are also being developed and composition options to give more variety. Several new Sythesizer Tones will be available which will add the possibilities of creating "dance" like music.
Storytelling
After testing out a new way of storytelling with Mountain of Eternal Winter, there was lots of good feedback from players. On 6th April a Balenos story rework and a small tutorial (which was teased in the past) will be coming to Korea. A global translation is currently in progress and will be coming to all regions and console as soon as possible.
For the small tutorial coming on 6th April, Illezra will be a focus and players will naturally learn the controls in Black Desert. The tutorial is aimed to be a majestic production and make players feel immersed in the game. They hope that with Illezra at the center of this story, it will be possible to understand the story more intuitively.
Cutscenes have been added to the Balenos main story questline and voicelines have been added to make the story more immersive. In addition, other stories are being developed and fleshed out. In the future there will be updates to Serendia and Calpheon stories. Pearl Abyss said that the Serendia and Calpheon stories are going to take longer than expected, since they are a huge amount of work, so they ask for your patience.
With the update to Balenos mainquest, certain NPCs have also had an update to their appearance.
Serenda Elvia Realm
The common feedback is that Elvia Orc Camp is currently the best for silver, so why would players want to go anywhere else. The reason Elvia spots are so good is also because you can make silver directly without having to go through the central market.
Due to this feedback, the profits of all Elvia spots are going to be rebalanced to bring them closer to Orcs. One of the issues as well with Elvia spots is that some of them are highly reliant on Elvia Weapons, and your silver per hour is impacted by this. Elvia weapons will be changed slightly so that they spawn more often, however, you will no longer be able to take a new weapon to refresh the buff. The aim is for players to have a weapon for approximately 30 minutes in the total hour, and to remove some of the randomness from the spots. As well, Elvia weapons will now be a character drop/summon, meaning that other players cannot take your weapon from you.
Calpheon Elvia Realm
Calpheon Elvia Realm is arriving next week on Global Lab and will be added to official servers after a balance adjustment.
The aim is to take away some of the repetitiveness from grinding in a location for so long. These new Calpheon Elvia spots will have weather specific monsters and effects, where the monsters change depending on the current weather conditions. The hope is that since the grind spot is always changing, it will stop players from getting bored if they grind there for too long in one sitting.
One of the mechanics for these new spots, is that when the Troll Shaman is defeated, they will petrify monsters nearby and make them easier to defeat.
---
Channel Structure Changes and Private Server
Currently servers are split into Elvia channels and normal channels. At the moment you have to choose to play on an Elvia server if you want to grind in an Elvia spot. This limits the amount of players who can grind on Elvia and makes the spots highly contested.
In the future, the server setup will change, so that it doesn't matter which server you are currently playing on. Instead you will go to the spot itself (such as Orc Camp) and will choose whether to enter Elvia zone or normal. The hope is that this will alleviate the overcrowding in certain spots.
As well, Private servers are going to become available. Players will be able to enter a private server for up to 1 hour a day, and can grind without the conflict of other players. If you want to keep grinding after using up your 1 hour, you will need to go and grind in a normal server. These private servers will be different from the current Oasis servers, which are aimed for inviting friends and guilds. Oasis servers are also only available from winning events and not as accessable.
UI Updates/QoL
After the Artifacts and Lightstone update, there was a lot of feedback that the inventory is always a mess and even worse than before. For life skillers, there are a lot of different items you need to collect, such as Manos clothes, tools and artifacts for each seperate life skill. Pearl Abyss wanted to make sure there was lots of variety and choice when it came to the artifacts, so there are lots of available options, but now this is causing an issue with inventory and where to store all the equipment. A seperate inventory space will be developed (similar to the Dye Pallette window). This is where you can store all your artifacts and lightstones. More options for lightstones will also be developed at a later date, such as Ranged Defense options, for classes who struggle against certain classes or conditions.
To further help with the inventory space issues, processing stones will be unified into one tool at the end of April.
Other planned updates include a revamp to the Item drop window, to give more information and organised so it is much clearer.
Character Tag
During the Marni Fuel event, the amount of players using the Character Tag was much higher and a lot of feedback was submitted about reducing the amount of fuel needed.
Marni Fuel requirements will be permanently reduced by 50% on April 6th. There will also be more ways to obtain Marni Fuel in the future, such as through events.
Costumes and Carrack Skin
A new Mountain of Eternal Winter costume has been developed for all classes.
You can also find concept art for the new costumes below.
Sage Costume
Hashashin Costume
Berserker Costume
Shai Costume
Initially Pearl Abyss was only going to develop one new carrack skin. However, due to the popularity, 4 skins in total have been developed, one for each of the 4 types of carracks.
The Carrack skin will be coming to Korea in May, this is because there is still some quality updates required.
Q&A Section
Q: Swapping Life Skill Tools and equipment is annoying, can we get any improvements?
This was a difficult problem to try and find a solution for. But since this is something that is a concern for a lot of players, we thought for a long time and think we have come up with an idea. We are thinking of creating seperate inventory space for life skill tools. Then when you life skill, you will automatically use the appropriate tool instead of having to constantly swap them.  One issue we thought about was how to choose whether to collect sap or chop down a tree, so the way it will work is the tool which is first in your inventory will take priority and be used. The seperate inventory will be similar to what we mentioned earlier with the Artifacts and Lightstones. As usual, updates will be shown first on Global Lab.
Q: Pets miss loot because the speed is not good enough, are we going to get Tier 5 pets?
Pet loot speed and having left over loot is very frustrating for players. Pets miss loot because the pet speed isn't good enough. We have collected a lot of feedback about this inconvience and are looking to improve it so players don't have to spam R when grinding. Right now, pet movment is based on your character movement, so the more your character moves the slower the pets will pick up and the less loot you get. The way it works right now needs to be changed, so we are working to change the way the pet functions, so that they will follow the loot and not the player movement.
Tier 5 pets are still planned. At the moment the idea is that players will only be able to have one tier 5 pet out at once. If you have a Tier 5 pet out, it will act as the leader of the other pets. The leader will grant a passive to reduce the overall loot time of all your pets. We are hoping that adding Tier 5 pets, as well as the other changes we have planned should allieviate the issues. Tier 5 pets will be obtained using silver instead of the current exchange method.
Q: The Party elixir cooldown is too long. Can it be reduced?
We agree that the Party elixir cooldown is too long. Originally the 10 minute cooldown was implemented to prevent misclicking and wasting your elixirs, but this doesn't seem relevant now so the cooldown will be reduced to 1 second.
Q: Artifacts lose durability too quickly. Can this be fixed?
We agree that artifacts lose durability too fast. We will remove durability on artifacts completely since this is just an unneccessary inconvience for players.
Q: I would like to take better screenshots. Can you add more functions to screenshot mode?
We will be adding new functionality to the screenshot mode (Ctrl + U). You will be able to change the weather and time of day for your screenshots
Q: Players flag up and kill life skillers just for fun. Can you do something about this?
We understand that players are flagging up on life skillers just for fun. New players are being killed and are frustrated. We're also aware of times when adventurers can get in a big dispute that causes perma wars and this is not something that all players want. There are also times where some guilds are afraid to participate in node war or siege because they might be declared on afterwards. We do support PVP in the game, but PK might be worrysome for some players. During the early days of BDO, PVP was on more of a level field, but now that the game is older there is a lot more one sided PVP as new players come to the game. Even people who flag up to kill others probably don't want new players to leave the game. We are trying to improve PVP content for the people who want PVP.

Q: Are you going to be adding more improvements for new players?
One of the improvements for new players that we are going to implement is the "horse without an owner system". As a new player, it can be slow and difficult to obtain a good horse. It can also be frustrating to see other plaeyrs riding such fast horses around them. With the new system, players will be able to find wild horses all over the world. These special wild horses can be ridden by players for a short period of time, but the horse is not registered in your stable. Lucky players may even find dream horses that spawn in the wild. We are thinking of the idea as more of a "taxi" and hope this will solve a lot of the problems for newer players.