A new campsite system has been added in Korea on 14th September 2017.  It is used to assist you when you are grinding, either by giving you buffs, repairing your gear or buying potions. The idea of the campsite is so that you don't have to go back to a town as often and can stay grinding for longer. 
More camping tools are also planned but not currently available in-game. For example a campsite container is already in the game client which costs 25 contribution points and will allow you to store up to 16 items at 500LT. You cannot dismantle a campsite that has items in the container, if you choose to remote collect the campsite then stored items have a chance of being destroyed.
How to obtain a campsite
A campsite kit and knowledge of the campsite can be obtained after completing a series of quests. You must have already completed the quest
[Boss] Witch-Hunting
, then you will be able to accept the following quests:
Quest Name

Quest Requirements

Start NPC

Reward

A master of survival

[Boss] Witch-Hunting

Black Spirit

Contribution EXP 80

How to survive in the wild

A master of survival

Likke Behr

Camping Tools

 Survival and survival skills

How to survive in the wild

Likke Behr

Old-Moon Camp Anvil

New Year's Camping Tent

Old Moon Camp Shop
If you mistakenly throw away the campsite, after completing the quests, you can pay Jensen in Behr town to give you another one if you have enough amity with him.
Once you have the campsite, it does not run out of durability, and you can decorate the look of it.



How to obtain an Anvil and Shop
The tools that go in the campsite, such as the Anvil and Shop, can only be used for a certain amount of time. The Old Moon Camp Anvil will last 24 hours, and the Old Moon Camp Shop will last 7 days.
You can purchase an Anvil for 100,000 silver at the Node Manager in Velia, Heidel, Calpheon, Altinova, Valencia or Grana.

The
Anvil
can also be crafted at the 2-2, 1F workshop in Tarif, or in the processing window (L) by selecting Machining.
| Material | Quantity [Workshop] | Quantity [Processing] |
| --- | --- | --- |
| Antimicrobial agent | 10 | 10 |
| Steel | 20 | 20 |
| Pure vanadium crystals | 2 | 2 |
| Polished stone | 2 | 2 |
| Golden pearl | 1 | 2 |
The only way to purchase a Shop is to buy one for 14,000,000 silver from a Node Manager in Velia, Heidel, Calpheon, Altinova, Valencia or Grana.





Installing a Campsite
Once you have obtained your campsite, you must register it by right-clicking it in your inventory. When the campsite has been registered, it's icon will appear in the top left just like your pets, mount and maids.
Now it can be used on any character in your family and placed. To place the campsite, press the icon and then click "install". The campsite can only be placed in a combat zone as long as it is not along a path, on a slope or has obstacles around.
Campsites cannot be placed during a node/seige war and will be automatically removed at the start of a node/seige. They will also be removed if you change character or disconnect.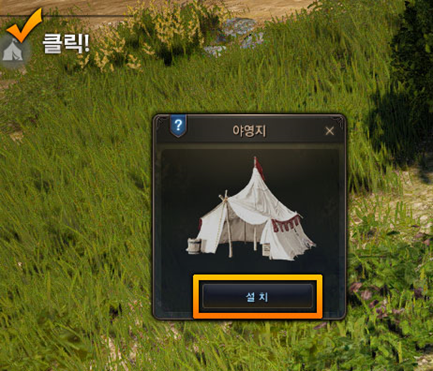 After placing the campsite, you must now set up the anvil and store. Doing this will let you repair your items and purchase/sell items. Go up to your installed campsite and press [R] to interact with it and open the UI, you can also open the UI by pressing the icon in the top-left. Right-click on the Anvil or Shop in your bag to install them and start to use them.
You can dismantle the campsite by clicking the blue buttons at the bottom of it's window. The tools will stay in the campsite for 7 days and do not need to be reinstalled if the campsite has been dismantled, even if you are on a different character. You can also remote collect the campsite which will remove it from it's current location.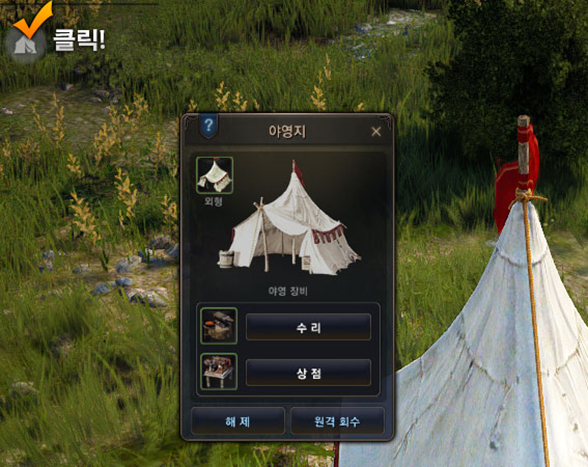 Using a campsite
You can use your campsite at any time by going to it and pressing [R] to interact. From here click the buttons to repair or open the shop. To repair you must have the required amount of silver in your inventory. It will cost more than a Blacksmith NPC and you only have the option to repair your gear.
You can buy a camouflaged anvil from the Pearl Store which will greatly reduce the amount of silver needed for repairs and has infinite duration.
The campsite shop can be used to buy extra large potions and as a currency exchanger to turn your silver to gold ingots and vice versa. From the shop you can also purchase various buffs which will help you when you grind. These are: increase monster damage by 10 for 20 minutes, increase skill exp by 10% for 20 minutes, reduce chance of heatstroke/hypothermia by 40% for 20 minutes. Only one buff can be used at once and they cost 250,000,00 silver.
Campsite buffs do not stack with villa buffs. 
You can buy a camouflaged shop from the Pearl Store which will make camp shop buffs last 1 hour instead and has infinite duration.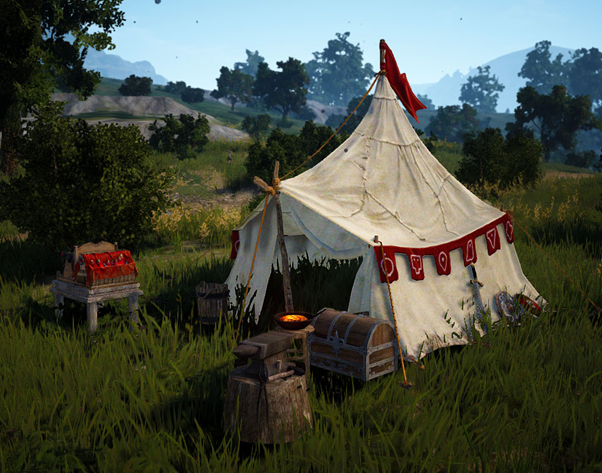 ---
Thoughts from Korean players
Currently very buggy
NPCs aren't in the game yet for us to buy the items
The anvil only lasts 1 day and is too hard to craft
The buffs don't stack with villa buffs so they aren't very good
You pay x10 the normal amount when you use the anvil
The pearl store items cost too much
Pearl store items are infinite use and repair price is cheaper than repairing at NPCs
Making us buy pearl store items, too much advantage
Price should have been lower with cosmetics only
Good ideas but it could have been better
Campsite container sounds like it will be good